Here's What Happens to Your Brain When You Drink Alcohol
Before you take your shot, take a shot at reading about the impact.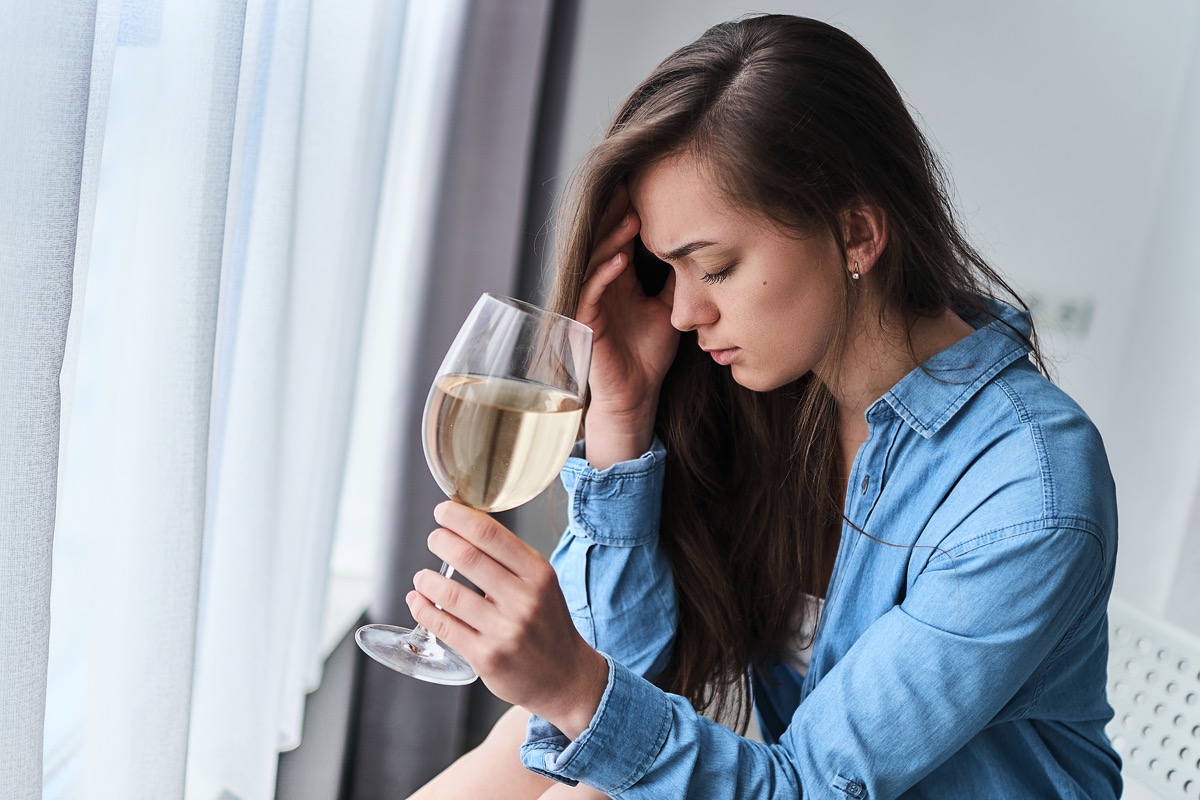 Popping back a few beers—or a few bourbons—is as American as football and apple pie. But did you ever stop to think how weird it is, that we're purposefully drinking something that impairs our mental faculties? (Some would say that's the point.) Whether you like a glass of bold cabernet, a Sunday morning mimosa, or a shot of whiskey, here are some things that can happen to your brain when you catch a buzz. Read on, and to ensure your health and the health of others, don't miss these Sure Signs You've Already Had Coronavirus.
Your Dopamine Levels Spike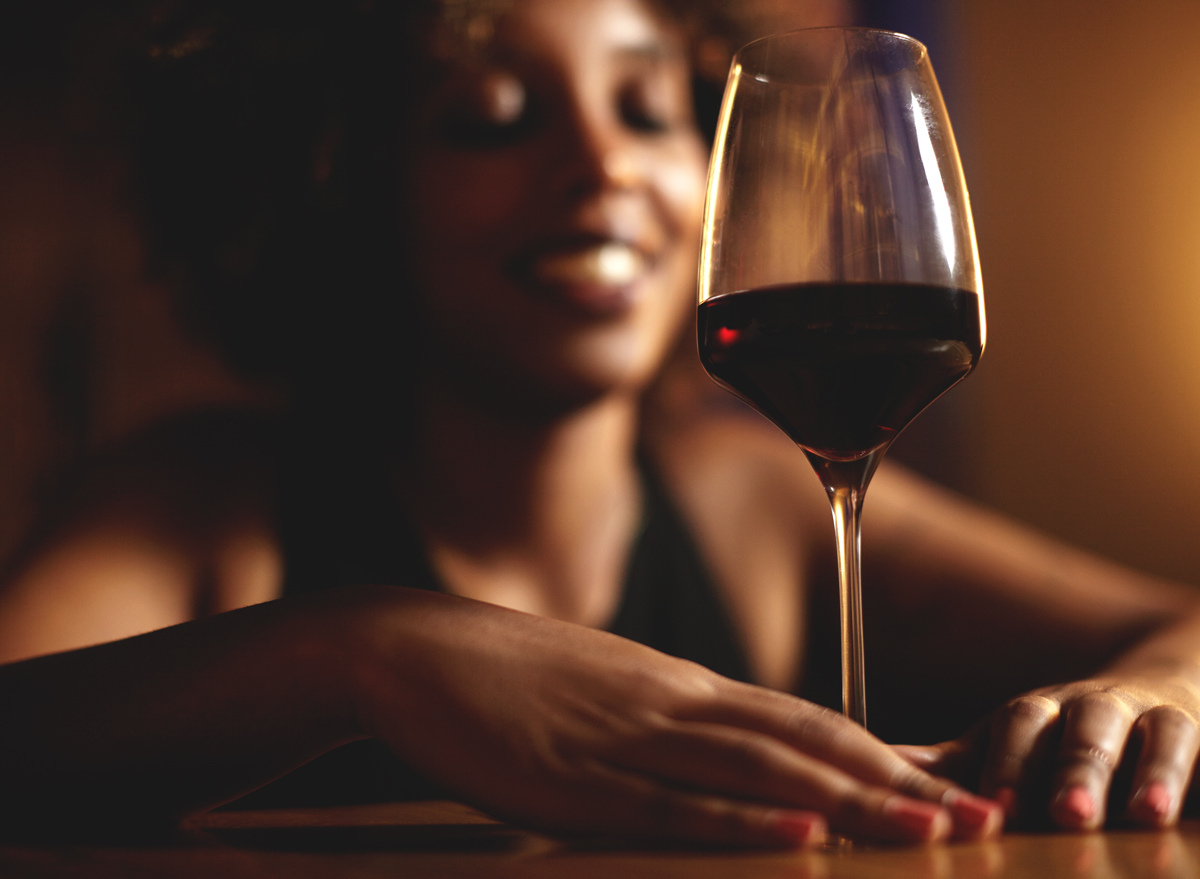 If you're like most people, you enjoy a few drinks in social situations because it makes you happy and allows you to let your guard down. You're more likely to engage in lively conversations, make friends with strangers, or even dance the night away when you're sipping on adult beverages.
It may seem harmless to enjoy the moment, but alcohol can actually begin to trick your brain into thinking you have to continue drinking to stay happy. The National Institute on Drug Abuse calculated that over 23% of the admissions to public treatment centers are people who have alcohol use disorders. 
According to Dr. Stephen Holt, MD, a Yale Medicine expert who specializes in addiction medicine, "alcohol directly leads to the release of endorphins, your body's natural opioids, and dopamine, the neurotransmitter responsible for the reward pathway in our brain, both of which lead to the pleasurable, reinforcing effects of alcohol. It's the repeated episodes of binge-drinking and associated release of endorphins and dopamine that ultimately lead to maladaptive neurological changes that underlie addiction."
Your Neurotransmitters Go Haywire
Your brain's neurotransmitters are responsible for running chemicals throughout the brain so vital signals are properly transmitted and delivered. According to a study conducted by C. Fernando Valenzuela, M.D., Ph.D., "Evidence suggests that alcohol affects brain function by interacting with multiple neurotransmitter systems, thereby disrupting the delicate balance between inhibitory and excitatory neurotransmitters." 
When you have alcohol in your system, your neurotransmitters can't do their job correctly. With malfunctioning neurotransmitters, you may find it tough to process your thoughts and emotions. Dr. Holt warns about these "disinhibiting effects of alcohol that cause transient impairments in coordination, executive functioning, and memory consolidation." Stumbles and wobbles when you're under the influence are directly related to this disruption in your brain's neurotransmitters.
Disruption in Your Hippocampus Causes Memory Loss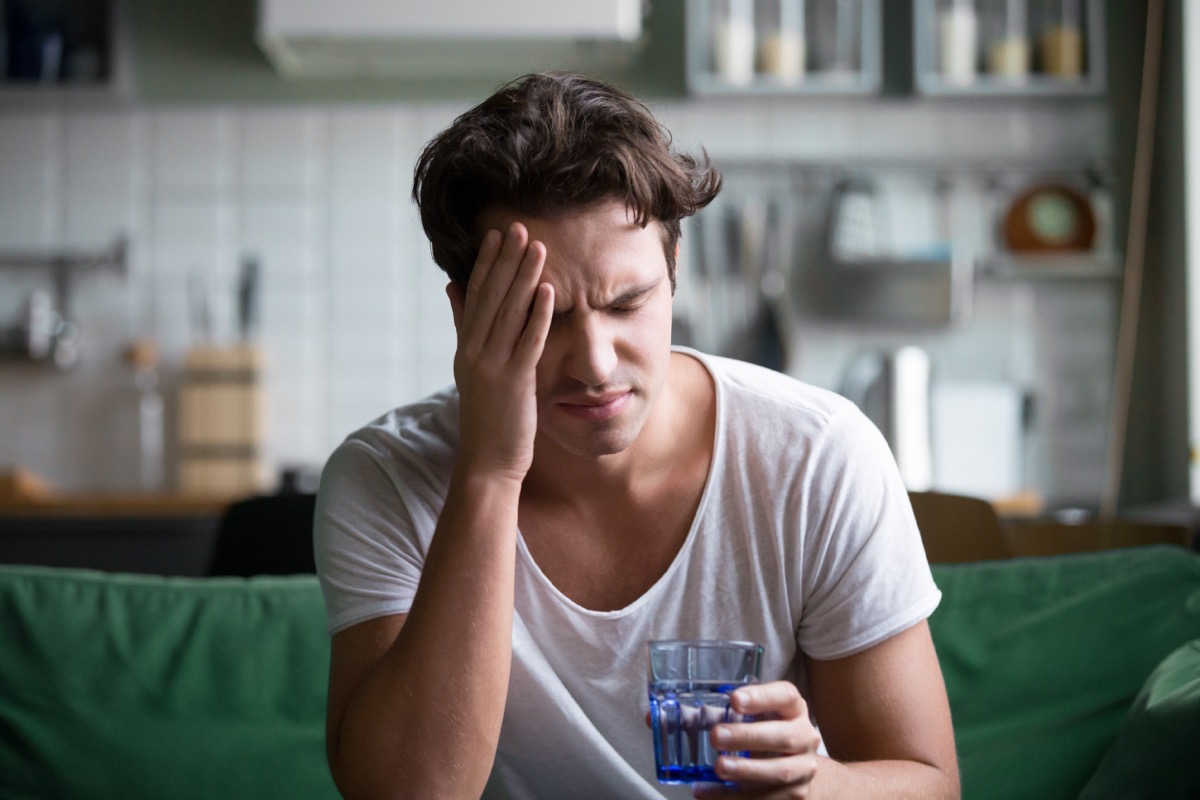 Alcohol blackouts are usually associated with a night of heavy binge drinking. If you've consumed a large amount of alcohol in a short period of time, it's likely you'll wake up the next day not remembering everything that happened the night before.
However, even if you only had a few glasses of wine the night before, you still might forget about the conversation you had with a co-worker or the cheeseburger you ate at 2 a.m. According to a study published in Alcohol Research & Health, "Blackouts are much more common among social drinkers than previously assumed and should be viewed as a potential consequence of acute intoxication regardless of age or whether one is clinically dependent upon alcohol."
But your brain should still hold on to your long-term memories. The study concludes, "Alcohol primarily interferes with the ability to form new long–term memories, leaving intact previously established long–term memories and the ability to keep new information active in memory for brief periods." 
This memory loss occurs due to a disruption in your hippocampus, which is a "brain region that plays a central role in the formation of new autobiographical memories." The hippocampus receives its information from a variety of brain regions, so when alcohol begins to affect your neurotransmitters and other areas, this communication of information is also thrown off. If you're planning on having a few drinks, be prepared for some gaps in your memory the next day.
Your GABA Receptors Prevent You From Effective Sleep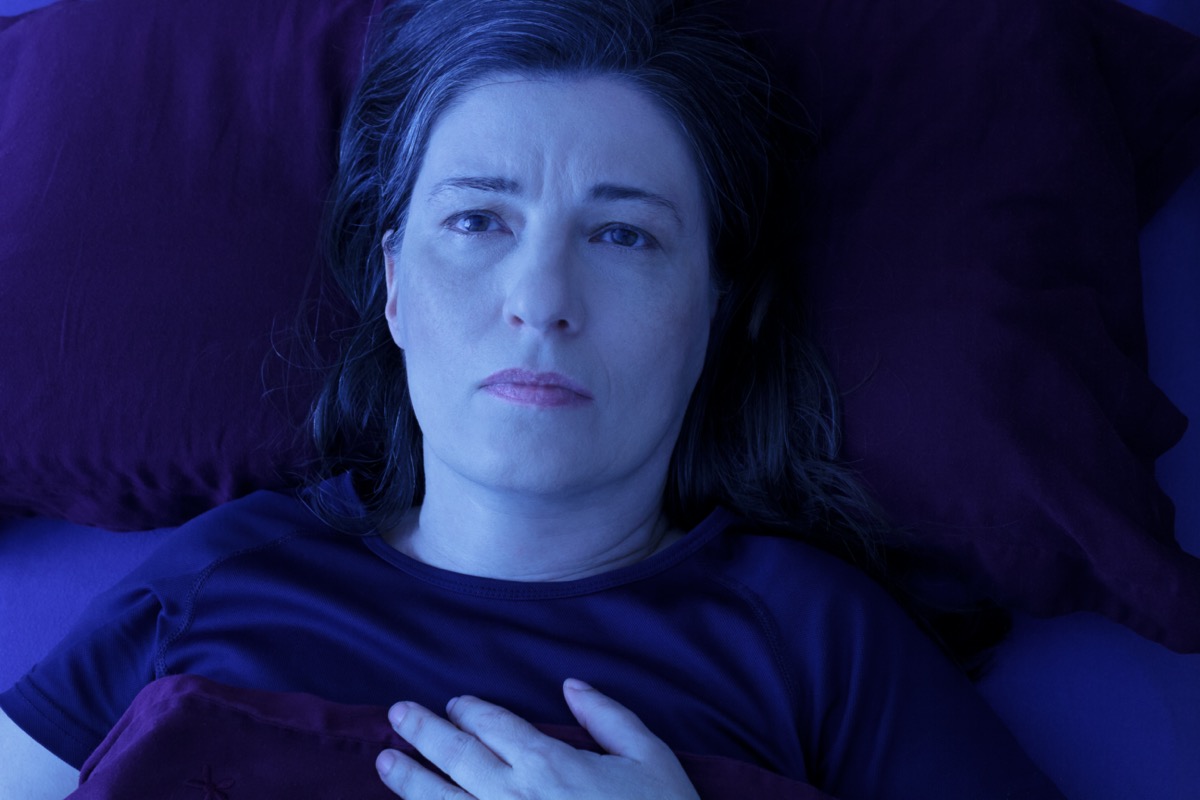 Ever notice how you usually wake up tired on the morning after you had some drinks? You could be getting poor sleep when you have alcohol in your system due to its effects on your brain's gamma-aminobutyric acid (GABA) receptors. According to Dr. Kansagra, "Alcohol acts on receptors in our brains known as GABA receptors which help induce sleep. The initial effects of helping us fall asleep is followed later in the night by a withdrawal from alcohol. This causes frequent arousals and lighter sleep in the second half of the night and may result in an early morning without sufficient rest."
In addition to messing with your GABA receptors, alcohol may also make it impossible to get a good night's sleep simply because it causes dehydration. This dehydration can also cause your body to feel the effects of alcohol withdrawal during the night, making it hard to continue sleeping restfully. 
Minimal or moderate drinking may not have lasting negative effects on your brain but people with alcohol use disorders or those who binge drink frequently should be concerned about their brain cells. A study conducted by the Department of Neuroscience at the University of Texas Medical Branch exposed adult mice to alcohol. Researchers concluded that alcohol killed the stem cells in these mice. These brain cells are essential for normal cognitive function and are used to create new nerve cells. 
This study found that the severity of these negative effects may vary, depending on gender, age, and the rate of alcohol consumption. Chronic alcohol users may be susceptible to brain damage and neurodegeneration due to the loss of brain cells.
While an ice cold beer or a glass of wine may seem harmless, the consumption of any type of alcohol can have negative effects on your brain. Before you guzzle your next alcoholic beverage, consider all the negative reactions your brain may experience just so you can take a delicious sip.
RELATED: 11 Signs You Need to Go the ER—By an ER Doctor
You Could Develop a Thiamine Deficiency
The occasional drinker shouldn't have to worry about malnourishment or vitamin deficiency, but these conditions are associated with heavy and frequent alcohol use. Thiamin is a B vitamin that is essential for cerebral metabolism and according to the National Center for Biotechnology Information, thiamine deficiency can lead to decreased levels of:6254a4d1642c605c54bf1cab17d50f1e
Alpha-keto-glutarate.

Acetate.

Citrate.

Acetylcholine.
It also leads to an accumulation of lactate and pyruvate. According to Dr. Holt, "Heavy drinking is often associated with malnutrition since there are no vitamins in alcohol. This can lead to an irreversible alcohol-related dementia known as Wernike's Encephalopathy." The chemical imbalance in the brain associated with thiamine deficiency is usually what causes WE.
When you develop WE, your peripheral and central nervous systems are negatively affected, leading to constant confusion and disorientation. Some patients diagnosed with this disorder lose their ability to walk. About 5% of patients die from WE and only about 10% are ever well enough to leave long-term care facilities and live on their own again.
How to Drink Respobnsibly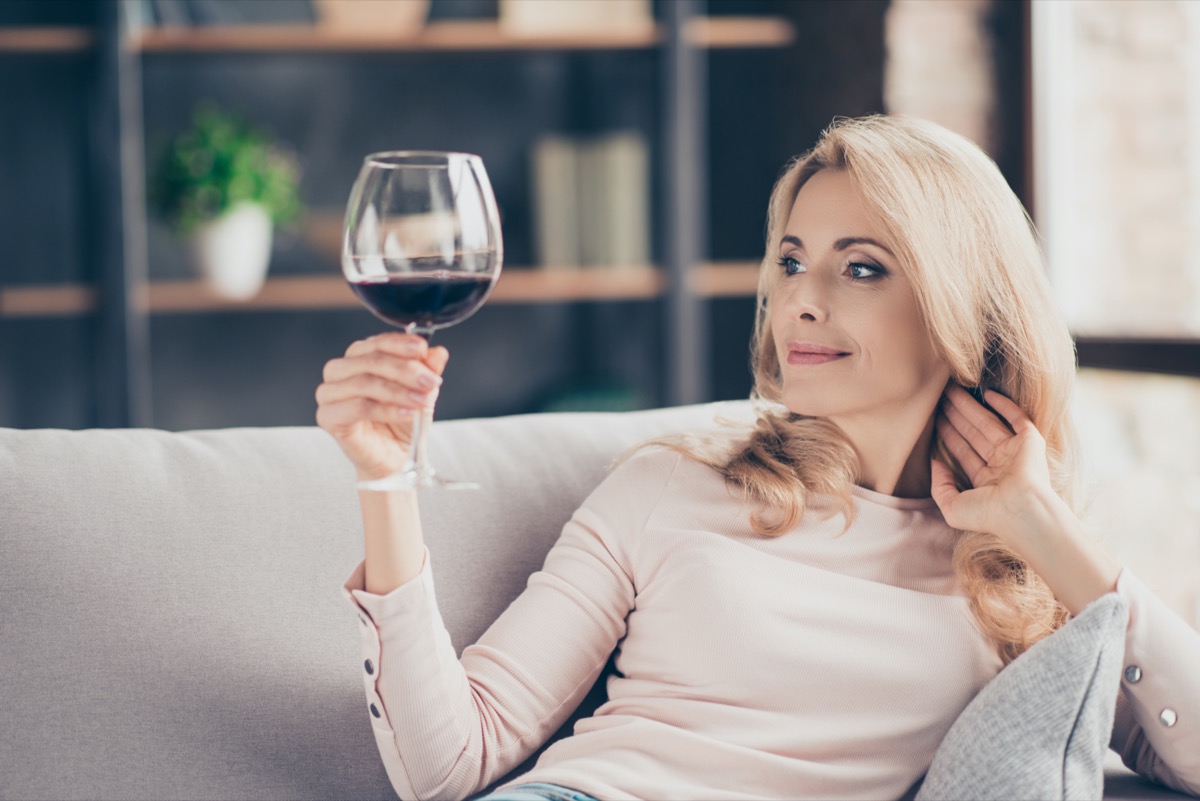 According to Dr. Sujay Kansagra, director of Duke University's pediatric neurology sleep medicine program, it's important to "try to drink in moderation and always avoid combining alcohol with other drugs, such as sleep aids and pain medications." If you're going to drink, stick with a glass or two of heart-healthy red wine. And to live your happiest and healthiest life, don't miss these Worst Things For Your Health—According to Doctors
Leah Groth
Leah Groth has decades of experience covering all things health, wellness and fitness related.
Read more about Leah