The First Sign Alex Trebek Had Cancer
His stomach hurt and his wife thought he lost some color.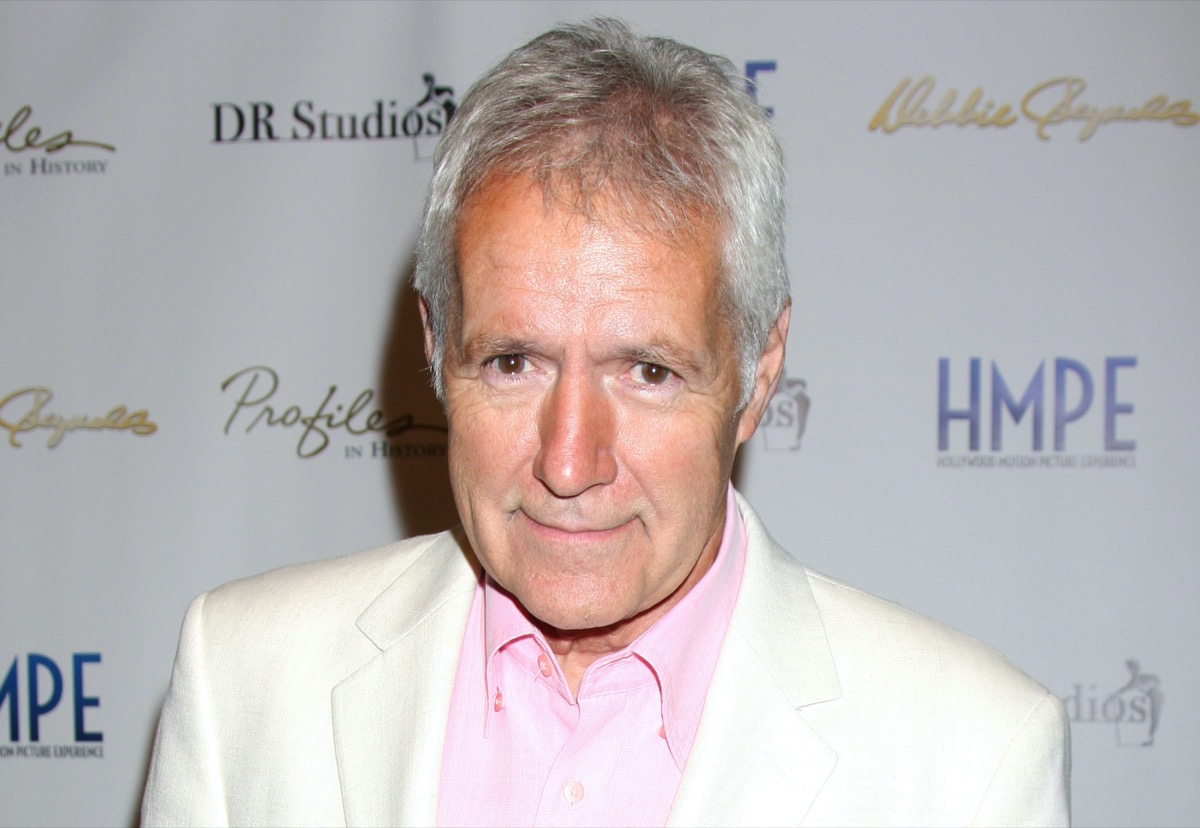 Jeopardy! host Alex Trebek died of pancreatic cancer at age 80 on Sunday—and he knew it was coming, having been diagnosed in 2019. His widow Jean Trebek wrote an essay in Guideposts in July, remembering how they both discovered he was ill. It was on a trip to the Holy Land with his family.
"We'd finished dinner one night, and I looked across the table at Alex. His coloring seemed off. 'You feeling okay?' I asked. 'I'm good,' he said. Alex is not one to complain. But he admitted that he was having some stomach pains. I figured, okay, we were in a different country. Maybe it was something he ate. Later, back home in California, things were still not right. His doctor ran some tests, then some more. We weren't so worried that we canceled a trip to New York. It was there, in our hotel, that we got a call from his doctor. 'We need to see you as soon as you get back from your trip. We have some concerns.'" Read on to hear more about what symptoms you should look for, and to stay at your healthiest, don't miss these Sure Signs You've Already Had Coronavirus. 6254a4d1642c605c54bf1cab17d50f1e
Why a Stomach Issue Might Be Pancreatic Cancer
Your pancreas, tucked away behind your stomach, is an inconspicuous organ tirelessly producing essential enzymes and hormones your body needs for digestion, and to regulate blood sugar. Pancreatic cancer is a disease in which cancerous cells form in the tissues of the organ, disrupting its necessary functions.
Pay attention to what happens when you eat fatty foods. Fatty foods can do a number on you even if you're relatively healthy. However, if you are repeatedly experiencing nausea and vomiting, especially after eating fatty foods like fries, pizza, or even avocados, it may be a sign that something is wrong with your pancreas. Why? Pancreatic cancer symptoms can arise when pressure from a pancreatic cyst or tumor is growing on the stomach or small intestine, causing a block of the digestive tract. As the growth becomes bigger, it can actually cause a partial block by entwining itself around the far end of the stomach.
As well, your pancreas produces digestive enzymes that help your system break down fat, among other things. Diseases that affect the pancreas tend to mess with your body's fat-digesting capabilities, leading to nausea and possible vomiting. A sudden onset of these symptoms, though, is more likely to indicate pancreatitis, an inflammation of the pancreas.
There are myriad reasons for an upset stomach, so don't quickly jump to conclusions. If nausea or vomiting after eating persists, make sure to see a doctor so you can find out what's going on.
It can also affect your poop. Oily? Greasy? Gray? Floating? If your poop is playing these tricks on you, it may be a sign of pancreatic disease. It can wreak havoc on your ability to produce the digestive enzymes that break down fats properly. The result can be funky feces. See an oily film in your toilet water after going No. 2—or find your feces floating? That's due to dietary fat that's not getting broken down by your body. And as for the pale poop phenomenon: Bilirubin gives your poop its brown color, but when your bile ducts are blocked, that color goes to monochromatic hues of gray or clay.
Poop that's a bit "special" every now and then is nothing to freak out about. But if most of your bowel movements start to have these characteristics, call your doctor and get yourself checked out.
RELATED: Unhealthiest Habits on the Planet, According to Doctors
Why Your Changing Color May Be a Sign of Pancreatic Cancer
Jaundice is a yellowing of the skin and eyes that occurs when bilirubin, a component of bile, builds up in the blood. Bilirubin is made by the liver as a breakdown product of old red blood cells and is usually eliminated from your body when your gallbladder releases bile.
Here's how your pancreas is involved: Bile travels from your gallbladder through the common bile duct and passes through the pancreas. But if the bile ducts become blocked—for whatever reason—jaundice may result. Jaundice can be a sign of pancreatic cancer if a tumor is growing in the head of the pancreas, obstructing the bile duct and flow of bile.
They may be galling, but gallstones are the more likely cause for jaundice in adults than pancreatic cancer. Lower your risk of gallstones by following a healthy eating plan and regularly exercising.
As for yourself, if you experience any of these symptoms, call your medical professional immediately, and to get through this pandemic at your healthiest, don't miss these 35 Places You're Most Likely to Catch COVID. 
Alek Korab
Alek Korab is a Co-Founder and Managing Editor of the ETNT Health channel on Eat This, Not That!
Read more about Alek