This Fresh Herb From Target Is Being Recalled
Organic basil is being recalled after the potential presence of a parasite was found.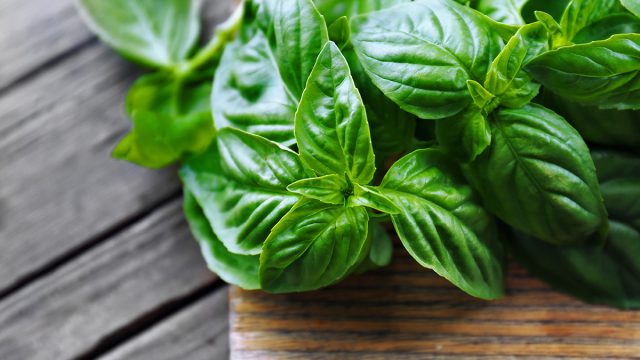 Organic basil sold at Target and other top grocery retailers across the country is being recalled after the potential presence of a parasite was found in one package, according to the Food and Drug Administration (FDA). 
The affected basil was packaged by Shenandoah Growers, Inc in clamshells under labels, such as Naturally Better, which is Winn-Dixie's in-house organic brand; O Organics, which is Safeway's; Good & Gather, which is Target's; and Simple Truth, which is Kroger's. The Virginia-based supplier issued the voluntary recall for about 15,000 units of the imported herbs sold under eight brands in total.
The impacted produce was packed in Harrisonburg and distributed between Oct. 20 and Oct. 30 to retailers in Connecticut, Delaware, Florida, Georgia, Maryland, New Jersey, New York, Pennsylvania, Tennessee, Virginia, and Washington, D.C. The Florida Department of Agriculture discovered the potential presence of Cyclospora after testing a package of basil at a retailer in the state in early November, according to the FDA.
Related: 8 Grocery Items That May Soon Be in Short Supply
The parasite can cause the intestinal infection cyclosporiasis, with symptoms including severe abdominal pain, body aches, diarrhea, fatigue, loss of appetite, nausea, and vomiting. Though symptoms generally develop about one week following exposure, they can appear in as little as two days or as long as two weeks, according to the Minnesota Department of Health. 
Because the recalled basil was harvested and packed about one month ago, it's unlikely to be on store shelves any longer. If you purchased one of the products, you should discard it immediately, and reach out to the Shenandoah Growers Consumer Response Center for a refund. Contact your doctor if you believe you need medical attention. Cyclosporiasis responds quickly to treatment with antibiotics.
This isn't the only recall Target has had to deal with recently—crock pots sold at the retailer have been recalled in the last few weeks. For information about recalls you should know delivered right to your email inbox every day, sign up for our newsletter!
Urvija Banerji has written about food for publications like Atlas Obscura, Eater, and The Swaddle.
Read more