The Biggest Change You'll See at Fancy Restaurants Moving Forward
Even high-end establishments have had to rearrange their business models in order to stay open.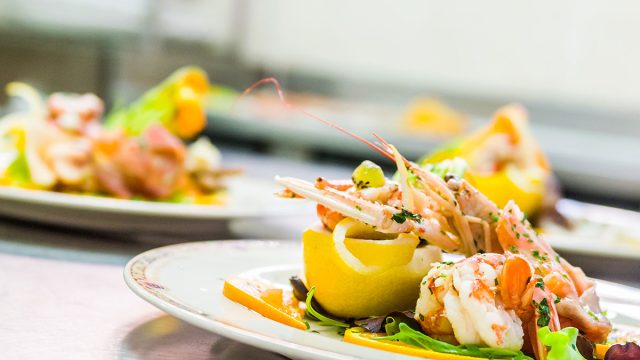 While all fifty states have now reopened at least some businesses, the restaurant industry will not be able to operate like normal or reach full capacity for quite some time.
At the beginning of the pandemic, some independent restaurants had no other choice but to shutter their doors completely, while others were able to keep their businesses alive by offering takeout and delivery services. For places such as taquerias and pizzerias that were already equipped to handle to-go orders, the transition likely wasn't as jarring as it was for establishments that only offered dine-in services.
High-end restaurants, on the other hand, had to switch their business models completely in order to survive.
RELATED: Restaurants In These 5 Major Cities Are Shutting Down—Again
Michelin-starred and James Beard Award-winning restaurants that formerly had reservations booked throughout the remainder of the year had to reorient and start offering fine dining to-go in order to pay rent. Perhaps the most relevant example of a luxury dining establishment having to adapt to this new order of business is Masa, aka one of the most expensive restaurants in the country.
In mid-April, Chef Masa Takayama introduced a new delivery system in order to keep his restaurant afloat: Every Friday, the fine dining sushi restaurant in New York City sells 20 boxes of sushi or sashimi, each priced at $800. (For comparison, during normal times, the price per head at Masa is usually $595 for a two-hour dining experience.)
Akash Kapoor, founder and CEO of Indian Street Food restaurant Curry Up Now in San Francisco, another fine dining establishment, told QSR magazine that takeout menus  and orders at infamous places like his may become the new normal.
"Along the lines of takeout, to-go packaging will be upgraded to be safer and more sanitary, and I believe that restaurant meal kits are here to stay," Kapoor told the magazine.
Destination restaurant Noma in Copenhagen recently reopened as an outdoor, wine and burger takeout bar that doesn't take any reservations and is first-come, first-serve. It's quite the 180 from being known as one of the best fine dining restaurants in the world, but then again, these are unprecedented times.
For more, check out these 7 Precautions You Must Take When Dining Out With Friends.
Cheyenne Buckingham is the news editor of
Read more