This National Restaurant Chain Expects to Have 208 Locations Open This Week
For fans of this casual dining spot, prepare to be thrilled with this update.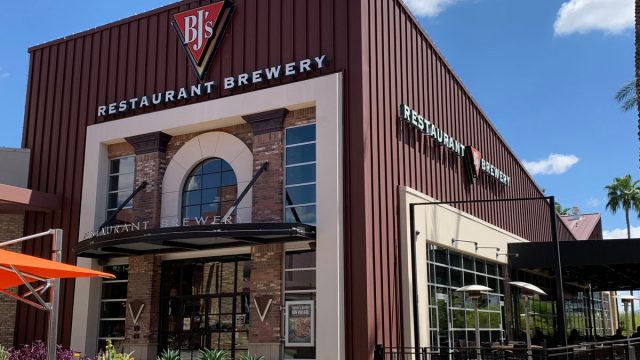 Now, this is some great news for fans of BJ's Restuarant and Brewhouse. The national restaurant chain is recovering from the impact of COVID-19 better than ever. It was just announced that more locations, some of which had been temporarily closed, will be reopening this week.
That's right, the company announced in a press release that it has currently reopened dining rooms in 178 of its restaurants throughout 24 states and expects to have 208 restaurants in total operating this week, with dining rooms now open at more than 85% of locations.
As of the first week of June, overall restaurant sales were down 42.6%, which takes into account 41 BJ's restaurants that were either closed or operating on limited hours, along with limited menu offerings.
For the locations that have reopened dining rooms though, sales recovered to approximately 70%. If sales keep going the way they are with more dining rooms scheduled to reopen over the next few weeks, BJ's is expected to see things only go up.
RELATED: Your ultimate restaurant and supermarket survival guide is here!
"Early results from our reopened dining rooms are encouraging," said Greg Trojan, Chief Executive Officer. "Our guests are returning in increasing numbers to dine with us at BJ's. We are seeing a strong appreciation for the safety measures and precautions we have implemented for them and our team members, including our new touchless digital menus and mobile pay options. As our dining rooms reopen, we continue to bring back furloughed team members and we look forward to bringing back even more as additional dining rooms open in the next several weeks."
BJ's Restaurant and Brewhouse, which has its headquarters in California, features a vast menu with more than 140 options, including prime ribs, deep-dish pizza, and the beloved Pizookie dessert. And in case you were wondering, there five different types of Pizookies, which are cookies made in deep-dish pans and topped with ice cream. Yes, they're as delicious as they sound. BJ's is also known for serving up handcrafted beers, as they operate six breweries, too.
In total, BJ's has 209 casual dining restaurants in 29 states, so it looks like things are getting back to normal, slowly but surely.
Jennifer Maldonado is a senior editor at Eat This, Not That!, specializing in food and health content.
Read more