If You Have this Blood Type, You May Be At Less Risk of COVID
More research confirms some people are less prone to coronavirus than others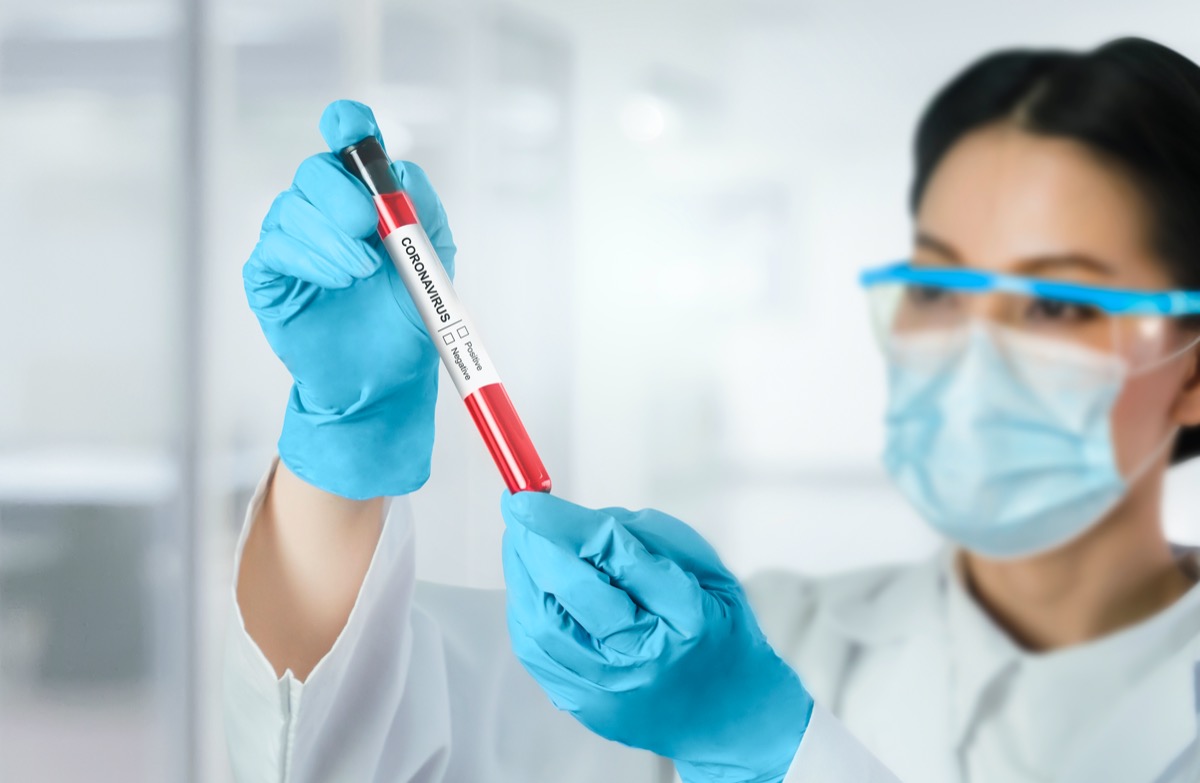 Since the first cases of COVID-19 were detected in Wuhan, China, one year ago, researchers have been scrambling to pinpoint people who are at a higher risk of contracting the potentially deadly virus. Early research determined that blood type was one factor that made some people more prone and others less to serious infection and even death. Now, a large study in Annals of Internal Medicine confirms previous findings that people with a certain blood type fare better when it comes to coronavirus. Read on to hear more about the findings, and to ensure your health and the health of others, don't miss these Sure Signs You've Already Had Coronavirus.
Certain Blood Type Groups Develop Antibodies, Says Study
The study, published on Tuesday, found that people with type O or Rh−negative blood may be at slightly lower risk from the new coronavirus. 
The study involved over 225,000 Canadians who were tested for the virus. Researchers found that the risk of becoming infected with COVID was 12% lower for people with O blood type than those with A, AB, or B. Additionally, their risk for severe COVID or death was 13% lower. Researchers also noted that those with Rh-negative blood type — especially O-negative — also had some protection. 6254a4d1642c605c54bf1cab17d50f1e
Coauthor of the study, Dr. Joel Ray of St. Michael's Hospital in Toronto, told Reuters that people in these blood type groups may have developed antibodies that can recognize some aspect of the new virus, "Our next study will specifically look at such antibodies, and whether they explain the protective effect," Ray said.
An alternative study published in November in the medical journal Nature came to similar conclusions regarding blood type and COVID risk. "Recent evidence suggests blood type may affect risk of severe COVID-19," it explained. Using data from over 14,000 individuals in the New York Presbyterian hospital system it found that those with non-O blood types had a "slightly increased" infection prevalence. "Risk of intubation was decreased among A and increased among AB and B types, compared with type O, while risk of death was increased for type AB and decreased for types A and B," they wrote. "Our results add to the growing body of evidence suggesting blood type may play a role in COVID-19."
How to Survive the Pandemic—and Save Lives
Keep in mind that if you have type-O blood, that you are only at a slightly decreased risk of COVID-19 — which means you still need to be just as careful when it comes to following the recommended prevention methods. So how to stop the hospitals from filling up, and people dying? Short of a lockdown, CDC Director Robert Redfield plumps for mitigation measures like "social distancing, hand-washing and being smart about crowds—doing things more outside than inside. These are critical mitigation steps which, to many people, seem simple, and they don't really think it could have, you know, much of an impact. But the reality is they're very, very powerful tools. They have an enormous impact. And right now it is so important that we recommit ourselves to this mitigation." So follow those fundamental mitigation measures, and to ensure your health and the health of others, don't miss these 35 Places You're Most Likely to Catch COVID.
Leah Groth
Leah Groth has decades of experience covering all things health, wellness and fitness related.
Read more
More content from
ETNT Health