Buffalo Wild Wings Will Give Away Free Chicken Wings If the Super Bowl Goes Into Overtime
The Big Game has only gone into OT once before.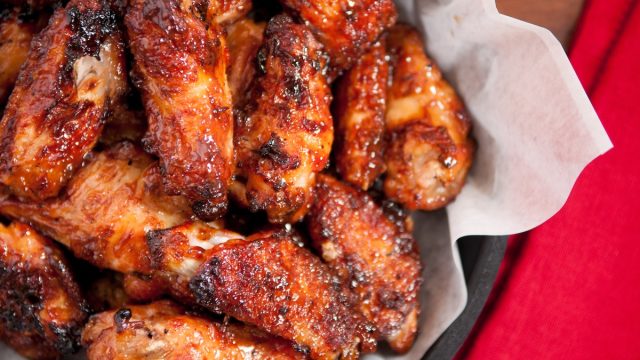 Everyone knows that few pairings beat football and chicken wings. But Buffalo Wild Wings is offering a better alternative: football and free chicken wings.
Well, maybe. There's a catch—and a pretty big one, at that.
For starters, the company is only handing out free wings on February 17, 2020. But the giveaway hinges on events occurring two weeks earlier, on February 2, 2020, a date you may instantly recognize as Super Bowl Sunday. Then, if the big game—which will see the San Francisco 49ers take on the Kansas City Chiefs—goes into overtime, every B-Dubs location in the United States and Canada will hand out free wings from 4:00 p.m. to 7:00 p.m. local time. If the game doesn't go into overtime, oh, well! No free wings.
RELATED: 13 Best and Worst Things About Buffalo Wild Wings
In a release, the company deemed the chances of an overtime game as "far from a longshot [sic]." Noted. It should also be noted that the Super Bowl has been a thing for roughly one billion years, and just once has the game entered overtime. In 2017, during Super Bowl LI, Tom Brady carried the New England Patriots, who were down 28–3 in the third quarter, to a tie game against the Atlanta Falcons. The clock ran out, overtime kicked off, and the Patriots ultimately won 34–28. (Given the huge blown lead on the part of the Falcons, some football fans derisively refer to Super Bowl LI as "28–3.")
To take it from BetMGM, Buffalo Wild Wings' gaming partner for the promotion, there's a 10 percent chance Super Bowl LIV will go into overtime. Vegas-style booking math is complex, of course, and final figures are a result of algorithms, statistics, and computations put together by expertly trained number gurus. But, at face value, the math seems simple. According to our (highly scientific) calculations, just 2 percent of all Super Bowl games in history have ended in overtime.
Our recommendation? Hedge your bets on a deal with more surefire chances. The delivery company Postmates, for instance, is giving out free chicken on a first-come-first-serve basis for the entirety of Super Bowl Sunday. Or, you could just prepare by investing in some better game day treats, like The Bite-Sized Super Bowl Snacks No One Will Want to Share.
Ari is an editor specializing in news and lifestyle.
Read more