The BBQ Chicken Pizza at This Chain Is Getting a Healthy Upgrade
There are fewer calories and cholesterol per slice in the new version.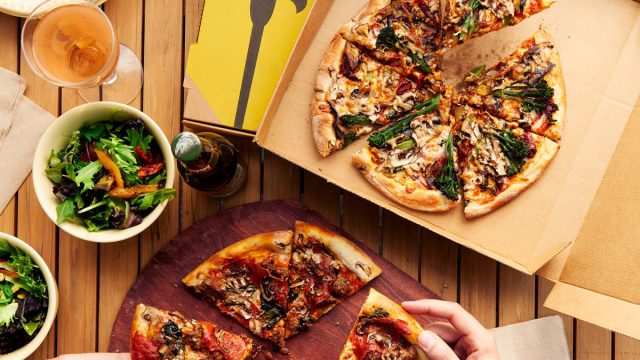 Until recently, the healthiest pie at California Pizza Kitchen was the Original BBQ Chicken Pizza. Now, an even healthier option is available—introducing the BBQ "Don't Call Me Chicken" Pizza!
The protein on the pie is made with a chicken substitute derived from soy and wheat, and it contains fewer calories and cholesterol than its real chicken counterpart. In addition to the plant-powered chicken, the new six-slice pizza comes with BBQ sauce, smoked Gouda, red onions, and fresh cilantro atop an original CPK crust. (Is CPK one of the 9 Restaurant Chains That Closed Hundreds of Locations This Summer? Check the list to find out.)
At 180 calories per slice, the BBQ "Don't Call Me Chicken" Pizza ranks as lowest-calorie option among the long-list of pies on CPK's menu. Though that may be only 10 calories less per slice than the original, the new version has only 10 milligrams of cholesterol versus 20. The two pizzas have the same amount of carbs, fat, fiber, and sugar.
Though the BBQ "Don't Call Me Chicken" Pizza has 10 additional milligrams of sodium and 1 gram of protein less per slice, there are some long-term health and environmental benefits of choosing plant-based proteins over animal proteins. Plant-based proteins are lower in heart-harming saturated fat and easier to digest. CPK's plant-powered protein also uses less water, less land, less carbon dioxide, and less energy than animal protein.
"We're thrilled to introduce this new option for guests who are flexitarian, looking to cut down on meat or just want to try a fresh twist on our classic pizza," Brian Sullivan, the executive head chef and SVP of Culinary Innovation at CPK, said. "Our BBQ Chicken Pizza has been the cornerstone of our California-style menu since our first restaurant opened 35 years ago, and now we're proud to bring the pizza that put us on the map to an even broader consumer subset."
Despite the new menu item, the pizza chain has made some more difficult announcements in recent weeks.
Amanda is a staff writer for
Eat This, Not That!
.
Read more