The CDC Just Predicted Coronavirus Deaths Will Rise Here
Six states were singled out in a recent report.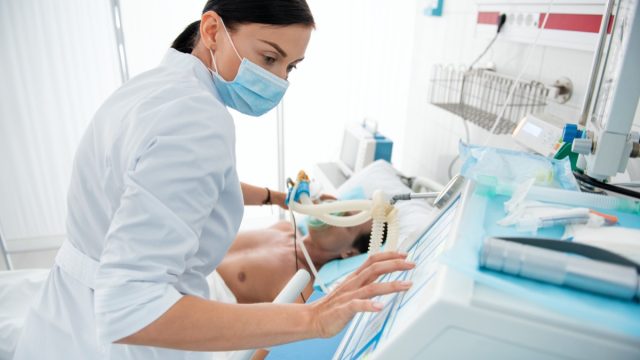 Although some states are seeing success with reopening after shutting down to prevent the spread of coronavirus, other regions are seeing cases rise—and deaths too. In fact, the CDC just forecasted that deaths will rise in the following six states: Arizona, Arkansas, Hawaii, North Carolina, Utah and Vermont. The death rates there are forecast to exceed what they were in the previous four weeks, the CDC said Friday. "As of June 8, forecasts suggest the total number of COVID-19 deaths will exceed 124,000 by July 4," said the agency. "Additionally, 6 states will likely see the number of new deaths reported between June 8 and July 4 exceed the number reported over the last 4 weeks."
"More than 114,300 people have already died in the U.S. from the virus as of Friday afternoon, according to Johns Hopkins University," reports the Charlotte Observer. "The CDC based its prediction on 17 national forecasts published by Columbia University, Johns Hopkins and Massachusetts Institute of Technology, among others. Each is built on statistical models that predict how many COVID-19 deaths will be reported over the coming four weeks based on a large swath of data—from demographics to mobility and social distancing rules."
Shutdowns May Be Reinstated
The CDC leaders have said that if cases continue to rise, then shutdowns may be needed again.
"North Carolina is experiencing a surge of COVID-19 cases and hospitalizations during its second phase of reopening, forcing the state's health director to contend with the idea of a second shutdown," reports NPR. Cities like Nashville and states like Oregon have paused their reopening plans.
"If cases begin to go up again, particularly if they go up dramatically, it's important to recognize that more mitigation efforts such as what were implemented back in March may be needed again," Jay Butler, the CDC's deputy director for infectious diseases, told reporters Friday.
Rather than be statewide decrees, these mitigation efforts may be locally ordained. For example, Gov. Andrew Cuomo of New York chastised revelers in Manhattan and the Hamptons for partying without face masks or social distancing over the weekend. "We're not going to go back to that dark place because local governments didn't do their job," Cuomo said, adding that he received 25,000 complaints, a lot about bars and restaurants. "Manhattan and the Hamptons are the leading areas in the state with violations. I'm not going to allow situations to exist, that we know have a high likelihood of causing an increase in the virus. Local governments, do your job."
"Right now, communities are experiencing different levels of transmission occurring, as they gradually ease up onto the community mitigation efforts and gradually reopen," Butler said. As for yourself, to stay safe in your city, don't miss these Things You Should Never Do During the Coronavirus Pandemic.
Alek Korab is a Co-Founder and Managing Editor of the ETNT Health channel on
Eat This, Not That!
Read more