The CDC Just Announced Who Should Get the COVID Vaccine First
Both health care workers and residents of long-term care facilities should be first in line.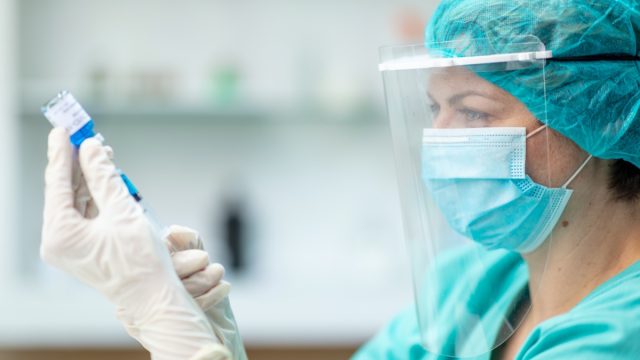 Effective coronavirus vaccines are ready to be distributed, awaiting emergency authorization from the US Food and Drug Administration—it's "the light at the end of the tunnel," says Dr. Anthony Fauci, the nation's leading infectious disease expert. But the question remains: Who gets one first? Before the decision is made, vaccine advisors to the US Centers for Disease Control and Prevention (CDC) had to vote, and submit their opinion to the Food and Drug Administration (the FDA). That happened today and the results are in, via a 13-1 vote: Those in long-term care facilities and health care personnel should get the vaccine first, says the CDC. Read on to see what that means for you, and to ensure your health and the health of others, don't miss these Sure Signs You've Already Had Coronavirus.
Long-Term Care Facility Residents and Health Care Personnel Should Get the Vaccine First, the CDC Recommends
"Long-term care facility residents are defined as adults who reside in facilities that provide a variety of services, including medical and personal care, to persons who are unable to live independently," the CDC said. "Health care personnel are defined as paid and unpaid persons serving in health care settings who have the potential for direct or indirect exposure or infectious materials."
The decision echoes what Dr. Fauci has been predicting all along.
Fauci had previously told MSNBC that "by the time we get into December, we'll be able to have doses available for people who are judged to be at the highest priority." In another interview with PBS, Fauci revealed that those "higher priority groups" would be determined "according to the recommendation of the CDC." 
"I think certainly the healthcare workers are going to be among those," said Dr. Fauci, when Chuck Todd on Meet the Press said he presumed they'd be in pole position. "I don't know exactly what the precise final decision is going to be. Certainly healthcare workers will be up there. There may be others….I'm going to be coming in, meeting with the CDC and making those kinds of decisions," he said. "But if you look at the number of healthcare workers, obviously you're going to have to do it in a graded way. I mean, we don't have enough vaccines right now in the first, you know, in the last week or two or three of December to be able to get everybody who needs to. And that's the reason why, what happens is that a certain amount of vaccine gets shipped locally to the States. And then the final decision of how to do that properly will be left up to the States with strong recommendations from the CDC."
Todd then asked about specific groups of people. When would those in a senior facility or nursing home get the vaccine? "Again, I don't want to get ahead of the advisory committee, but I can tell you what likely will happen," said Fauci. "You know, if you look at the number of people who are in what's called official nursing homes, there's about 1.5 million people. If you look at the people who are the staff, that staff, those official nursing homes, that's about another 1.5 million. So you probably have around 3 million people. I think you can get them protected reasonably soon, because obviously they're very vulnerable. And then you go down the list of people who are elderly with, or without underlying conditions. And you get the different priorities."
RELATED: COVID Symptoms Usually Appear in This Order, Study Finds
Others at High Risk May Be Next in Line for the Vaccine
Per the CDC, in addition to age, there are a number of underlying medical conditions that would deem an adult of any age to be at an increased risk for severe illness from the virus that causes COVID-19. These include cancer, chronic kidney disease, COPD (chronic obstructive pulmonary disease), heart conditions, such as heart failure, coronary artery disease, or cardiomyopathies, immunocompromised state (weakened immune system) from solid organ transplant, obesity (body mass index [BMI] of 30 kg/m2 or higher but < 40 kg/m2), severe obesity (BMI ≥ 40 kg/m2), pregnancy, sickle cell disease, smoking, and type 2 diabetes mellitus.
Todd then asked about kids. There haven't been many trials of the vaccine on them. "It's going to be months" longer before children will get vaccinated, said Fauci.
RELATED: Simple Ways to Never Age, According to Experts
How to Survive the Pandemic Until the Vaccine Arrives
Healthy adults may be able to take the vaccine come April, Fauci predicted. Until then, "if you have a really good attention to the public health measures, I believe we can prevent the acceleration of that surge that we're seeing," says Dr. Fauci. So do things "like wearing masks, uniformly; keeping distance; avoiding crowds in congregate settings, particularly indoor; washing hands frequently" and to get through this pandemic at your healthiest, don't miss these 35 Places You're Most Likely to Catch COVID.
Alek Korab is a Co-Founder and Managing Editor of the ETNT Health channel on
Eat This, Not That!
Read more