CDC Issues New Warning for Young Adults
18-22-year-olds are spreading coronavirus.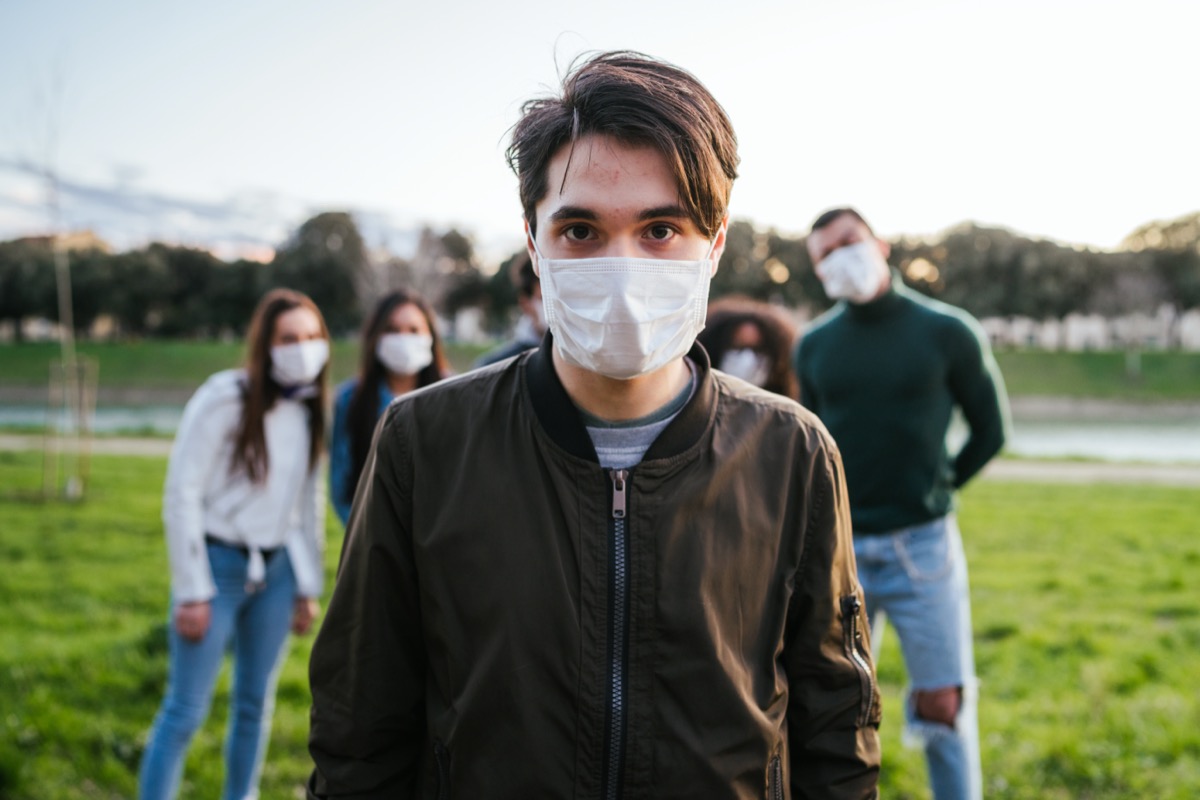 In early August, young adults started leaving their homes and heading back to colleges and universities across the country. Within weeks, health experts noticed a concerning trend—that young people were propagating the spread of the virus not only amongst themselves but to higher risk populations. Now, the CDC is issuing concerning data about the younger age demographic. On Tuesday, the national health organization released two studies, both coming to the same conclusion: colleges and universities are fueling the COVID-19 spread—and must be stopped. Read on, and to ensure your health and the health of others, don't miss these Sure Signs You've Already Had Coronavirus.
More Than 45% of the Cases Were From Those Aged 18-22
"During August 2–September 5, 2020, weekly COVID-19 cases among persons aged 18–22 years increased 55% nationally. Increases were greatest in the Northeast (144%) and Midwest (123%). Increases in cases were not solely attributable to increased testing," the CDC explained in one of the studies, involving a national analysis. 
They point out that while the surge of cases in this age group could be driven by many factors, "including changes in behavior or risk profiles resulting from multiple social, economic, and public policy changes during this period," it is most likely due to the fact that over 45% of those aged 18-22 are enrolled in colleges and universities.
"Young adults, including those enrolled in colleges and universities, should take precautions, including mask wearing, social distancing, and hand hygiene, and follow local, state, and federal guidance for minimizing the spread of COVID-19," the CDC cautions. "Institutions of higher education should take action to promote healthy environments."6254a4d1642c605c54bf1cab17d50f1e
The other study focused on a series of 18 COVID clusters — groups of 5 or more cases — at University of North Carolina Chapel Hill, "within 2 weeks of opening the campus to students," the CDC explained. By August 25 the number of cases had already jumped up to 670. "Student gatherings and congregate living settings, both on and off campus, likely contributed to the rapid spread of COVID-19 in this setting."
Again, the health organization recommended "enhanced measures," including  "reducing on-campus housing density, ensuring adherence to masking and other mitigation strategies, increasing testing for SARS-CoV-2, and discouraging student gatherings."
Dr. Fauci Puts Out Warning, As Well
Dr. Anthony Fauci, the nation's leading infectious disease expert, has been urging young Americans to act responsibly during the pandemic for this very reason. 
"What I say to the young people, is that even though you're perceiving correctly—that the chances are that if you get infected, you're not going to get seriously ill statistically alone—even though don't be too confident because we're now seeing that people from 18 to 34 are having an increased incidence of hospitalization of late. But putting that aside, when you get infected as a young person, and you assume correctly that you're not going to get seriously ill, the natural response, which is innocent and you know, not doing anything evil or bad, you say I'm not hurting anybody. I get infected. I'm in a vacuum," he explained during a recent interview with actress Jennifer Garner. 
"That's very much incorrect because you're not in a vacuum. The fact that you've allowed yourself to get infected means you are inadvertently and innocently propagating the outbreak. And when you propagate the outbreak, it doesn't stay with you because it is likely that you will infect someone else who'll infect someone else. And then all of a sudden, someone gets infected, who is vulnerable, someone's father and mother who has cancer chemotherapy, a woman who's getting radiation for breast cancer, a child with immunodeficiency."
"Even though you think you live in a vacuum, you have two types of responsibility," Dr. Fauci continues. "One is an individual responsibility to yourself. And the other is something that you have to accept as a member of society. You have a societal responsibility. You don't want to be part of the problem. You want to be part of the solution."
"Don't let caution to the wind because you're not only going to be hurting yourself. You're going to be propagating a bad thing, which is a pandemic." As for yourself, no matter your age, to get through this pandemic at your healthiest, don't miss these 35 Places You're Most Likely to Catch COVID.
Alek Korab
Alek Korab is a Co-Founder and Managing Editor of the ETNT Health channel on Eat This, Not That!
Read more about Alek