The CDC Just Issued This Big News About Face Masks
The evidence is pouring in: wearing a mask can save your life.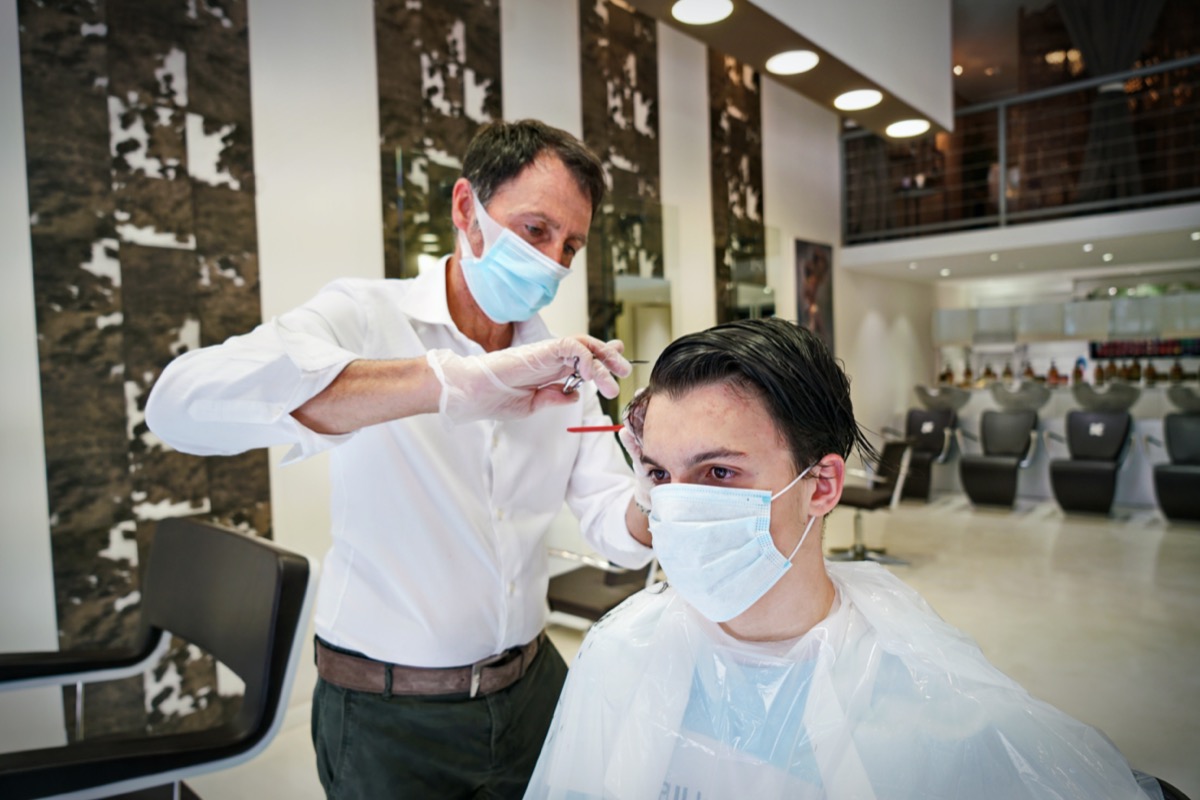 In case you are still unsure about whether masking up can actually prevent the spread of COVID-19, a new report courtesy of the United States Centers for Disease Control offers some compelling evidence. 
The case report, published July 14 in the CDC publication Morbidity and Mortality Weekly Report, focuses on two hairstylists working at a Missouri salon who unknowingly had COVID-19 in May. According to the detailed report, the first stylist worked with clients for eight days while symptomatic, and the second for five. while the second stylist did the same for five days. Over the course of around a week, 139 masked customers visited their salon and got cuts or treatment from them—both of them wearing masks as well. Not a single client or any of the other stylists in the salon became infected as a result. 6254a4d1642c605c54bf1cab17d50f1e
Masks "Reduce Impact and Magnitude"
"These results support the use of face coverings in places open to the public, especially when social distancing is not possible, to reduce spread of SARS-CoV-2," they concluded. "With the potential for pre-symptomatic and asymptomatic transmission, widespread adoption of policies requiring face coverings in public settings should be considered to reduce the impact and magnitude of additional waves of COVID-19."
However, those who came into contact with the stylists when masks weren't involved did become infected as a result. Four individuals living in the same home as the first stylist ended up testing positive for COVID-19. 
"Consistent and correct use of face coverings, when appropriate, is an important tool for minimizing spread of SARS-CoV-2 from pre-symptomatic, asymptomatic and symptomatic persons," the researchers wrote about their findings. 
"It's Worth Wearing It"
Dr. Anthony Fauci, the country's leading infectious disease expert, recently admitted that one of the reasons the virus spread so feverishly in the beginning of the pandemic because people were confused about the effectiveness of masks. 
"We have to admit it, that that mixed message in the beginning, even though it was well meant to allow masks to be available for health workers, that was detrimental in getting the message across," Dr. Fauci said in an interview with Mary Louise Kelly of NPR's All Things Considered. "No doubt about it."
While it is still up for debate exactly how much protection wearing a mask provides you, he maintains that any protection is better than nothing. 
"It isn't 100% protection by any means, but certainly the amount that you get is worth wearing it, not only worth wearing it, but really compels you to wear it." So wear that mask, wash your hands frequently, avoid crowds, practice social distancing, monitor your health, and to get through this pandemic at your healthiest, don't miss these 37 Places You're Most Likely to Catch Coronavirus.
Leah Groth
Leah Groth has decades of experience covering all things health, wellness and fitness related.
Read more about Leah