The CDC Just Changed This Big Face Mask Rule For All
Masks are a two-way street, according to the latest research.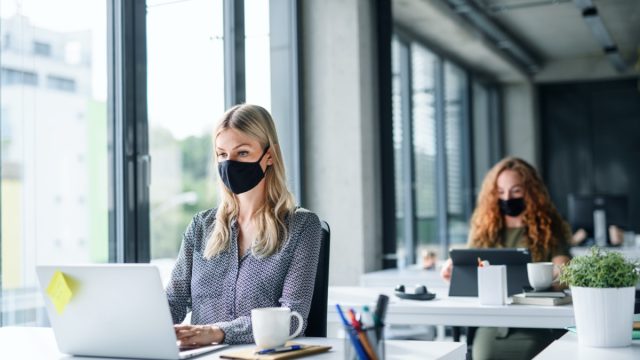 Since the first cases of COVID-19 were identified in the United States, the Centers for Disease Control and Prevention has updated their stance on face masks several times. Initially, the governmental health organization shied away from protective face coverings altogether, worrying that the supply should be saved for healthcare professionals. Then, they started recommending cloth masks to protect others in case the wearer was infected with COVID-19. Now, they are officially endorsing the use of masks as a method of not only protecting others from the virus, but yourself as well. Read on, and to ensure your health and the health of others, don't miss these Sure Signs You've Already Had Coronavirus.
Masks Can Protect You—and Others—the Study Shows
On Tuesday the CDC issued new mask guidance, citing numerous studies showing that masks can prevent both outgoing and incoming transmission. 
"Masks are primarily intended to reduce the emission of virus-laden droplets ("source control"), which is especially relevant for asymptomatic or presymptomatic infected wearers who feel well and may be unaware of their infectiousness to others, and who are estimated to account for more than 50% of transmissions," they write. " Masks also help reduce inhalation of these droplets by the wearer ('filtration for personal protection')."
They explain that the "community benefit of masking for SARS-CoV-2 control is due to the combination of these effects; individual prevention benefit increases with increasing numbers of people using masks consistently and correctly."
RELATED: 7 Side Effects of Wearing a Face Mask
According to their studies, masks are effective in reducing transmission risk by over 70%. One heavily cited study, involving two infected hair stylists who worked with 67 clients while wearing a mask, resulted in zero transmissions. Another involved passengers traveling on an airplane for over 10 hours without becoming infected by an individual unknowingly carrying the virus. 
The CDC also points out that when people wear masks, infections, hospitalizations, and deaths fall significantly. 
"Adopting universal masking policies can help avert future lockdowns, especially if combined with other non-pharmaceutical interventions such as social distancing, hand hygiene, and adequate ventilation," the CDC wrote. 
RELATED: Unhealthiest Habits on the Planet, According to Doctors
Masks are a "Two-Way Street," Raves Fauci
Dr. Anthony Fauci, the nation's leading infectious disease expert, mentioned the research during an interview with MSNBC on Tuesday. "It's a two-way street," he said about protective facial coverings. "You protect others, their mask protects you, and your mask also protects you."
So do everything you can to prevent getting—and spreading—COVID-19 in the first place: Wear a face mask, get tested if you think you have coronavirus, avoid crowds (and bars, and house parties), practice social distancing, only run essential errands, wash your hands regularly, disinfect frequently touched surfaces, and to get through this pandemic at your healthiest, don't miss these 35 Places You're Most Likely to Catch COVID.