CDC Director Just Said Masks Are Better Than Vaccines
If everyone did this for six to 12 weeks, "we'd bring this pandemic under control," he said.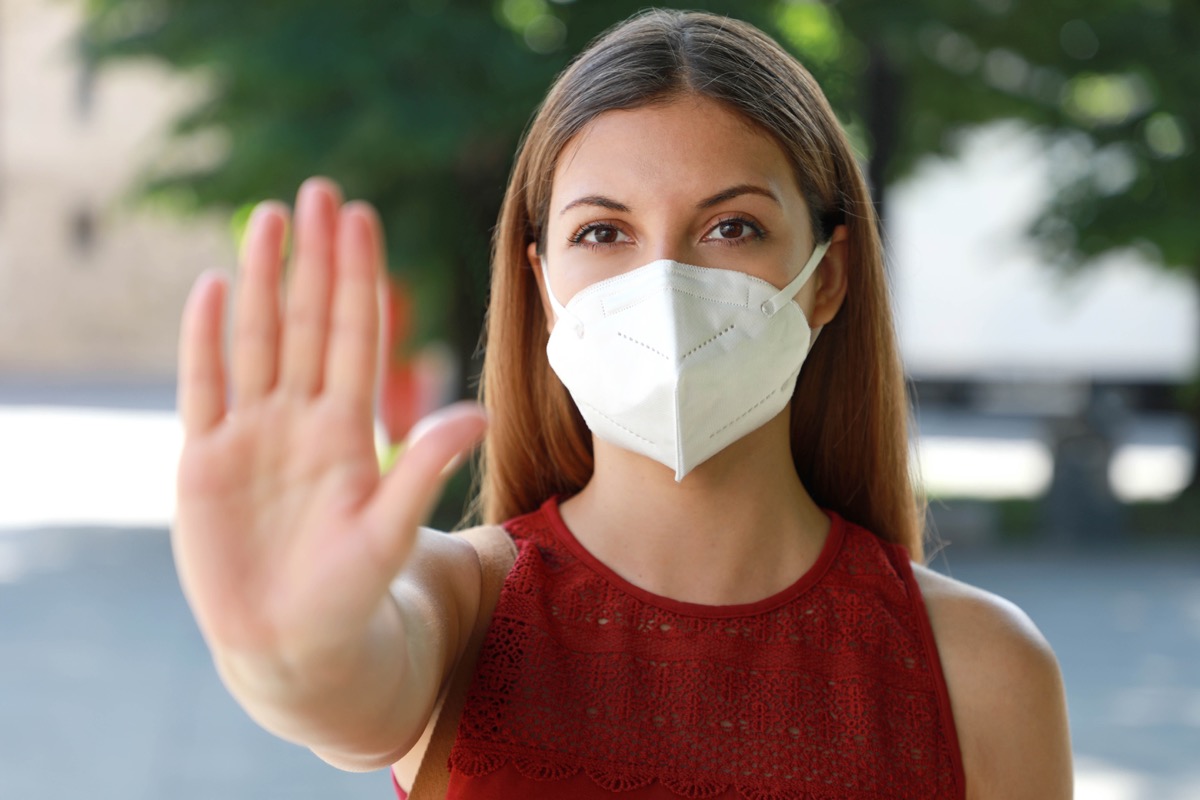 Robert Redfield, the director of the Centers for Disease Control and Prevention, said Wednesday that wearing a face mask could be more effective against the coronavirus than a vaccine. Read on, and to ensure your health and the health of others, don't miss these Sure Signs You've Already Had Coronavirus.
"Clear scientific evidence that they work"
Redfield made the remarks during a meeting on the Senate Subcommittee on Labor, Health and Human Services, Education and Related Agencies. 
"These face masks are the most important, powerful public health tool we have," he said. "I might even go so far as to say that this face mask is more guaranteed to protect me against COVID than when I take a COVID vaccine." He held up a disposable face mask while he spoke.6254a4d1642c605c54bf1cab17d50f1e
He explained: "When I take a COVID vaccine, because the immunogenicity may be 70%, and if I don't get an immune response to the vaccine, it's not going to protect me. This face mask will."
Redfield said he would continue to exhort Americans to "embrace" face coverings. "We haven't got the acceptance, the personal responsibility that we need for all Americans to embrace this face mask," he added.
"We have clear scientific evidence that they work," said Redfield. "If we did it for six, eight, 10, 12 weeks, we'd bring this pandemic under control."
Redfield also said a coronavirus vaccine wasn't likely before the middle or end of 2021.
Originally, face masks were touted as an effective way to prevent transmitting coronavirus if the wearer was infected. But face coverings also seem to protect the wearer from the virus. Dr. Anthony Fauci, the nation's top infectious-disease expert, has estimated that wearing a face mask can reduce your risk of contracting coronavirus by 50% to 80%. 
Face masks politicized
But the reason some Americans don't embrace face masks is likely because they were made a political symbol by President Trump, who refused to wear one until recently and has held several campaign events where few masks were seen.
Fauci has lamented this turn of events in interviews, saying that containing COVID-19 "becomes even more tough when there's this political symbolism of, if you wear a mask you're on this side of the political spectrum, if you don't wear a mask you're on that side." He called that behavior "completely crazy." "This is a disease, a virus, a public health issue and not a political issue. And now we've kind of politicized masks, which is really unfortunate."
The CDC officially advises that all Americans wear a face mask whenever they're in public, or around people who aren't in their household, to reduce the spread of coronavirus. 
As for yourself, do everything you can to prevent getting—and spreading—COVID-19: In addition to wearing a mask, get tested if you think you have coronavirus, avoid crowds (and bars, and house parties), practice social distancing, only run essential errands, wash your hands regularly, disinfect frequently touched surfaces, and to get through this pandemic at your healthiest, don't miss these 35 Places You're Most Likely to Catch COVID.