The CDC Just Advised Against All Thanksgiving Travel
Thanksgiving should be spent with only people living in your households.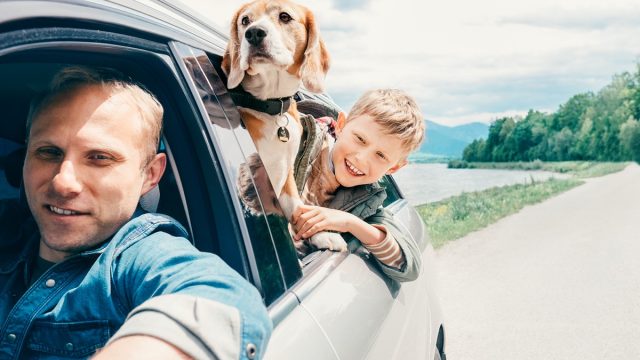 In an extraordinary announcement, the Centers for Disease Control and Prevention advised Thursday that you should not travel for Thanksgiving—even by car—and instead spent the holiday only with people in your "household." The move comes during a time in which coronavirus cases and hospitalizations are hitting record highs nationwide. "As we're seeing exponential growth in cases, and the opportunity to translocate disease or infection from one part of the country to another, leads to our recommendation to avoid travel at this time," Henry Walke, COVID-19 incident manager at the CDC, said Thursday.
"We're alarmed," he added. There has been an exponential increase in Covid-19 cases, hospitalizations and deaths. "What we're concerned about is not only the actual mode of travel — whether it's an airplane or bus or car, but also the transportation hubs we're concerned about, as well." Read on, and to ensure your health and the health of others, don't miss these Sure Signs You've Already Had Coronavirus. 
The Holiday Should Be Spent With "Only People Living in Your Households"
"Thanksgiving should be spent with only people living in your households, Walke said," according to The Hill. "Updated CDC guidance released Thursday also clarifies the definition of 'household' to mean people who have been living in the same home for at least 14 days before celebrations. The update was particularly aimed at college students who typically return home from campus for the holidays but risk bringing an infection with them this year."
"The safest way to celebrate Thanksgiving this year is at home with members of your household," said Dr. Erin Sauber-Schatz, who leads the C.D.C.'s community intervention and critical population task force. "If people have not been actively living with you for the 14 days before you're celebrating, they are not considered a member of your household, and therefore you need to take those extra precautions."
"The tragedy that could happen is that one of your family members — from coming together in this family gathering — actually could end up being hospitalized and becoming severely ill and dying," Walke said. 
"We certainly don't want to see that happen. I think these times are tough. It's been a long outbreak, almost 11 months now, and people are tired, and we understand that people want to see their relatives and their friends in the way they've always done it but this year, particularly we're asking people to be as safe as possible, and limit their travel."
RELATED: Dr. Fauci Says Most People Did This Before Catching COVID
Dr. Fauci Has Previously Recommended Against Family Gatherings
"I mean, it's such a beautiful tradition, Thanksgiving, of getting family together," admitted the nation's top infectious disease expert, Dr.Anthony Fauci. "I think we just need to realize that things might be different this year." 
According to him, there is not a one-size-fits-all answer to the question of who should be extra careful over the holidays. "People have to make their individual choice, particularly who you have in your home," Fauci explained. "Are they vulnerable people? Are they elderly? Are they people with underlying conditions?"
"Unless you absolutely know that you're not infected," he warns about the potential implications of traveling, specifically, "if you want to have people who are going to be flying in from a place that has a lot of infection, you're going to an airport that might be crowded, you're on a plane," he continued. "There are many people who are not going to want to take that risk."
RELATED: 21 Subtle Signs You've Already Had COVID
The CDC's Recommendations in Full
Says the Agency "Travel may increase your chance of getting and spreading COVID-19. Postponing travel and staying home is the best way to protect yourself and others this year.
If you are considering traveling for Thanksgiving, here are some important questions to ask yourself and your loved ones beforehand. These questions can help you decide what is best for you and your family.
Are you, someone in your household, or someone you will be visiting at

increased risk for getting very sick

from COVID-19?

Are cases high or increasing in your community or your destination? Check

CDC's COVID Data Tracker

for the latest number of cases.

Are hospitals in your community or your destination overwhelmed with patients who have COVID-19? To find out, check

state and local public health department websites

.

Does your home or destination have requirements or restrictions for travelers? Check

state and local requirements

before you travel.

During the 14 days before your travel, have you or those you are visiting had close contact with people they don't live with?

Do your plans include traveling by bus, train, or air which might make staying 6 feet apart difficult?

Are you traveling with people who don't live with you?
If the answer to any of these questions is 'yes,' you should consider making other plans, such as hosting a virtual gathering or delaying your travel.
It's important to talk with the people you live with and your family and friends about the risks of traveling for Thanksgiving."
And to get through this pandemic at your healthiest, don't miss these 35 Places You're Most Likely to Catch COVID.
Alek Korab is a Co-Founder and Managing Editor of the ETNT Health channel on
Eat This, Not That!
Read more