Chrissy Teigen's Cooking Hack for Quicker Dinners
Get supper on the table in a jiffy with this simple kitchen staple that you probably already own.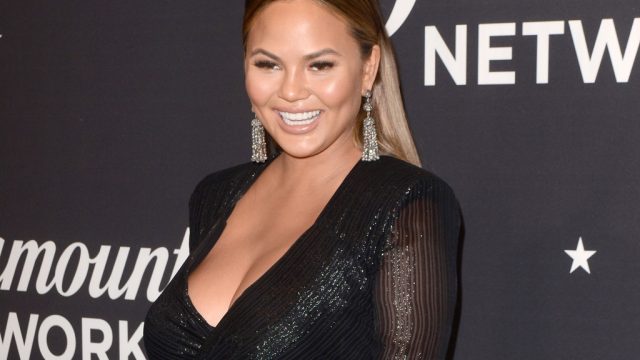 As a cover girl, cookbook author, social media sensation, and now a mom-of-two, Chrissy Teigen seems too busy to cook elaborate dishes. That's why she keeps it super simple come suppertime. The model recently revealed her newfound appreciation for quick and easy dinners after giving birth to her son Miles.
"I have never more understood the desire and need for short, simple meals. 1 kid, I was like 'Ok… Easier would be nice, but I got this.' But 2 kids, holy s***, f*** any recipe over 5 steps right now," she hilariously tweeted on May 26th.
In hopes of avoiding unnecessary steps, piling ingredients high, and working overtime in the kitchen, Teigen found the perfect solution.
"I am fascinated by sheet pan meals right now—sides and main cooked on the same temp at the same time on the same pan," she tweeted later that day. The new mom also shared one of her go-to recipes a la The New York Times that features fiber-rich chickpeas, anti-inflammatory turmeric, and a tenderizing marinade that makes for mouth-watering chicken. This recipe contains eight (easy) steps, just in case you wondering. (Chrissy must've made an exception to her 5-ingredient-meal rule after trying her hand at this delish dish.) The best part? It cooks in under an hour.
Teigen's definitely onto something. The affordable sheet pan is the perfect foundation for lean meats, colorful vegetables, heart-healthy oils, and robust spices. And all you have to do is assemble your ingredients and pop the pan in the oven—minimal effort required. Want to try your hand at Chrissy's dinner hack but not sure where to start? These 20 Sheet Pan Suppers You'll Love will help you skip the recipe hunt and get right to cooking, so you can get dinner on the table in a jiffy.