Over 60? Early Signs You've Caught Coronavirus
You're at risk of severe illness. Here are the warning signs.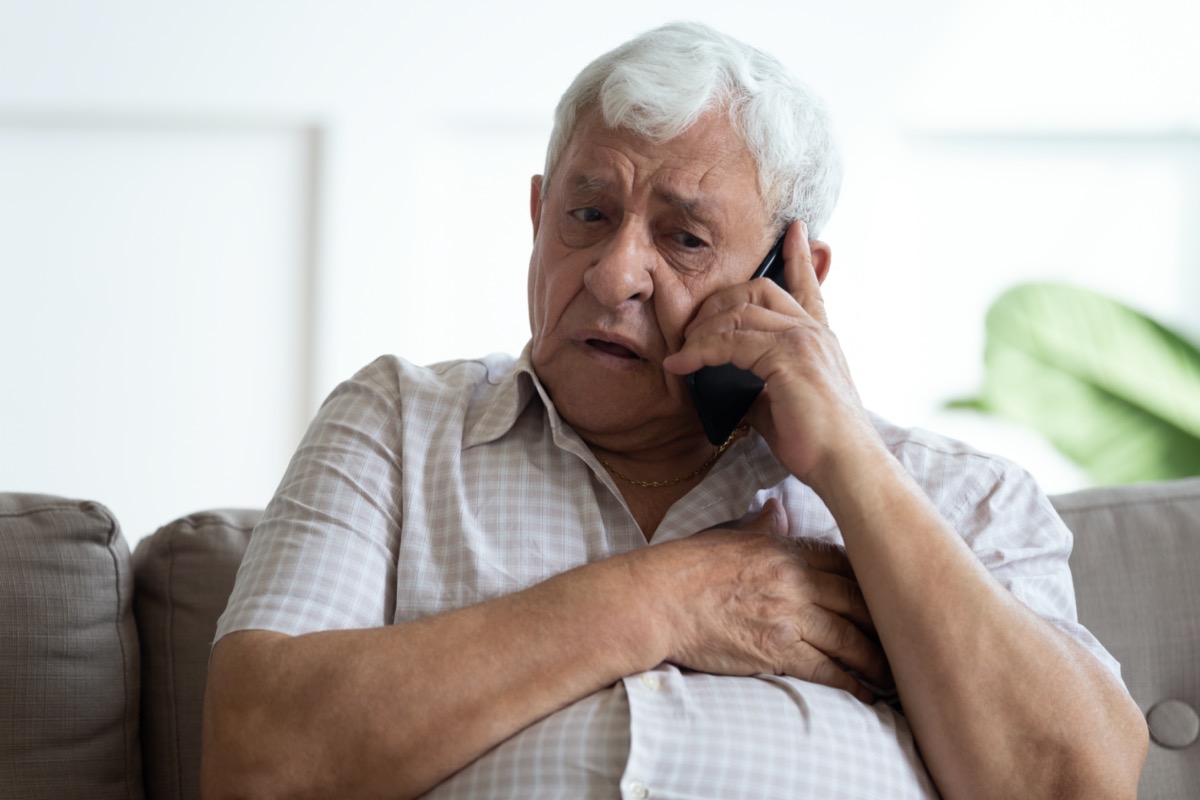 It's scary to read the headlines: Those over 65, exclaims the CDC, are more at risk of severe illness from the coronavirus (COVID-19) if they have underlying conditions. Here's what it's like if you get it at that age. Knowing what to expect can help with survival. Pass this story along to someone who needs to hear it.
If You Have a Weaker Immune System …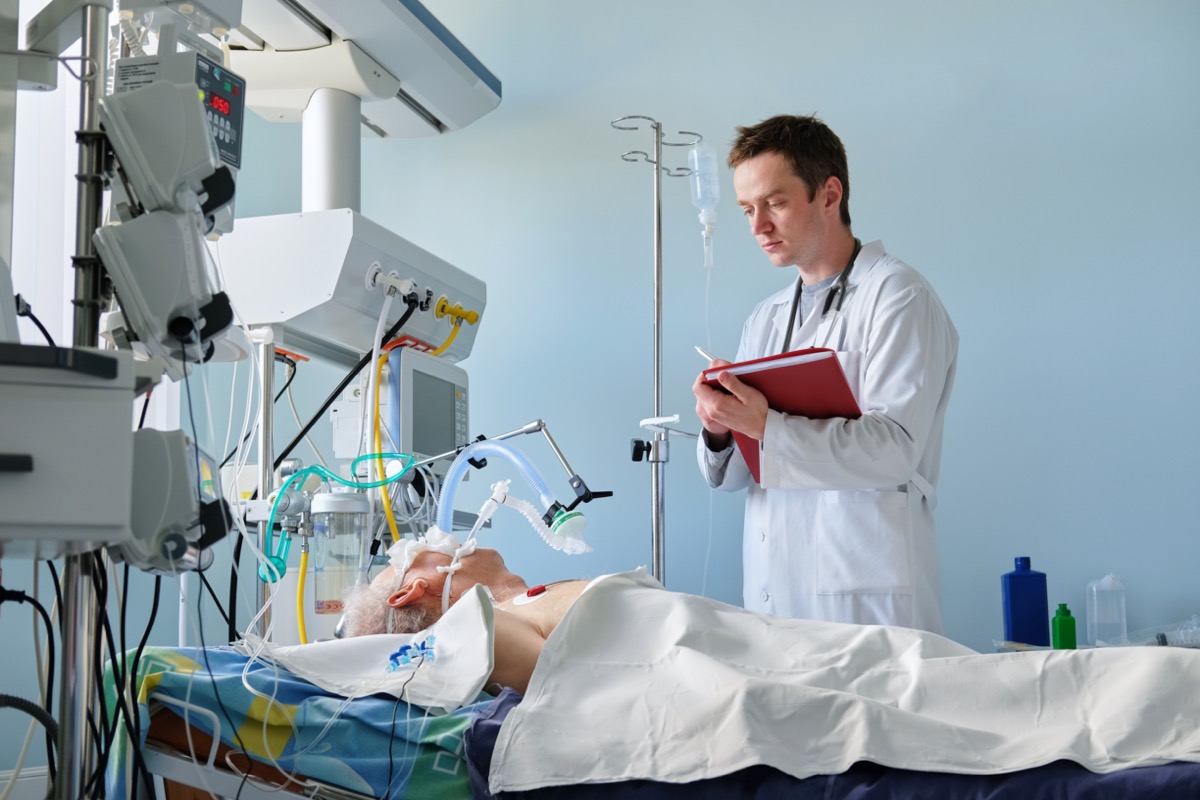 "Those with multiple comorbidities or weak immune systems have a much more difficult time fighting the coronavirus," says Dr. Tehrani. "Which is why the mortality rate among this population is so much greater."
"If you have pre-existing conditions, you are at a greater risk of needing medical intervention such as a ventilator," says Dr. Pam Middleton. "Contact your doctor if you are experiencing uncontrolled symptoms from any pre-existing medical condition."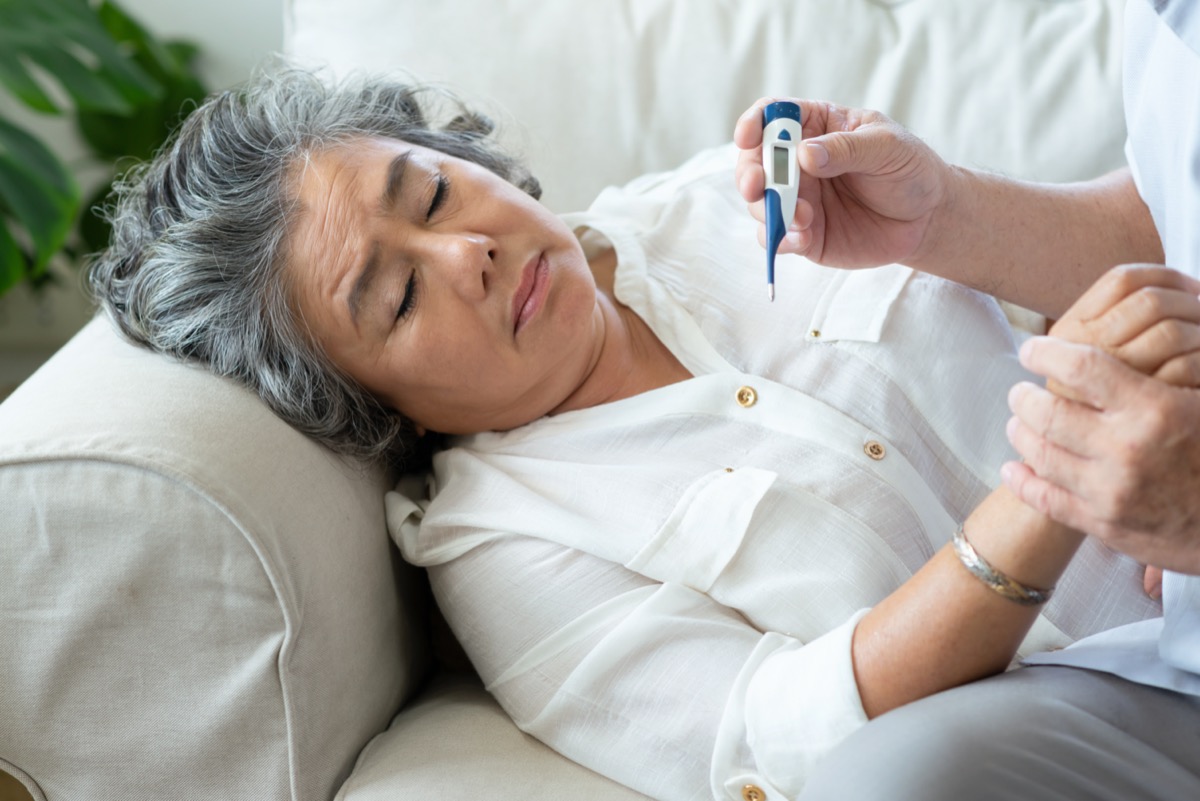 According to the CDC: "People with COVID-19 have had a wide range of symptoms reported—ranging from mild symptoms to severe illness.
These symptoms may appear 2-14 days after exposure to the virus:
Fever

Cough

Shortness of breath or difficulty breathing

Chills

Repeated shaking with chills

Muscle pain

Headache

Sore throat

New loss of taste or smell."
If You Have a Strong Immune System …
"For those with a strong immune system and not a lot of comorbidities"—meaning two chronic diseases—"their bodies can fight it off much better with fewer and milder symptoms," says Dr. Michael Tehrani, board-certified in geriatrics and internal medicine. 
"Recognizing that symptoms in this more vulnerable group may differ from those more commonly mentioned is of utmost importance," says Dr. LaFarra Young, mentioning that people of all ages have been told to expect a fever, cough and shortness of breath, but if you're over 60: "The typical 'fever' of 100.4 degrees may not be seen."
Your Mild Symptoms Might be Amplified
"For those over 60 or so, a dry cough can become a hacking cough, fever might linger longer and shortness of breath can be so pronounced that taking a breath feels impossible, which is a very frightening experience," says Dr. Tehrani.
You Have More Risk Factors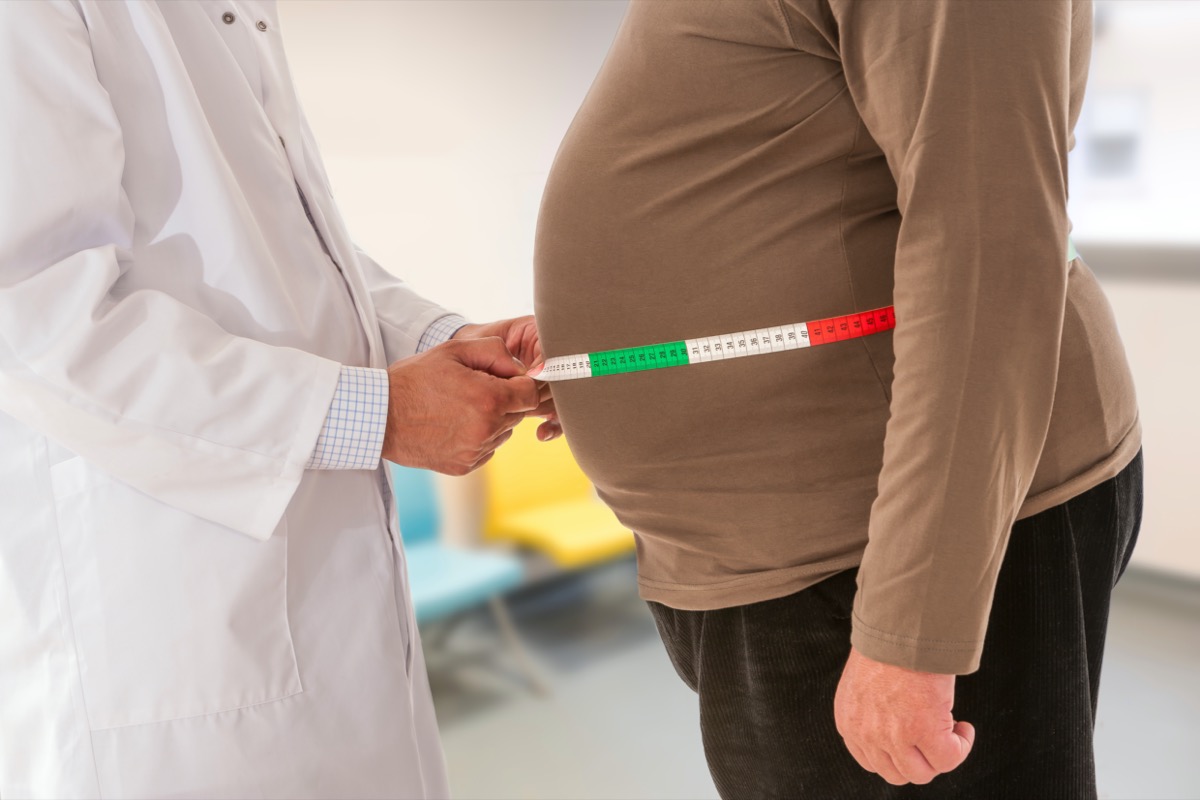 "The biggest risk factors seem to be hypertension and cardiac disease, which is higher in people that are older," says Dr. David Hanscom. "However, if someone in their 40s is overweight with medical problems, their risk is higher than someone who is in their 60s and healthy."6254a4d1642c605c54bf1cab17d50f1e
You May Have a Cytokine Storm
"Cytokines are proteins that serve as signals between cells and are used for communication. A cytokine storm is an overreaction of the immune system to triggers such as viruses," says Dr. Leann Poston, a licensed physician. "When these cytokines are overproduced, severe inflammation, high fever, and organ failure can result. In COVID-19, this excessive inflammatory reaction damages lung tissue leading to acute respiratory distress."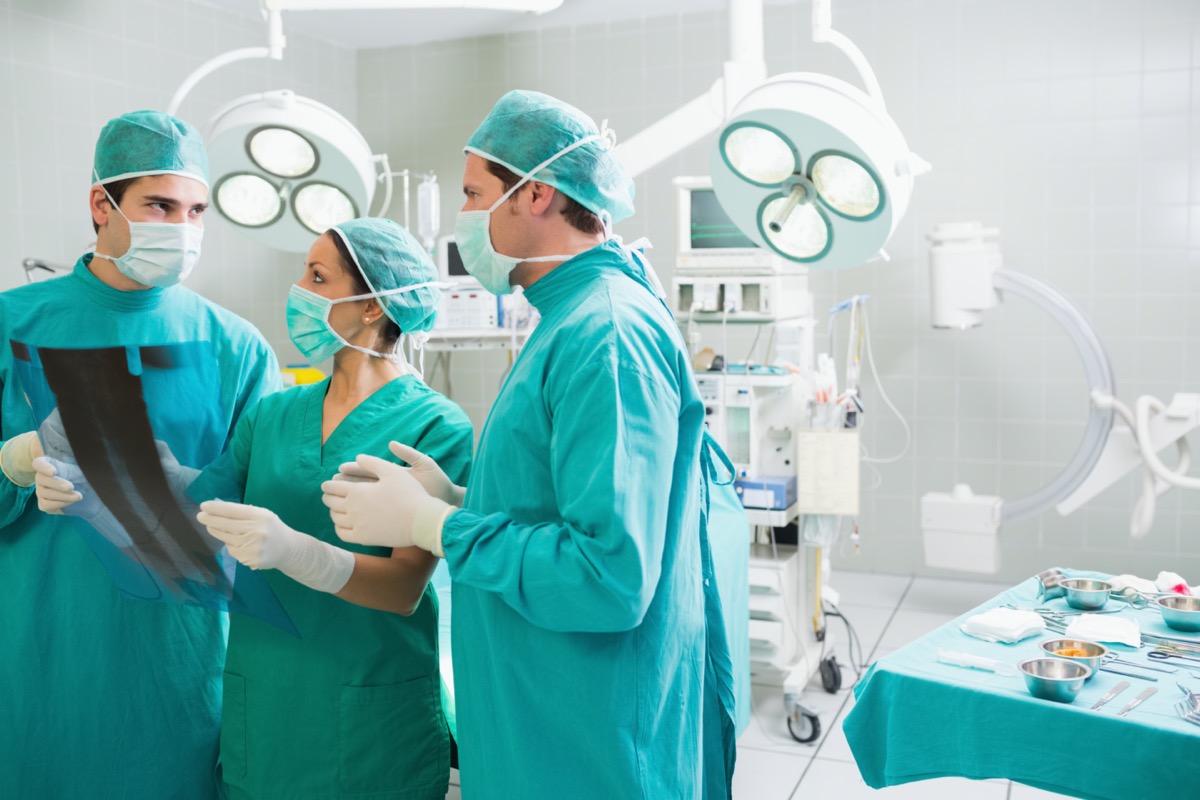 "As you age, the reserve capacity of organs decreases and the immune system becomes less effective, especially after age 75-80, says Dr. Poston. "This increases the death rate or probability of dying from the virus once infected."
You May Have More Severe Symptoms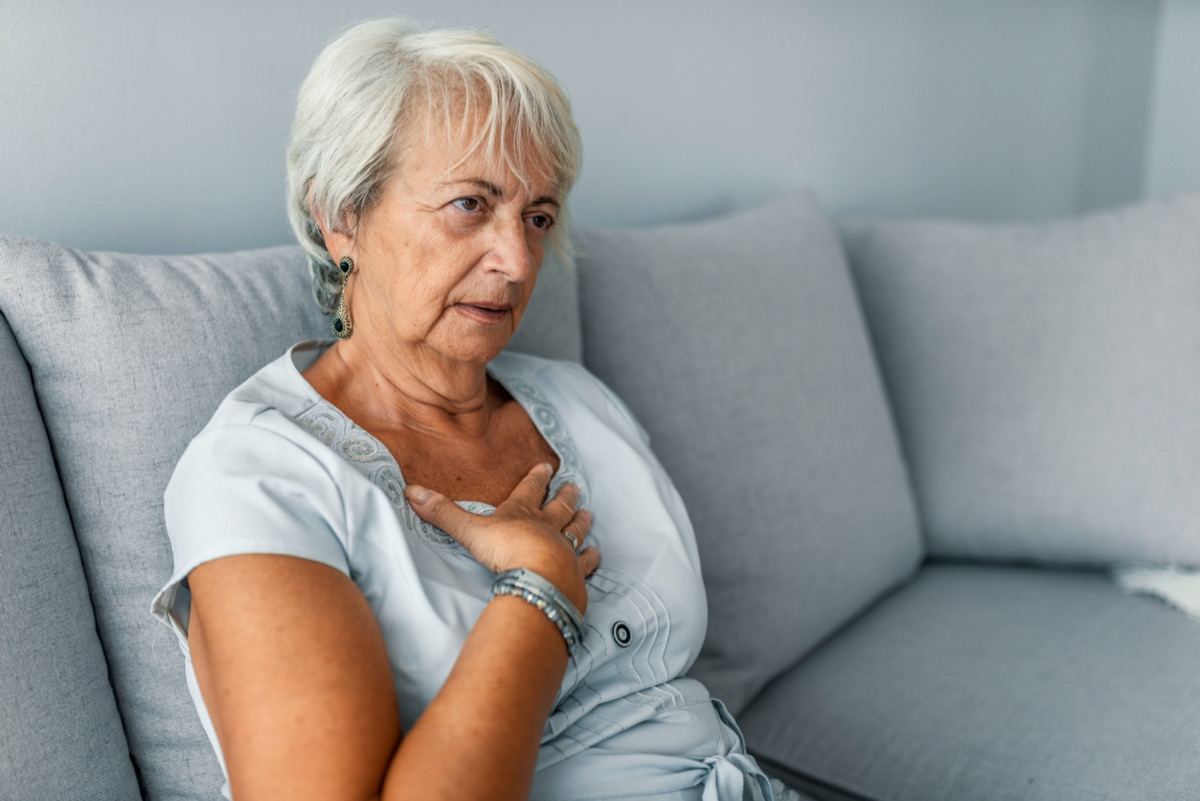 "People over age 65 are more likely to develop severe symptoms," says Dr. Shirin Peters,  Primary Care Doctor at Bethany Medical Clinic of New York.  "These severe symptoms can include: persistent pain or pressure in the chest; new confusion or difficulty waking up; bluish lips or face."
"The older you are—the more unpredictable it gets," says Dr. Dimitar Marinov. 
When to Seek Medical Attention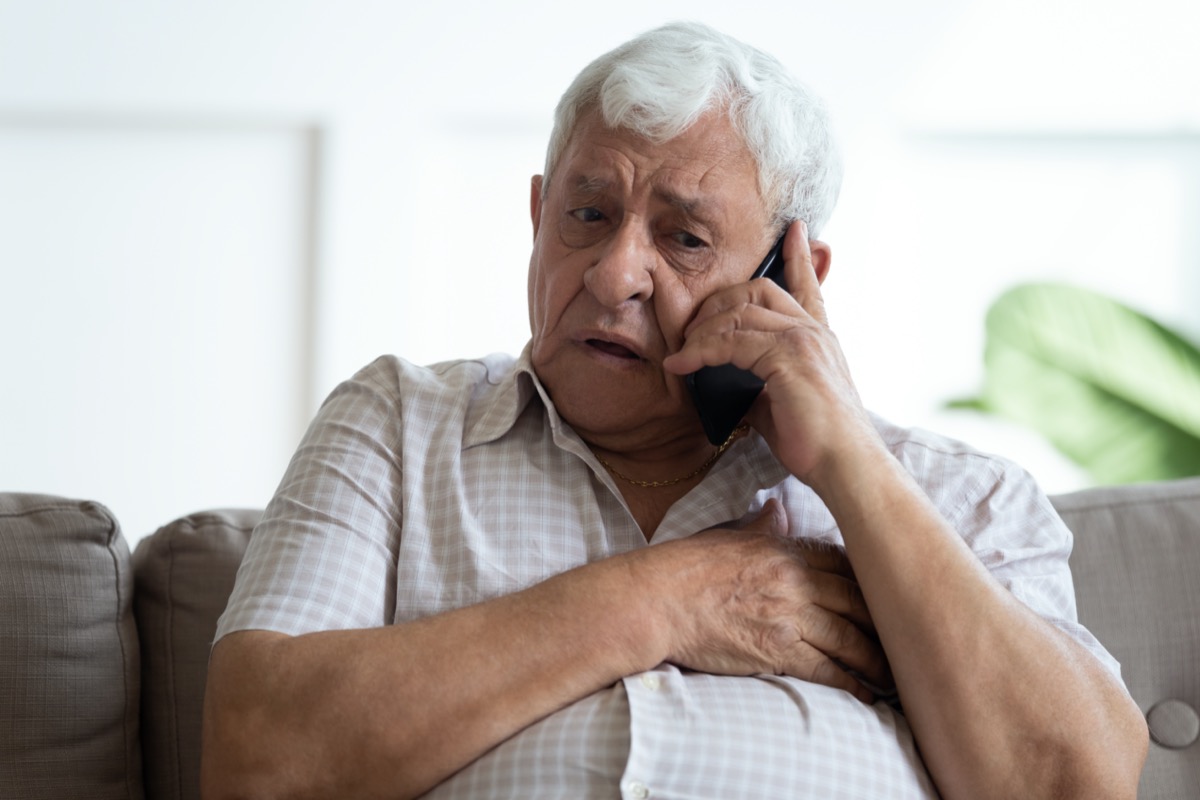 Reports the CDC: "If you have any of these emergency warning signs* for COVID-19 get medical attention immediately:
Trouble breathing

Persistent pain or pressure in the chest

New confusion or inability to arouse

Bluish lips or face
*This list is not all-inclusive. Please consult your medical provider for any other symptoms that are severe or concerning to you.
Call 911 if you have a medical emergency: Notify the operator that you have, or think you might have, COVID-19. If possible, put on a cloth face covering before medical help arrives."
You Don't Have to Give Up Hope!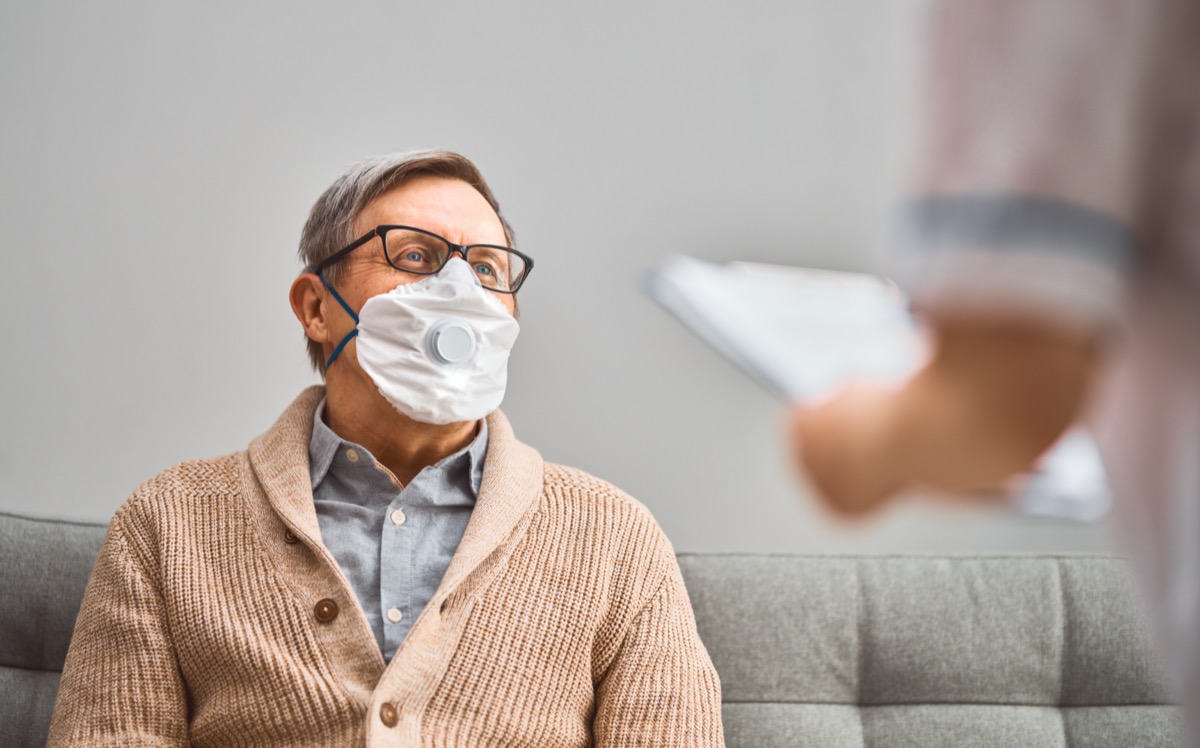 Dr. Hanscom is 67 and tested positive for coronavirus. "I am healthy and had a low-grade fever, muscle aches and fatigue for four days," he says. "It took me about a week to get my strength back and will soon be back to my exercise routine." If you're feeling any of the symptoms mentioned in this story, call your medical care provider immediately. And to avoid getting sick at all, take self-isolation seriously. Your grandkids might miss you now, but they want you around in the future—and so do we.
And to get through this pandemic at your healthiest, don't miss these 30 Worst Coronavirus Mistakes After 60.