This is When the Second Wave of Coronavirus Will Hit, Doctor Warns
A Yale Medicine infectious disease doctor warns we could be weeks away from another outbreak.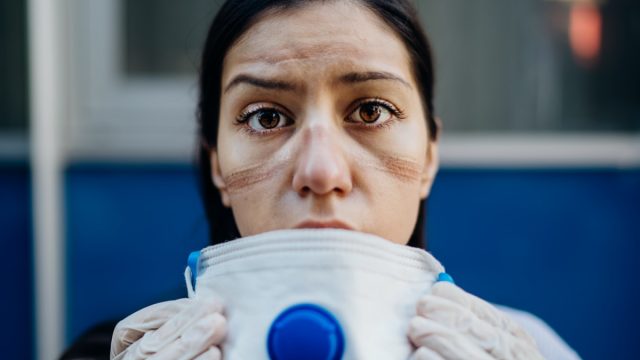 The COVID-19 pandemic has wreaked havoc on both the health and the wealth of our country. Due to shelter-in-place orders across America, the unemployment rate skyrocketed and we are currently in the midst of an economic recession. In hopes of repairing the financial damage as quickly as possible, many states started reopening sooner than health officials would have hoped. As people across the country are flocking to beaches, restaurants, parks, shopping centers, and gyms, the numbers of infections are slowly started to pick up speed once again—something Onyema Ogbuagu, MD, a Yale Medicine Infectious disease doctor and associate professor of medicine at Yale School of Medicine, is extremely concerned about. 
"Weeks, Possibly Months…."
According to Dr. Ogbuagu, while it's hard to predict for certain when we will experience a second wave or peak of the virus, it will likely be sooner than you think. "With the reopening of more states, recent large scale demonstrations, even where masks were used but physical distancing was harder to follow, all portend another resurgence soon," he explains to Eat This, Not That! Health. This could happen as soon as in the coming weeks or possibly months, "given the lag time between infection, development of symptoms and subsequent hospitalization rates, which is the more 'visible' indicator of widespread community incidence," he adds, pointing to the recent increased incidence of COVID 19 in more than a dozen states supporting these concerns. 
Then, there is the added disadvantage of cold and flu season. "With upcoming fall and winter seasons and our propensity to seek and cluster together indoors—a period that is typically associated with a resurgence of respiratory viral illness—we may be in for a few more tough months ahead," Dr. Ogbuagu continues. 
"A Peak May Be Ahead"
Depending on where a state's epidemic curve is, it will result in a peak for some and an entirely new wave for others. "For states like New York that already have a high community prevalence of COVID (up to 40% in some studies), they will likely experience a wave, but for other states where that has been limited disease activity until recently, a peak may be ahead," he explains.
One interesting thing that will contribute to these second waves or peaks has to do with the "double-edged sword" of physical distancing, points out Dr. Ogbuagu. "While it is very effective in protecting against person-to-person disease spread, it leaves those individuals who have not been exposed to the virus, and hence are not immune, vulnerable to infection if they are ever exposed in the future, such as with 'reopening states,'" he says.  
What can be done to prevent or minimize these inevitable resurgences of the virus?
Continuing to adhere to mask use ("even though data is limited on its effectiveness," he says)

physical distancing

hand hygiene

environmental cleaning

and disinfection.
Also, "ramping up testing to identify symptomatic and asymptomatic people with COVID, robust contract tracing, and isolation measures (including quarantine for those who do not need to be hospitalized) would be key to preventing future waves or peaks." In addition to that essential advice, to get through this pandemic at your healthiest, don't miss these Things You Should Never Do During the Coronavirus Pandemic.