Coronavirus Symptoms Might Worsen if You Take This
A recent claim has experts divided on the impact that ibuprofen has on the novel coronavirus.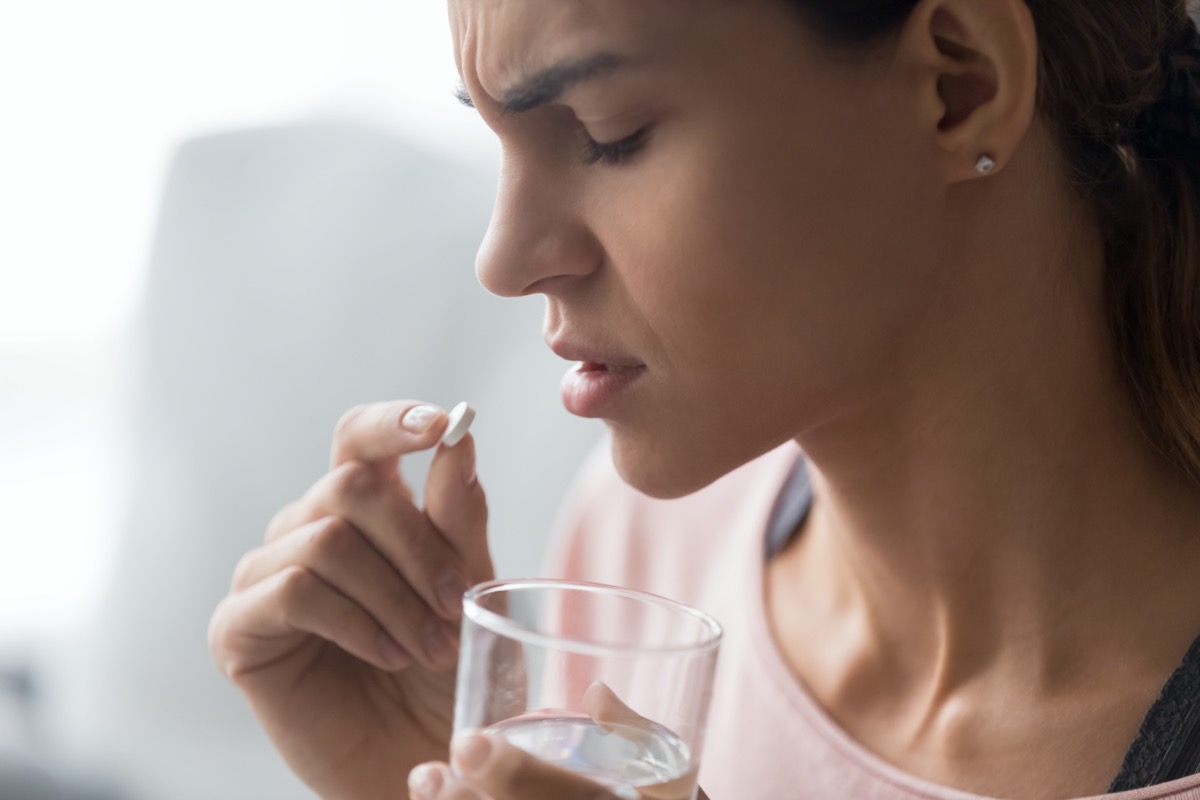 As the coronavirus pandemic continues to ravage the globe, experts are struggling to understand the extremely contagious and deadly virus that has infected more than 182,100 people in at least 140 countries around the world. There is a lot of confusion circulating around the somewhat mysterious virus. One of the most recent controversies? Whether ibuprofen—like that found in common Advil or Motrin—can aggravate the coronavirus infection. According to one UK family, their four-year-old daughter who was suffering from coronavirus-like symptoms, went from bad to worse immediately after taking the medication. 
Here's why ibuprofen could be bad
On Saturday, French health minister and prominent neurologist Olivier Veran stirred up debate when he warned that ibuprofen and other medicines known as Non-Steroidal Anti-Inflammatory Drugs (NSAIDs) have the potential to worsen the health of someone infected with novel coronavirus. Instead, he recommended that those sickened with the virus take paracetamol, commonly known as acetaminophen in the United States. 
"Taking anti-inflammatory drugs (ibuprofen, cortisone, etc.) may be a factor in worsening the infection," he tweeted. "If you have a fever, take paracetamol"—the European equivalent of acetaminophen, as in Tylenol—"If you are already on anti-inflammatory drugs or if in doubt, ask your doctor for advice."
The same day, the French government also reported that "grave adverse effects" linked to the use of non-steroidal anti-inflammatory drugs (NSAID) have "been identified with patients affected by Covid-19, in potential or confirmed cases."6254a4d1642c605c54bf1cab17d50f1e
"We repeat that the treatment of a fever or of pain linked to Covid-19 or to any other respiratory viral disease should be paracetamol," the ministry's new guidelines added. 
The UK's NHS even changed their stance on the medication, previously endorsing ibuprofen as a safe way to treat coronavirus symptoms. 
"There is currently no strong evidence that ibuprofen can make coronavirus (COVID-19) worse," reads the "Stay at home advice" on their website. "But until we have more information, take paracetamol to treat the symptoms of coronavirus, unless your doctor has told you paracetamol is not suitable for you. If you are already taking ibuprofen or another anon-steroidal anti-inflammatory on the advice of a doctor, do not stop taking it without checking first."
So is it true? Should you avoid these painkillers?
Dr. William Haseltine, Ph.D., president of the global health think tank ACCESS Health International, tells us that there is absolutely no current data proving that taking ibuprofen can make the virus worse. He adds that additionally, "it would require multiple controlled studies in order to determine the drug's effect on patients." 
"You can suspect it, but unless you actually do a controlled study on people given an inflammatory and those who aren't, you can't tell," he states. 
Alan Koff, MD, chief fellow of the infectious disease program at Yale School of Medicine, agrees. "Whether NSAIDs should be avoided in COVID-19 infection is not clear. Some health providers advocate stopping NSAIDs because of dampening the immune system's response to infection. However, there are many cases where anti-inflammatory medications, typically steroids, are given to dampen an over-active immune response to infection, which would otherwise result in collateral damage to the patient's own cells," he tells us. 
In addition, many patients on NSAIDs have pre-existing health conditions such as autoimmune disease, and these may be the patients who are more susceptible to complications of COVID-19 infection, regardless of them taking NSAIDs.
Here's what the Yale doctor's approach would be
"Some health providers recommend stopping NSAIDs because of the risk of peptic ulcers and kidney injury that can occur, especially if the body is under stress for other reasons," Dr. Koff continues. "My approach in this situation would be to minimize the use of NSAIDs in patients with COVID-19 infection, especially those with anything more than mild symptoms. Instead, he would recommend using acetaminophen in its place, "which is very safe when taken in the recommended doses."
"The rationale for avoiding NSAIDs at this time would be to prevent side effects of kidney injury or peptic ulcer disease, rather than issues relating to worsening infection. With this in mind, whether NSAIDs are helpful or harmful in COVID-19 infection will only become clear after reviewing larger patient data sets." 
And to live your happiest and healthiest life, don't miss these 18 Coronavirus Survival Secrets.
Leah Groth
Leah Groth has decades of experience covering all things health, wellness and fitness related.
Read more
More content from
ETNT Health