This One State is Leading the Deadly Coronavirus Wave
After an early reopening, this area is paying the price at "an unacceptable rate."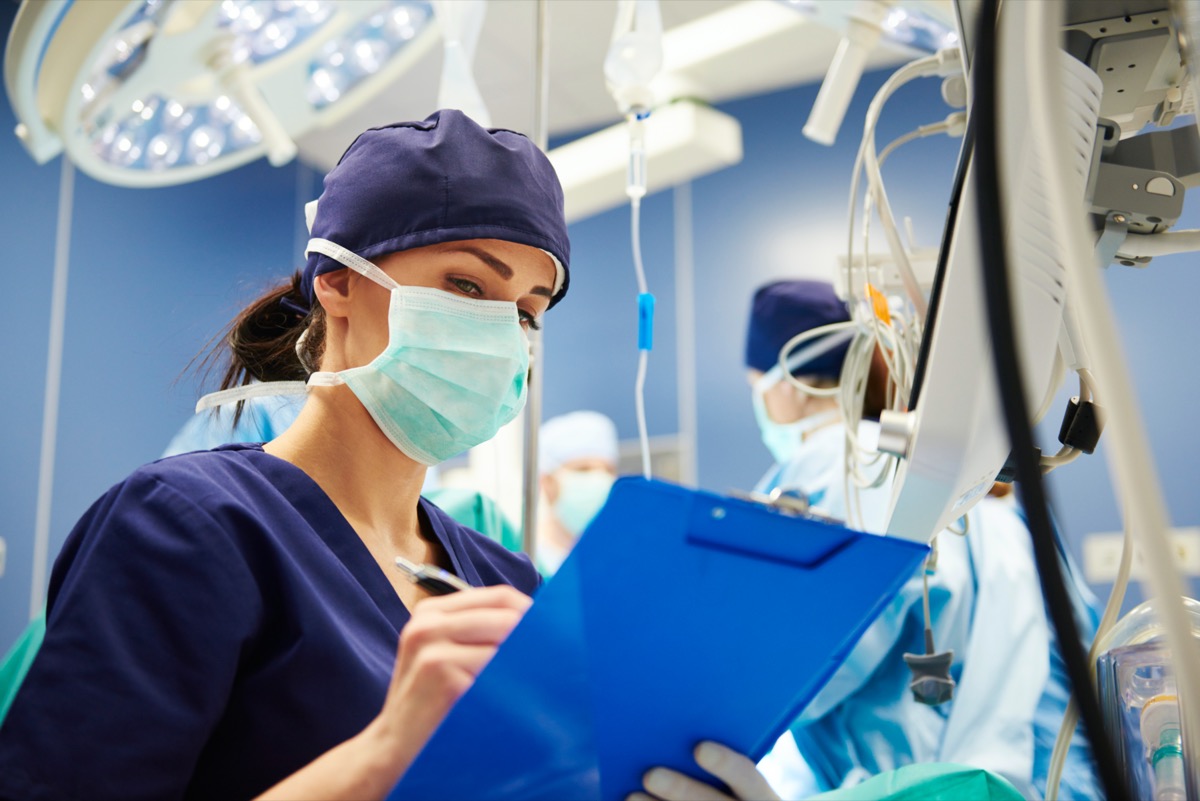 Of all the states to reopen after the coronavirus lockdown, none were as determined as Texas to have its citizens get back to business and life turn "back to normal." Unfortunately, that's not what's happening. "In Texas, health authorities have said new cases and hospitalizations are rising at their fastest rate yet. The state reported more than 5,000 cases in a single day, breaking their previous record," reports CNN. By all metrics, the state is leading the coronavirus wave.
"To state the obvious, COVID-19 is now spreading at an unacceptable rate in Texas, and it must be corralled," Gov. Greg Abbott warned in a press conference.
"Abbott sternly warned Texans of 'rampant' spread of coronavirus," adds the Dallas Morning News. "Saying Texans should stay home unless they have a good reason to venture out, Abbott late Tuesday afternoon gave local officials more powers to limit public gatherings during the upcoming Fourth of July weekend. He expanded the ability of mayors and county judges to restrict outdoor gatherings of more than 100 people—down from the previous limit of more than 500 people in outdoor gatherings."
By putting the power in the hands of local authorities, Abbott refused to enforce statewide guidelines. Yet the formally confident governor now sounds very concerned for his people.
The Numbers are Rising Fast
The numbers are indeed staggering. "According to Department of State Health Services statistics referenced by the governor, the rolling seven-day average of COVID-19 cases in Texas has risen from around 1,500 cases in the last half of May to 3,500 cases over the first five days of June. The positivity rate of COVID-19 tests across the state has also risen to 9 percent, up from 4.5 percent in late May, while the seven-day average hospitalization rate spiked from around 1,600 a day to more than 3,200 a day over that same time period," reports the Houston Press.
Nonetheless, the governor will not yet close down the state entirely. "Closing down Texas again will always be the last option," said Abbott, adding "that COVID-19 test positivity rates, positive case counts and hospitalizations will be the metrics that will dictate his administration's recommendations," reports the Press.6254a4d1642c605c54bf1cab17d50f1e
"There's been pretty much a doubling of the numbers in those three categories. If we were to experience another doubling of those numbers over the next month, that would mean that we are in an urgent situation where tougher actions will be required," Abbott said.
Houston doctors are sounding an alarm—that city is one of the hardest hit, with hospital beds filling up at a rapid clip. To help with the overflow, Texas Children's Hospital is allowing adult patients. Nearly 40 restaurants closed due to COVID-19 cases.
RELATED: 15 Mistakes You're Making With Face Masks
You Have Got to Wear a Mask, Beg Authorities
Texas Speaker of the House Dennis Bonnen, an ally of the governor, said that the attitudes against wearing face masks must change in the state; some localities don't like them. "If these so-called patriots persist in flaunting their disregard for others, we're in for a very long, dark summer with a deadly array of medical and economic consequences — not because of government restrictions, but because these agitators have fueled uncertainty and fear within decent and responsible individuals who understand the health risks and the consequences of our medical resources being strained beyond capacity," he said.
"Because the spread is so rampant right now, there's never a reason for you to have to leave your home. Unless you do need to go out, the safest place for you is at your home," Gov. Abbott told CNN affiliate KBTX. 
As for yourself: To get through this pandemic at your healthiest, don't miss these Things You Should Never Do During the Coronavirus Pandemic.
Alek Korab
Alek Korab is a Co-Founder and Managing Editor of the ETNT Health channel on Eat This, Not That!
Read more about Alek