Here's Why Angry Shoppers Are Boycotting Costco
A new policy designed to protect shoppers and staff has some up in arms.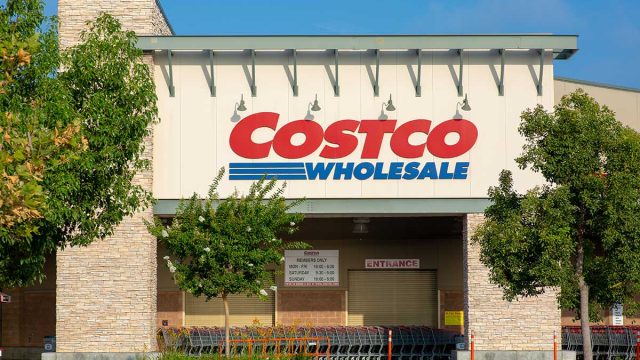 Some vocal members of Costco are taking issue with the wholesale club's recent policy requiring all shoppers to wear masks amid the coronavirus outbreak. It's not clear how widespread this movement is, but the protest appears to be evolving into something of a boycott for some who feel that the safety measure infringes upon their civil liberties. Costco is a private company, however, and is legally justified in setting its own policies, especially those designed to protect the health of its own staff.
Costco is among many national retailers who have taken aggressive steps designed to protect the safety of shoppers and workers alike during the COVID-19 pandemic. Starting on Monday of this week, shoppers at Costco will be required to wear protective masks. The new policy came in a statement published on a webpage dedicated to COVID-19 updates. It notes that "all Costco members and guests must wear a mask or face covering that covers the mouth and nose at all times while at Costco."
Related: 9 Worst Grocery Store Chains to Shop at During the Pandemic
Though the wearing of a mask is less designed to protect the individual and more to abate the spread and protect those around the mask-wearer, some are still very much aggrieved.  So much so, that the hashtag #boycottcostco has emerged.
Here are just a handful of tweets:
https://twitter.com/therealeric87/status/1258137467112296449
https://twitter.com/aauservices/status/1258134543409860615
https://twitter.com/DreDawn3/status/1257416238873153536
Costco CEO Craig Jelinek seemed to predict the backlash in a public message posted on the company's website, writing, "We know some members may find this inconvenient or objectionable, but under the circumstances, we believe the added safety is worth any inconvenience."
To be fair, there appear to be many individuals on social media that are reasonably defending Costco's decision to responsibly protect the health staff and shoppers alike. To wit:
Related: Safety Steps You Must Take When Getting Home from the Grocery Store
Dozens of grocery store clerks have died as a result of the coronavirus as the close proximity required to serve a large number of shoppers appears to have a very negative affect in the viral overload that seems consistent with those who fall ill from the deadly contagion.
Walmart received similar pushback from shoppers aggrieved by their new one-way shopping policy, though that led to people just ignoring the policy and not protesting.