Costco Won't Budge on Offering You This Grocery Shopping Service
The retailer is doubling down on its primary brick and mortar philosophy.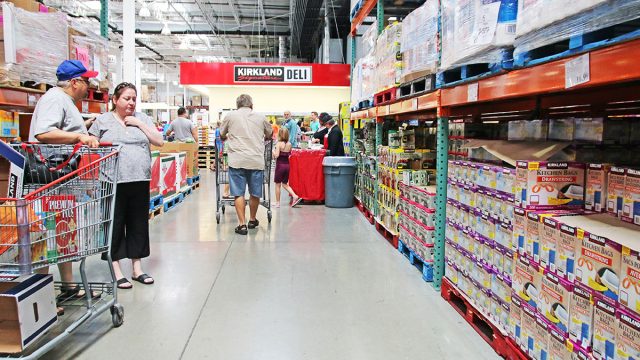 While most major retailers are racing to provide shoppers with the most convenient, speediest remote shopping options, Costco seems to be one of the few holdouts in transitioning to digital shopping. It seems as though the strategy is working for the retailer, which has no plans to up its online retail efforts in the near future.
Walmart, Target, Sam's Club, Kroger, and Aldi have all jumped on the bandwagon of online retail and in-store or curbside pickup, but in-store shopping is still the No. 1 priority at Costco, according to CEO Craig Jelinek.
"It's still important to get people physically in the store," he said on CNBC's "Closing Bell" Monday. "I don't think brick and mortar is going away."
While Costco did raise some concerns about losing customers, the retailer's slow-to-innovate approach is actually paying off. Renewals for Costco memberships hit a rate of 91% this year at the end of the fourth quarter, which represents an all-time high in customer satisfaction. At the same time, sales increased by more than 16% in October as the average transaction grew by more than 9%. (Related: The One Vitamin Doctors Are Urging Everyone to Take Right Now.)
Costco currently doesn't offer any pickup options for groceries, according to Business Insider. It has limited delivery options, which include same-day service for fresh foods through Instacart and two-day shipping on dry goods. Yet the warehouse is defying the downward trend that's impacting other retailers when it comes to in-store shopping.
Jelinek tied shopper loyalty to the full in-store experience, which includes amazing on-site deals like its $1.50 hot dog and drink combo (which hasn't changed its price in decades) and $4.99 rotisserie chicken (which has become a Costco shopper tradition). Though the food deals are well-known loss leaders for Costco, they clearly serve as incentives to keep the brick-and-mortar stores relevant to more than 105 million Costco cardholders nationwide.
Don't forget to sign up for our newsletter to get the latest grocery news delivered straight to your inbox.
Mura is a Deputy Editor leading ETNT's coverage of America's favorite fast foods and restaurant chains.
Read more