Costco Can Now Deliver Your Prescription Meds Along With Your Groceries
The retail giant has partnered with Instacart to include pharmacy items in delivery services.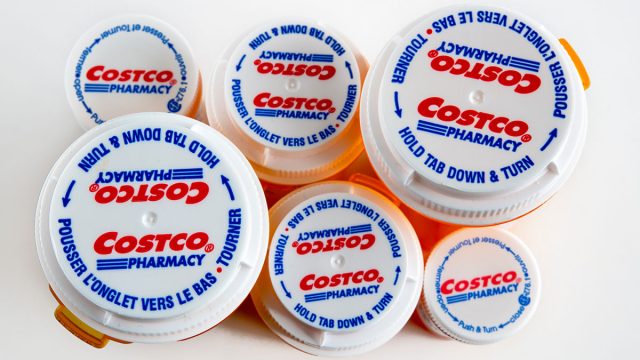 In an effort to provide an even more convenient online shopping experience, especially during a time when more and more shoppers are turning to online delivery services for basic necessities, Costco has partnered with Instacart in delivering prescription medications to millions of Americans. 
The pilot program, which started at select California and Washington state locations last year, has now been rolled out at all Costco Wholesale club locations with some urgency in an effort to meet the demands of new shopping habits during the COVID-19 pandemic.  
If you've been forced to go to crowded pharmacies just to pick up your prescription, you can rest easy. That's right, you can now get your prescription meds from Costco pharmacies delivered with your Costco order. The service has been launched at almost 200 Costco Wholesale club locations across Arizona, California, Delaware, Florida, Illinois, New York, Washington and the District of Columbia, with imminent plans to expand to all nationwide warehouse club locations in the coming months.
STAY INFORMED: Sign up for our newsletter to get the latest coronavirus foods news delivered straight to your inbox.
Instacart, already a home-delivery partner to Costco when it comes to groceries, says they are looking to make shopping for all necessities from Costco easier than ever. "We want to continue to bring all the aisles of the grocery store online to better serve customers," noted Instacart president Nilam Ganenthiran.
Costco club members will be able to take advantage of this service when they receive an alert from their Costco pharmacy about their prescription becoming available. Once they schedule their pharmacy delivery, they'll be able to add other Costco grocery and household items to the order before checking out. The delivered medication will arrive in tamper-proof bags, and customers will need to present a valid state-issued ID upon receipt. 
The partnership marks Instacart's entry into prescription drug delivery services—they already deliver items from Walgreens, CVS, and Rite Aid pharmacies, but those don't include prescription medication. Costco currently operates fewer than 800 pharmacies in the US, compared to CVS and Walgreens which both own around 10,000 locations each. The convenience of home delivery for prescription meds gives Costco a competitive edge for pharmacy deliveries during the coronavirus pandemic. 
READ MORE: 5 Tricks for Shopping at Costco Right Now, Straight from Employees
Mura is a Deputy Editor leading ETNT's coverage of America's favorite fast foods and restaurant chains.
Read more