This New COVID-19 Grocery Trend Is Sweeping the Nation
Shoppers appear to have shifted their priorities from quantity to quality.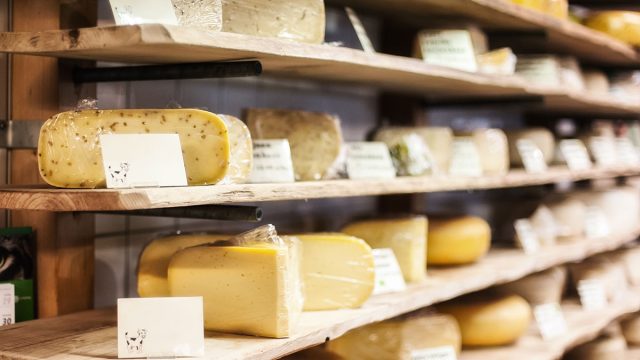 Remember your grocery shopping list from the start of the COVID-19 pandemic? It was likely filled with affordable shelf-stable items like canned goods and paper towels. But the items Americans are buying up as cases rise across the U.S. represent a marked departure from the survival-mode hoarding that took place this spring, and shoppers appear to be shifting from quantity to quality.
In recent weeks, consumers have been gravitating toward premium labels over value brands, according to new data from the market research firm IRI. Items such as higher–price point cheeses, high-end coffee, and frozen entrees have replaced bulk purchases of in-store brands. (Related: 9 Restaurant Chains That Closed Hundreds of Locations This Summer.)
Sales of premium and superpremium packaged goods grew by 1.7% at retailers year over year for the 26 weeks ending on Oct. 4, and the trend wasn't restricted to households of a certain income level. Interestingly, the data shows a break from normal spending patterns during a recession, in which only small luxuries are afforded.
Decreased spending in other areas due to pandemic-related restrictions may account for the difference. Americans are eating out and traveling less as they minimize time spent outside of the home. Instead, they're creating new experiences by turning mundane weeknight dinners into elevated affairs, where a high-end pasta sauce could make all the fancy difference.
"People don't have that many more avenues to spend, so they do have some money and they are feeding themselves well," Krishnakumar Davey, president of strategic analytics at IRI, told CNBC.
Similar trends toward higher-end products are apparent in alcohol purchases, too. Leading wine retailer Albertsons reported an increase in spending on premium wines this year, which the chain characterized as "shocking."
"There's been a trade up even further," Curtis Mann, Albertsons' group vice president of Wine, Beer and Spirits, told Wine Enthusiast. "I think it's because people are dining at home more, and they want to have a really nice experience. They are looking to us to provide that nice experience and those nice bottles of wine."
One thing, however, remains true: Everyone wants toilet paper, and any kind of toilet paper will do.
Don't forget to sign up for our newsletter to get the latest grocery news delivered straight to your inbox.
Mura is a Deputy Editor leading ETNT's coverage of America's favorite fast foods and restaurant chains.
Read more