This is the Most Dangerous Place You Can Go, Warns Coronavirus Doctor
This Johns Hopkins doctor has a warning before you leave the house.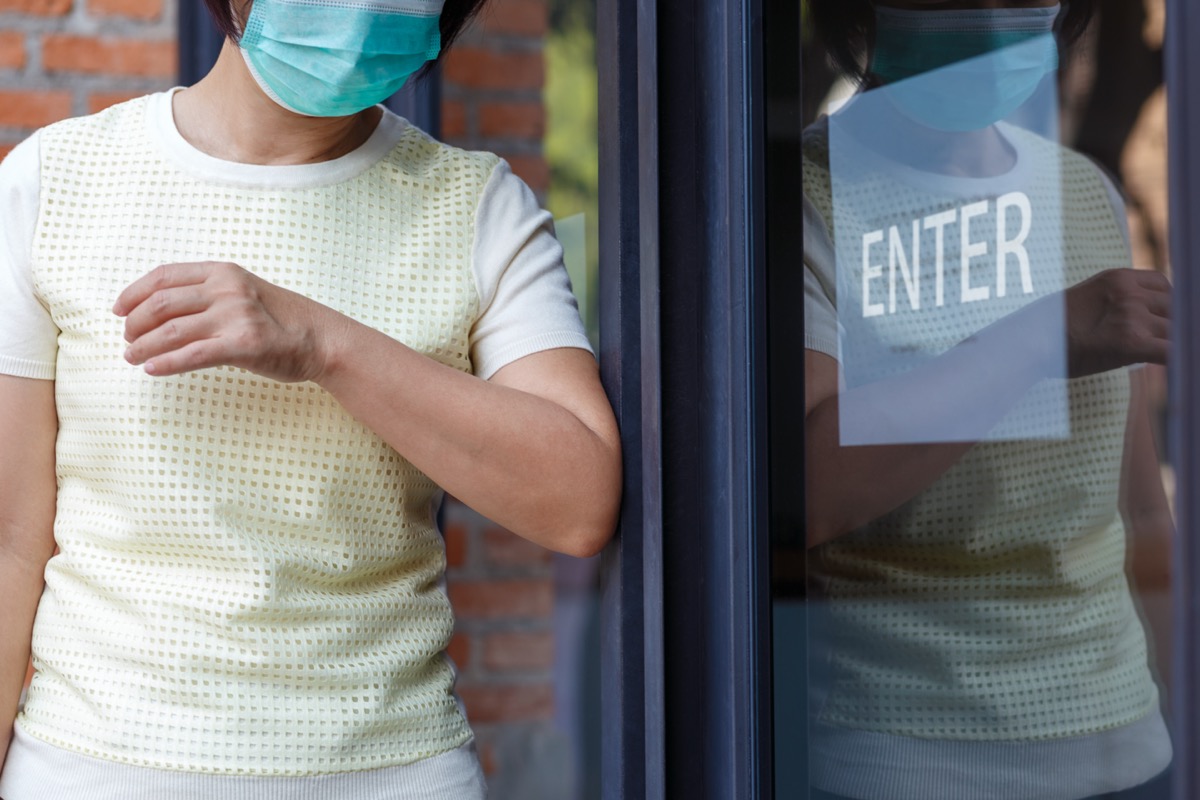 With some states hitting same-day record highs of coronavirus cases, it's hard to feel safe out there. However, there are things you can do to remain healthy. Wash your hands frequently. Practice social distancing. Only go outdoors if it's essential. Wear a mask every time you do. We asked Lisa Maragakis, M.D., M.P.H., senior director of infection prevention for the Johns Hopkins Health System, her opinion about the worst mistake you could make right now. She says that would be "to go to an indoor location where we are in close contact with large numbers of people with whom we have not been sheltering—and it's even worse if we do that without wearing a mask."
The Most Dangerous Place to Congregate
A number of recent outbreaks have been sparked by the following places:
Bars. "On June 30, Dr. Anthony Fauci, the nation's authority on infectious diseases, warned against going to bars," reports Eater. "'Congregation at a bar, inside, is bad news,' he said during a Senate Health, Education, Labor and Pensions Committee hearing. In East Lansing, Michigan, 107 people who visited the same bar over the course of a week tested positive for COVID-19."
Restaurants. "New York City will postpone indoor dining indefinitely, Mayor Bill de Blasio said Wednesday, citing soaring infection rates tied to bars and restaurants in a growing number of U.S. states," reports NBC 4. "New Jersey made the same decision earlier this week. De Blasio said 'now is not the time to forge ahead' with indoor dining in the five boroughs."
Frat houses. "At least 80 students living in a dozen fraternity houses near the University of Washington campus have reported testing positive for COVID-19, with hundreds of results pending," reports the AP. "The university learned Saturday that three fraternity residents had symptoms of COVID-19, and public health officials noticed a spike in cases among people ages 18 to 20, according to university spokeswoman Michelle Ma. By Tuesday, the university said at least 38 students tested positive."
What do those places have in common (besides booze?). They are all indoors.
The Most Dangerous Place at Work
Maragakis warns that there will always be risk for coronavirus spread in an indoor location like a restaurant. You can't wear your mask while you stuff a sandwich into your mouth. There is danger at the workplace, too, and there's one place you'll want to be particularly careful about there: the break room. "In the workplace—and I work in a hospital—break rooms are a risk for the same reasons as restaurants," she says. "Here in the hospital, many of my colleagues were worried about the risk of taking care of people with COVID-19 but what we know now is most of the employees here who have contracted the virus have contracted it from the community setting—family, friends, the grocery store—or from employee-to-employee transmission that we have traced back largely to break rooms, where people remove their masks, and sit close together and to many people in that small space."6254a4d1642c605c54bf1cab17d50f1e
She says businesses need to make changes to ensure your safety. "Where employees take their breaks, we need to find ways to accommodate them outdoors or find larger spaces or rearrange the schedule so that you're rotating employee break times so people don't end up there all at the same time." As for yourself: Don't head indoors with other people you haven't been self-isolating with, and certainly don't do so without a mask. And to get through this pandemic at your healthiest, don't miss these Things You Should Never Do During the Coronavirus Pandemic. 
Alek Korab
Alek Korab is a Co-Founder and Managing Editor of the ETNT Health channel on Eat This, Not That!
Read more about Alek