The #1 Trick to Not Catching COVID-19—Revealed by This Yale Doctor
Remember this life-saving advice as your city reopens.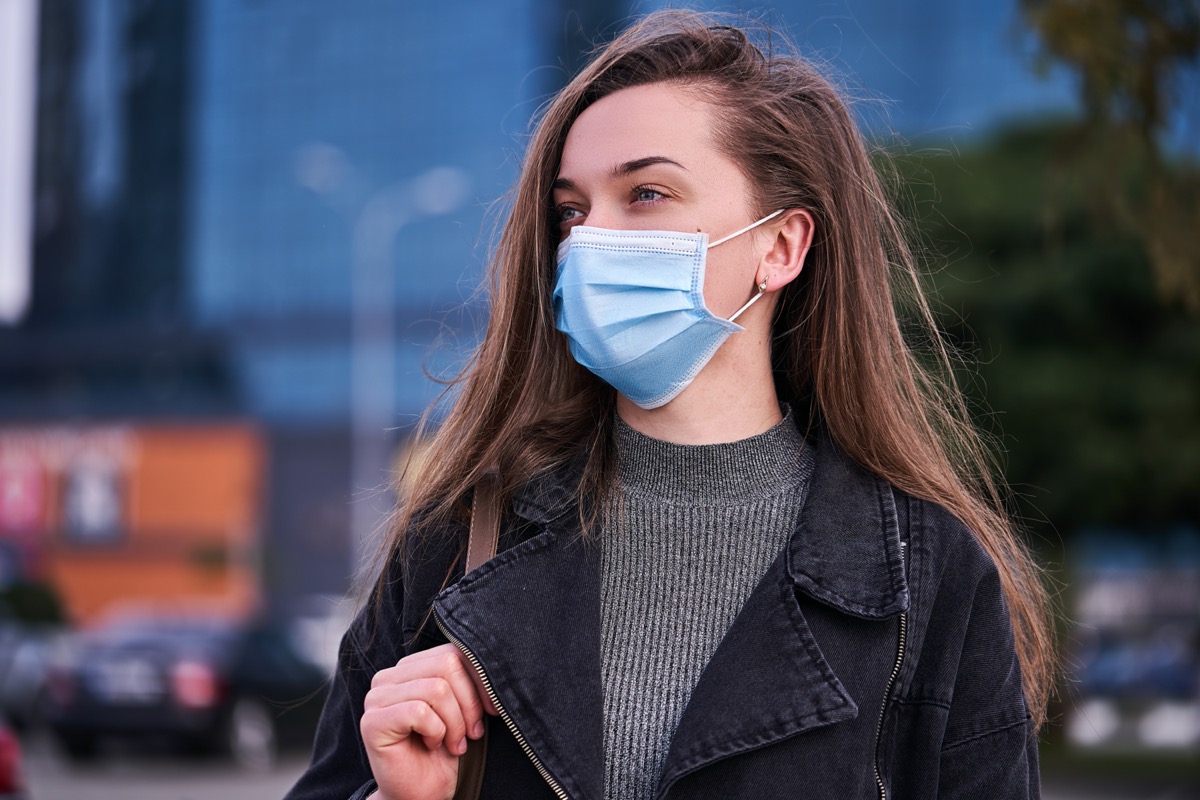 We've all heard that we should wash our hands and not touch our faces, stand six feet apart, and wear masks. These things are proven to halt the spread of coronavirus and other viruses. 
You can be safe in almost any space if you observe these rules—and know exactly how to implement them. No area is completely off limits, but you have to be mindful of where your hands are and what the potential is in any space for spread of the virus through droplets in the air. The trick is to make your own "safe zone." Let me give you some examples. Read on, and to ensure your health and the health of others, don't miss these Sure Signs You've Already Had Coronavirus.
When You're At the Restaurant
Most restaurants will be making changes to keep you safe, such as operating at half capacity to increase the distance between people, disposable paper menus, and wrapping utensils in napkins and properly disinfecting surfaces between customers. For instance, in restaurants, you want to be sure that if you touch a menu that is not single use that you wash your hands after ordering.
Be conscious of touching surfaces that may be contaminated. Eat with utensils that haven't touched a table surface or anything else. Forgo the breadbasket to avoid potentially tracking virus from your hand to your mouth. Forgoing shared plates and meals is best. If you are eating family-style, appoint one person serve the table to minimize the number of people touching the utensils. In more casual situations such as at the office or picnics outdoors it's best to avoid shared food for the time being.
2
When You're On the Airplane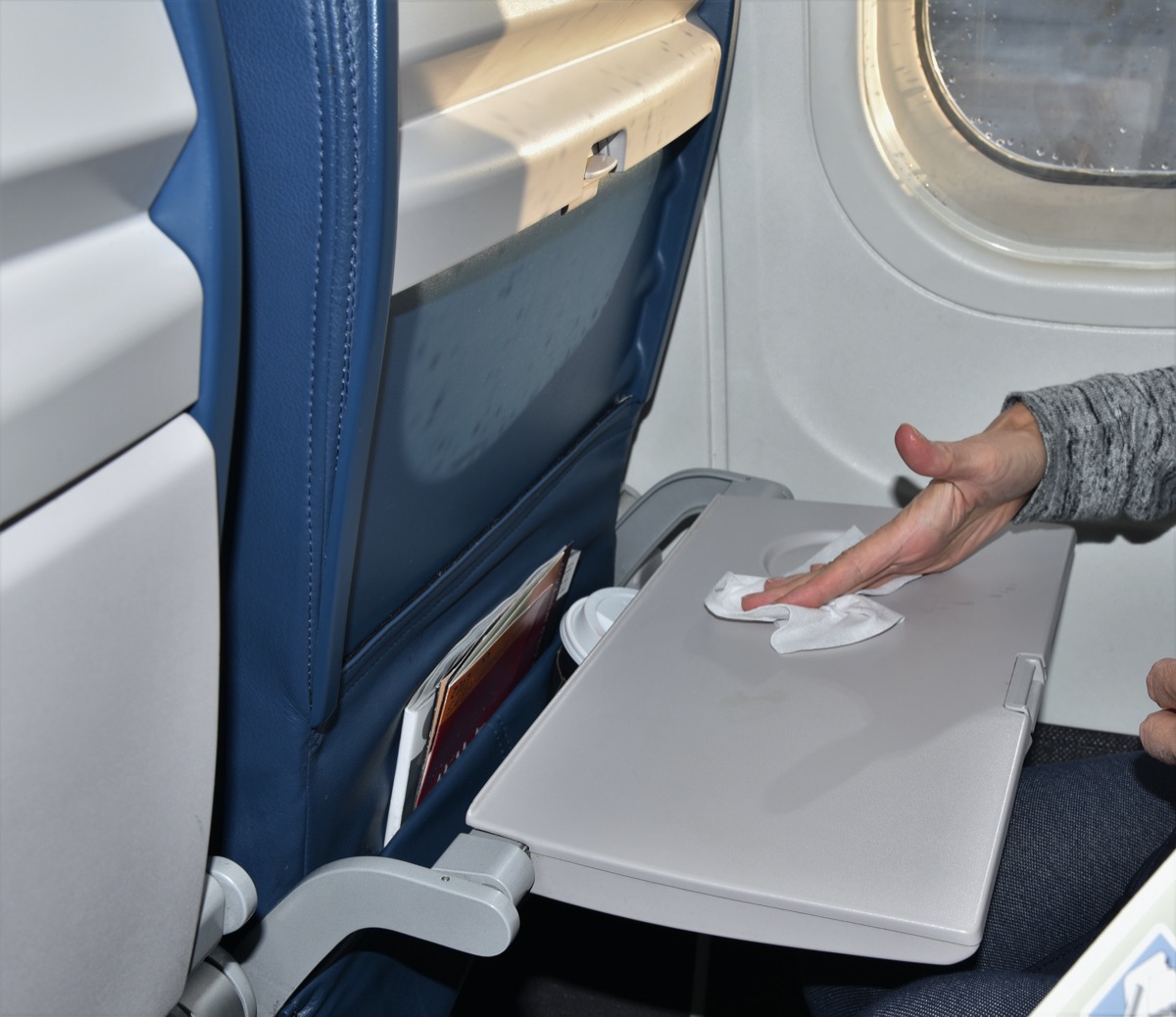 Airplanes are necessary for most but are fraught with the potential for exposure. Choose your airlines carefully. Most airlines are now cleaning surfaces between flights. Some airlines are requiring masks for all passengers. Hopefully this will become the norm. Bring a mask for yourself and an extra to hand to someone who is sniffling, coughing or sneezing.  If you are concerned about another passenger being sick, tell the flight attendant, and avoid direct confrontation. It's always best to wipe down the armrests and tray tables in the area you are occupying.
There has been research indicating that the window seat is safer because it brings you in to contact with less. Again, try to keep your hands away from your face, use hand sanitizer or wash your hands and avoid eating those pretzels with your hands in any case. 
When You're Back At the Office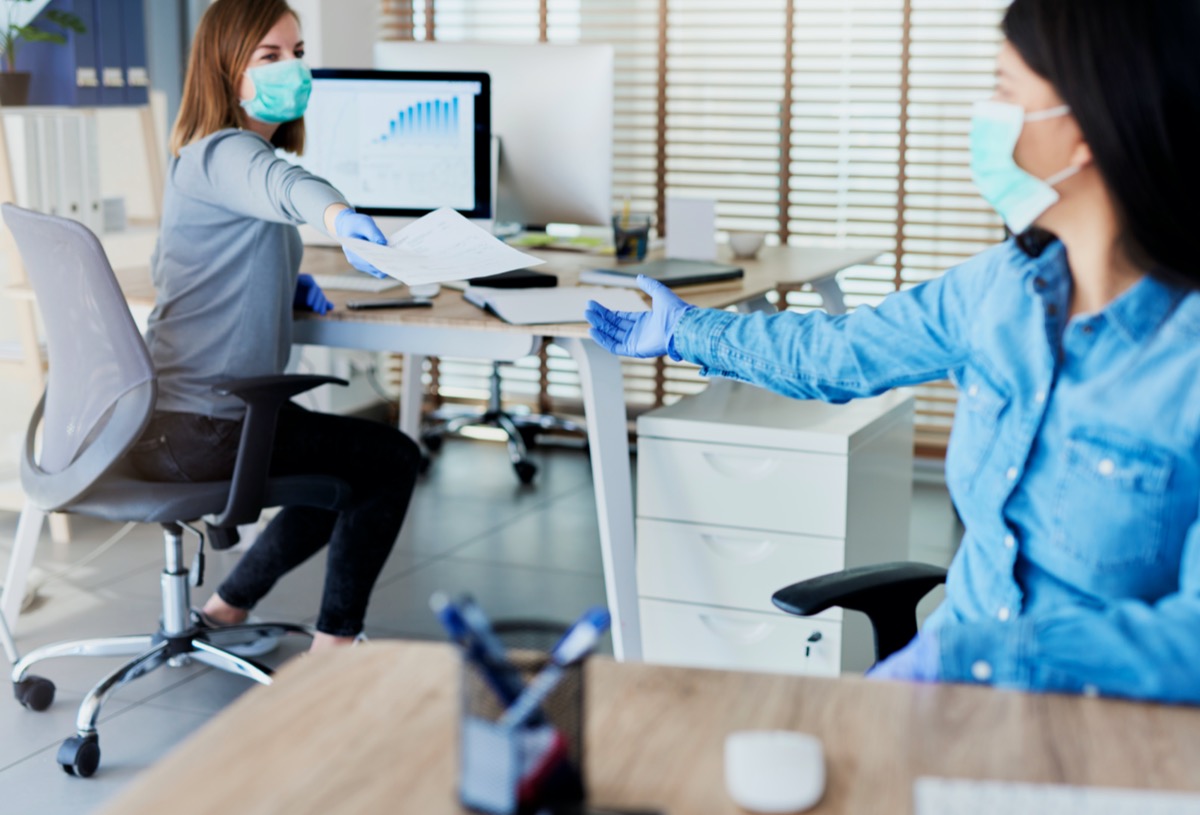 Returning to the office is going to look different from our pre-corona world. Shared spaces like meeting rooms should be avoided. Meetings that were once in person may be better to keep off line for now even once we return. For those in shared offices, get used to people working at staggered times to avoid working in crowded spaces. Masks should be worn at all times. 
Again, avoid shared food and be cautious in areas like the kitchen, breakroom or bathrooms. The office birthday cake may be come individually wrapped birthday cupcakes for the time being. Be sure to clean all surfaces in your own workspace and wash your hands before going back to work on your computer.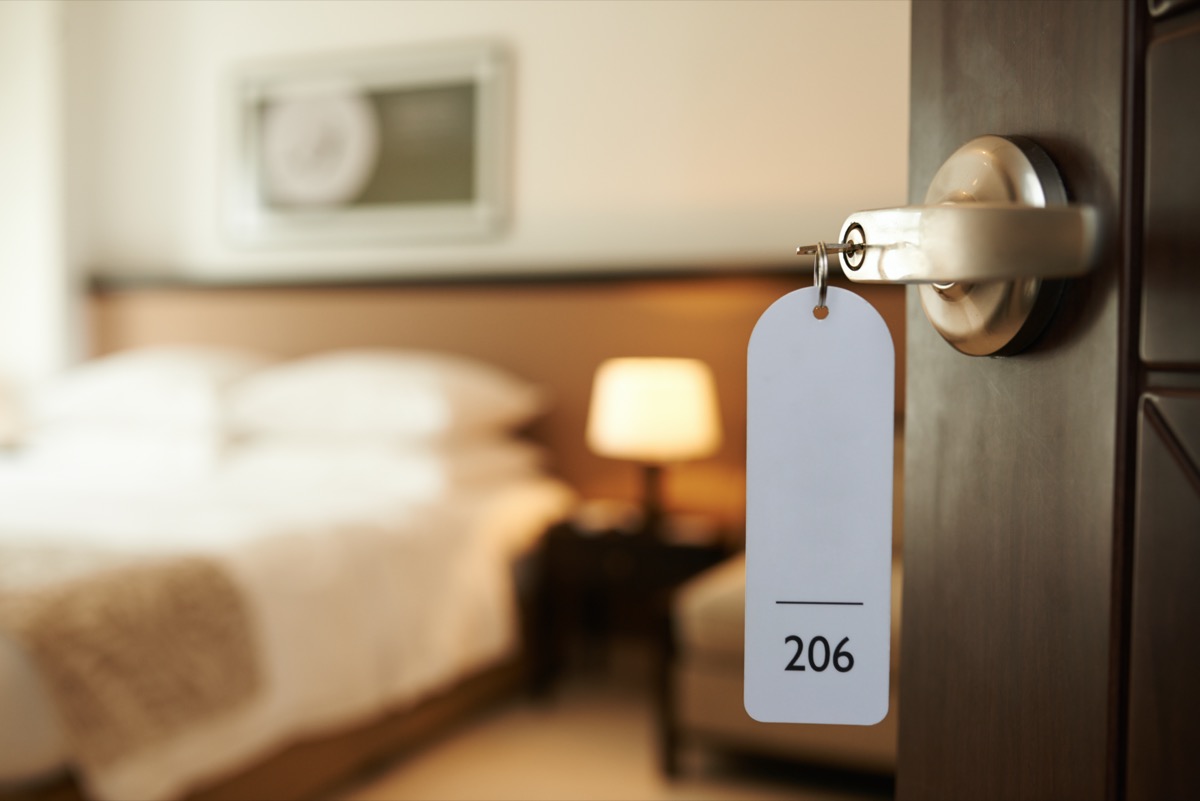 Hotels are also unavoidable for those of us who travel a lot. Most chains are putting stringent protocols in place to wipe down in room surfaces and clean public areas frequently. If you are worried, it can't hurt to take wipes with you and give the room surfaces a thorough cleaning.  If you're are concerned or have fragile health, throw a travel pillow in your bag to avoid using the hotel pillow.
5
When You're On the Subway or Bus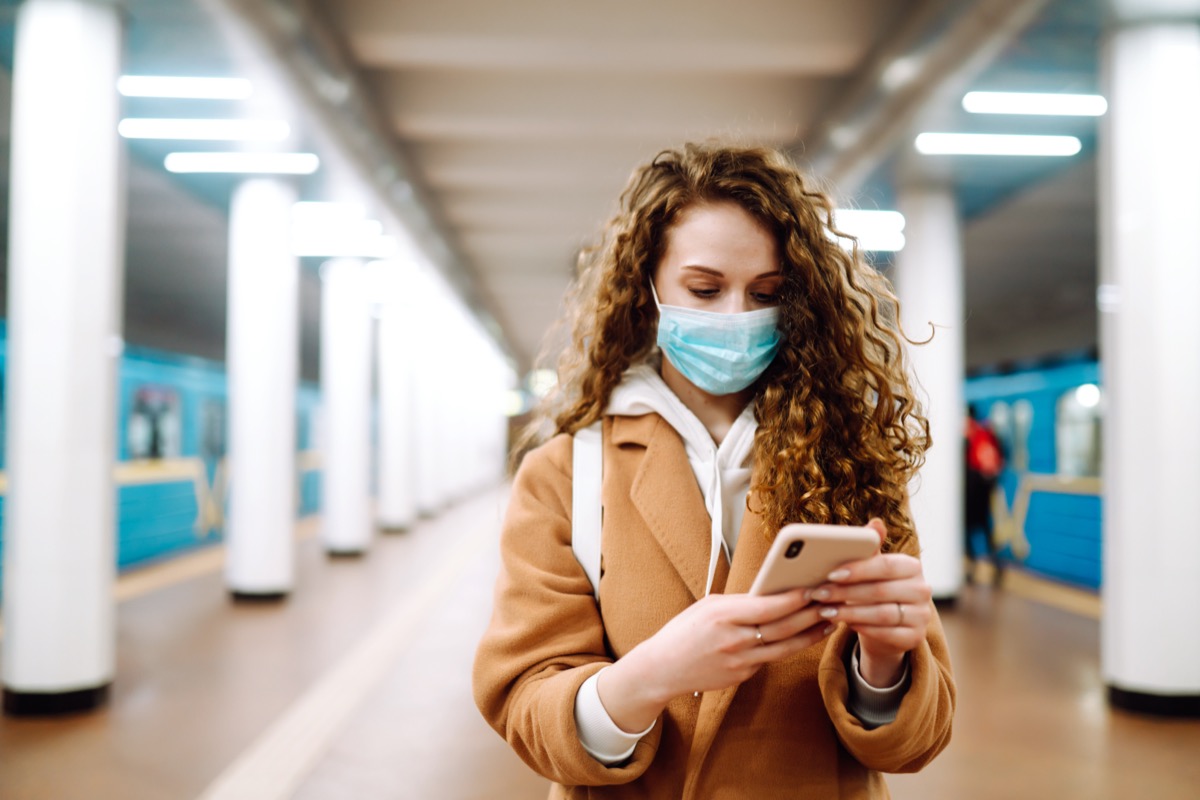 Public transport and shared-ride services are what gets us from place to place. Be sure to maintain distance and wear a mask at all times. Again, minimizing contact with surfaces. If a train looks over-crowded, it may pay to wait for the next one.
When You're Considering the Elevator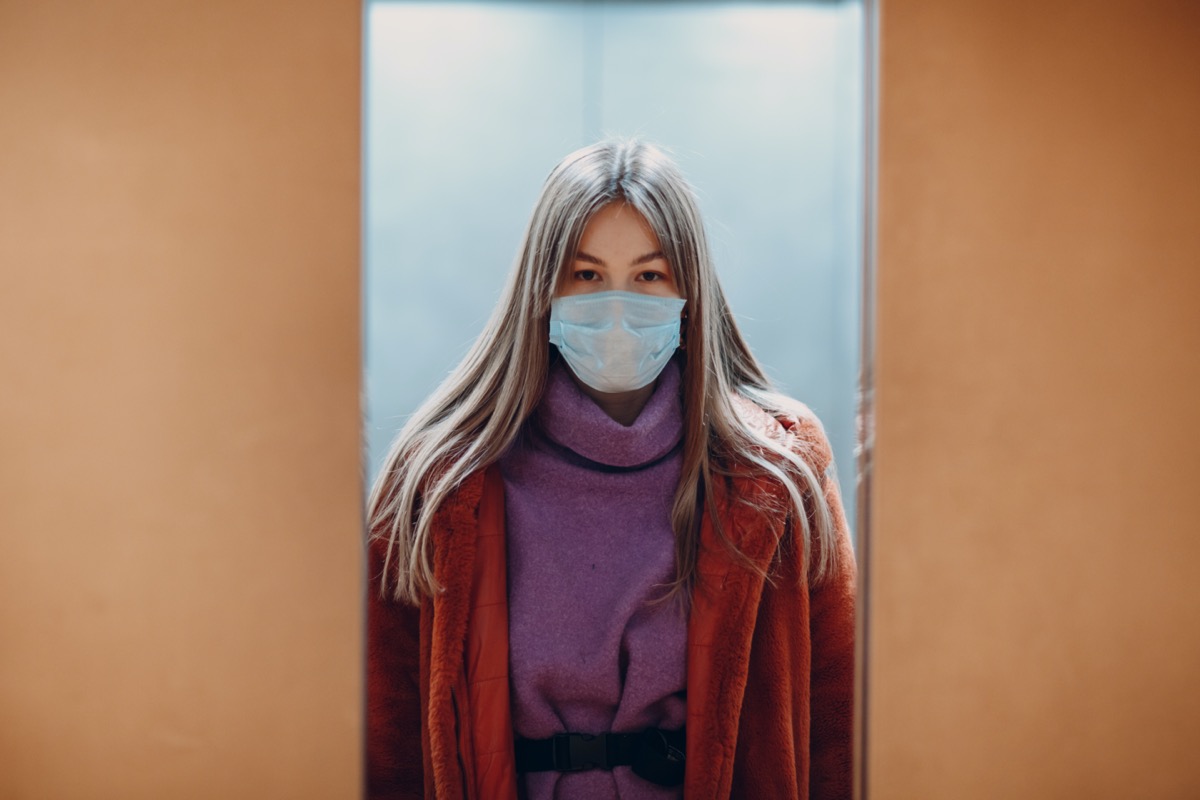 Avoid entering closed spaces such as elevators or other poorly ventilated areas with anybody else.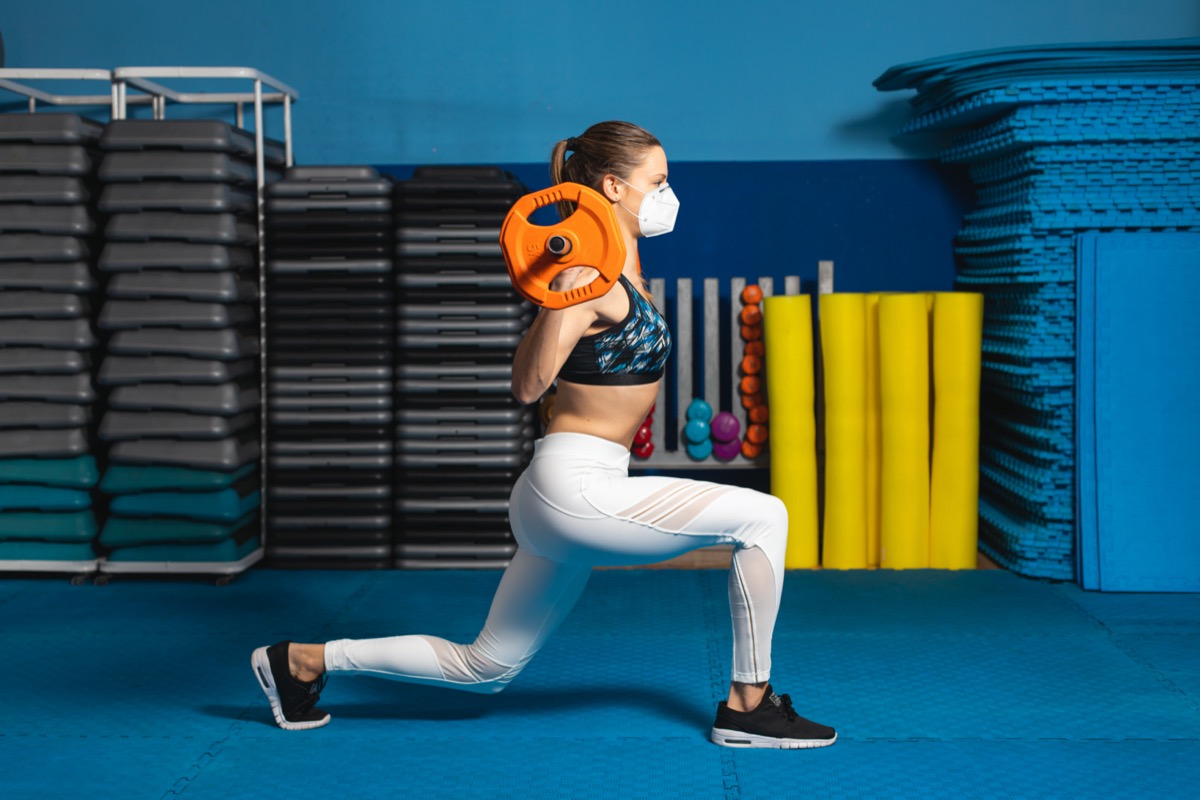 You should be extremely careful at the gym and even consider taking your workout outside for a while. Again, most gyms will be wiping down or asking clients to wipe down equipment between uses. Once again, keeping your hands from straying to your face is essential. Although weights and resistance machines may be safe once surfaces are decontaminated, there are increased risks involved with others doing aerobic exercise near you especially if they are unmasked. 6254a4d1642c605c54bf1cab17d50f1e
It's also wise to avoid group exercise classes for the same reason—too much potential for the spread of droplets in a closed space. There is no evidence that sweat can spread the coronavirus, but exercise is a messy endeavor in general. Now is the perfect time to take up hiking, walking or running. If you're exercising outdoors but still in crowded areas, a mask is still advised.
A Final Word From the Doctor—Make Your Own "Safe Zone"
In the surgical suite surgeons and nurses go through a process of "keeping sterile." You "scrub in" to a case and from that point on you "maintain scrub." Any violation is called "breaking scrub." Breaking scrub means you've touched something that is outside of the safe zone. In order to reenter the safe-space you have to "scrub in" again.
You can think of staying safe from viruses in the same way. In every situation you want to be sure that you minimize touching potentially contaminated surfaces and that if you do touch them that you take are to not touch your face or inadvertently contaminate yourself by eating with your hands or bringing a contaminated phone near your face. In the case of the coronavirus, you also want to think about spread by droplets and avoid closed spaces or interactions without a mask. As for yourself: To get through this pandemic at your healthiest, don't miss these 37 Places You're Most Likely to Catch Coronavirus.
Sharon Chekijian, MD MPH, is a Yale Medicine emergency medicine doctor and assistant professor at Yale School of Medicine.
Sharon Chekijian, MD
Sharon Chekijian, MD, is a Yale Medicine emergency medicine doctor and medical director of patient experience for the Emergency Medicine Department.
Read more about Sharon