The One Thing You're Doing Every Day That Makes COVID-19 Worse
According to new research, social media can be devastating to your mental health.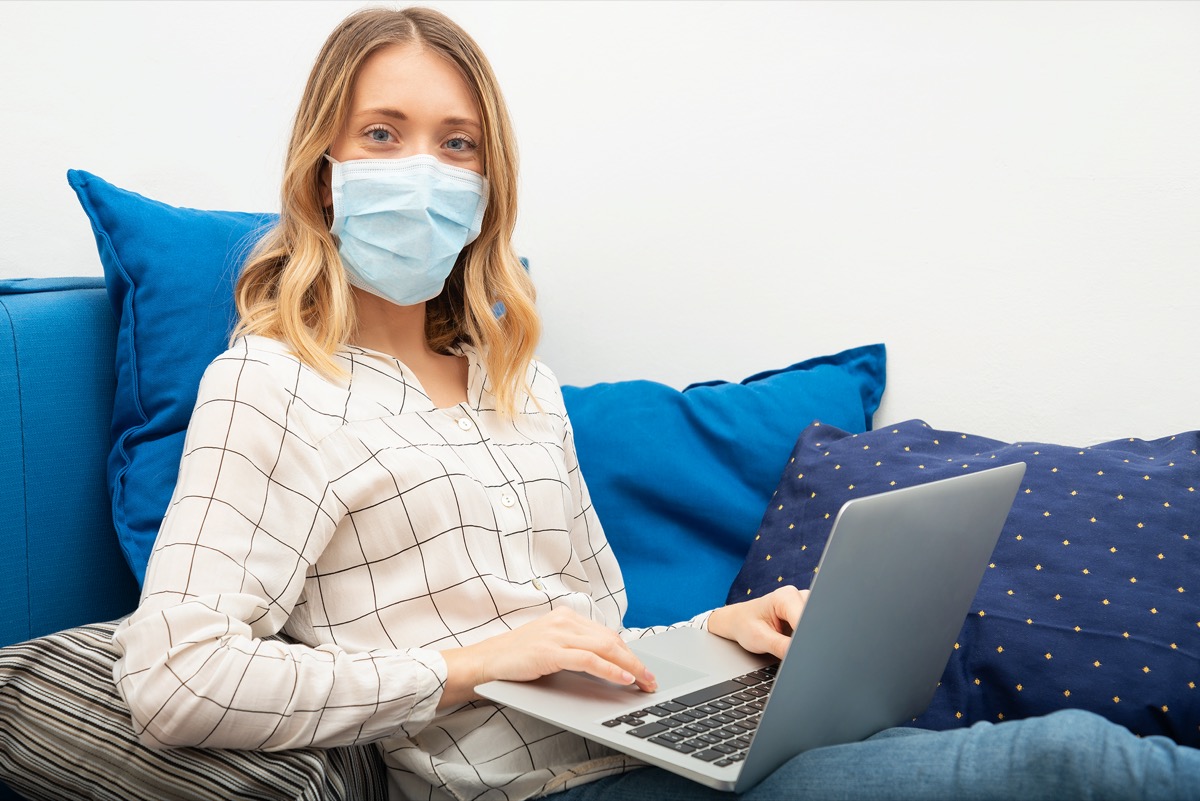 Since COVID-19 started wreaking havoc around the world, most of our energy has been focused on the physical damage done by the highly infectious and potentially deadly virus. However, we may be overlooking another deadly aspect of the pandemic: mental health. While only a small portion of the country has been infected with coronavirus, every single one of us is prone to the stress, depression, and anxiety that can manifest itself as a result of social distancing and simply living and breathing during a pandemic. And, according to new research, one popular activity can majorly aggravate these COVID-related mental health woes: social media consumption. 
Social Media Increases "Fear and Anxiety"
An article published this week in JAMA Psychiatry takes a deep dive into the mental health repercussions of the COVID-19 pandemic, offering suggestions on how they can be minimized. Researchers point out that as a result of social distancing, people are spending more time on Facebook, Instagram, Twitter, Snapchat, and other socially interactive apps and websites. 6254a4d1642c605c54bf1cab17d50f1e
"This widespread use of social media and the extensive array of information can exacerbate confusion and worries and, in turn, increase fear and anxiety and the creation of more fear-driven web and media content," they write in the study, published on June 24. Even "indirect exposure" to constant news and social media may have a wide range of psychopathological consequences, stress-related disorders being the most common. "Posttraumatic stress disorder symptoms, including nightmares, hyperarousal, sleep difficulties, detachment, and numbing, are particularly disabling and need clinical attention," they write. 
They also cite a 2020 study conducted in China just one month into the pandemic, which found high rates of depression (48.3%), anxiety (22.6%), and a combination of depression and anxiety (19.4%) among 4872 adults. Study authors found that people with "high social media exposure" were almost twice as likely to have depression and anxiety than people with less social media exposure. "Social isolation and increased consumption of social media will likely lead to a significant global elevation of mental health problems," explain the authors. 
Social Media Can Be an Aid, Also
While social media can be psychologically damaging, authors of the paper point out that it can also be used to aid mental health. 
"In summary, mass quarantine and social isolation lead to increased use of social media and other information-based websites, which in turn increases fear, stress, and the risk of fear-related disorders," they write. "In times of rapidly spreading infectious diseases and mass exposure to trauma, online platforms can be used to guide effective consumption of information, facilitate social support, continue mental health care delivery, and develop and test innovative, personalized contact-based interventions that, if found effective, can be disseminated to address emerging mental health needs."
How to Make Social Media Work For You
Initially, social media can be used to enhance social support and connectedness. "Encouraging frequent contact with relatives, friends, and caregivers via telephone, video-based chats, or social media can enhance social support and, in turn, facilitate resilience," they point out.
Second, they recommend mental health treatments to be conducted on online platforms during times of quarantine and social isolation. "Online platforms can be used to evaluate and diagnose patients, personalize treatments, and monitor their progress. Strategies to provide access to computers and internet across socioeconomic strata are essential," they write. 
Third, they recommend that large social media platforms—including Facebook, Twitter, Google, WhatsApp, and YouTube—"mitigate anxiety-provoking dissemination of information" and direct users to credible websites, including the CDC and WHO. 
And obviously, last but not least, limiting exposure to digital media is key. "Graphic imagery and worrisome messages increase stress and anxiety, elevating the risk of long-term, lingering fear-related disorders," they write. "Although staying informed is essential, one should minimize exposure to media outlets." And to get through this pandemic at your healthiest, don't miss these Things You Should Never Do During the Coronavirus Pandemic.
Alek Korab
Alek Korab is a Co-Founder and Managing Editor of the ETNT Health channel on Eat This, Not That!
Read more about Alek
More content from
ETNT Health