This is the Most Dangerous Place You Could Go, Says Coronavirus Study
These COVID-19 hotspots make social distancing impossible.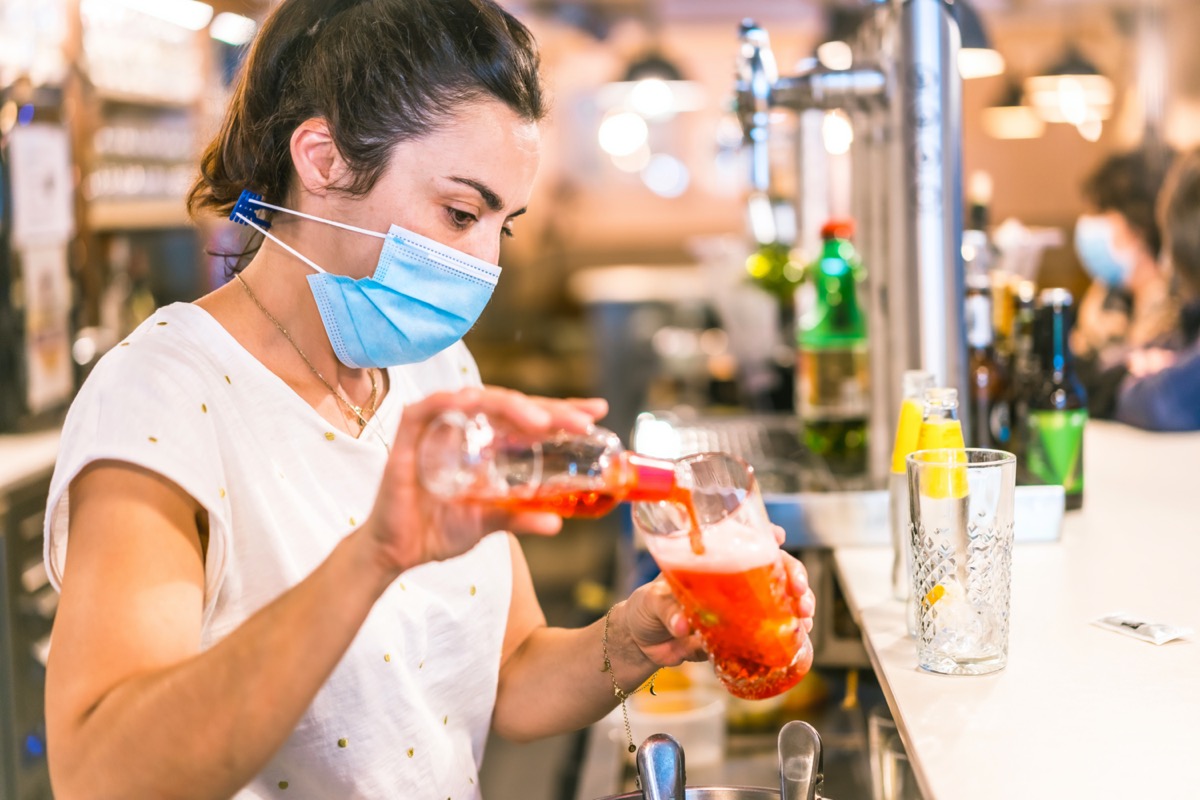 As the coronavirus resurgence continues to devastate the country, with the number of infections rising daily and the United States reaching an all-time high of new cases, it is clear that the country's reopening strategy was far from effective. Health experts—including Dr. Anthony Fauci, considered the nation's go-to infectious disease doctor—has identified one specific place that far surpasses any other in regards to the potential for mass spread. And, now they have a scientific study to back it up. 
According to the study featured on the CDC's website and published in the medical journal Emerging Infectious Diseases, other than residential health care facilities, bars were major hotspots for the various due to the danger of "heavy breathing in close proximity." Additionally, the study noted that Japan's Prime Minister's Office and the Ministry of Health, Labour and Welfare announced 3 situations that could increase the risk for COVID-19 cases and advised the population to avoid the "Three Cs": closed spaces with poor ventilation, crowded places, and close-contact settings—all of which could describe bars. 
Bars Encourage the "Opposite of Social Distancing"
Additionally,  Dr. David Hamer of the Boston University School of Medicine pointed out to the AP that crowded indoor spaces filled with people yelling, leaning close to hear one another and touching the same sticky surfaces are "the opposite of social distancing."
"Can you do social distancing at a bar? Can you wear a mask while drinking?" he continued. "Bars are the perfect place to break all those rules."
Early on in the pandemic, the WHO discouraged alcohol consumption during the COVID-19 health crisis. In addition to complications that drinking can have on your health and the fact that it can lower immunity, they pointed out that it can also influence bad decision making. "Avoid alcohol altogether so that you do not undermine your own immune system and health and do not risk the health of others. Stay sober so that you can remain vigilant, act quickly and make decisions with a clear head, for yourself and others in your family and community. If you drink, keep your drinking to a minimum and avoid getting intoxicated," they suggested. "To slow down the spread of the virus, the World Health Organization (WHO) recommends physical distancing of at least one meter from sick people as a protective measure. Bars, casinos, night clubs, restaurants and other places where people gather to consume alcohol (including in the home) increase the risk of transmission of the virus."
During Tuesday's Senate hearings, Dr. Anthony Fauci had no qualms about answering Senator Mitt Romney's question about the worst place to go during the pandemic. "Congregation at a bar inside is bad news," he stated. "We really got to stop that. Right now."
Outbreaks Linked to Bars
In recent weeks a number of large outbreaks have been linked bars. This week, 158 confirmed cases were tied to a single bar in East Lansing, Michigan, home to Michigan State University. According to the local health department, the infections took place between June 12 and June 20 at Harper's Restaurant & Brew Pub between June 12 and June 20. Other large outbreaks have been tied to bars in Austin and Houston, Texas, Boise, Idaho, and Jacksonville and St. Petersburg, Florida.
As for yourself: don't go to bars—and in fact stay home unless it's absolutely essential; wear a well-fitted homemade mask with multiple layers of quilting fabric, or an off-the-shelf cone style mask; practice social distancing; wash your hands frequently; monitor your health; and to get through this pandemic at your healthiest, don't miss these Things You Should Never Do During the Coronavirus Pandemic. 6254a4d1642c605c54bf1cab17d50f1e
Leah Groth
Leah Groth has decades of experience covering all things health, wellness and fitness related.
Read more about Leah