I'm an Infectious Disease Doctor and Beg You Don't Go Here
A Johns Hopkins director has a COVID-19 warning for us all.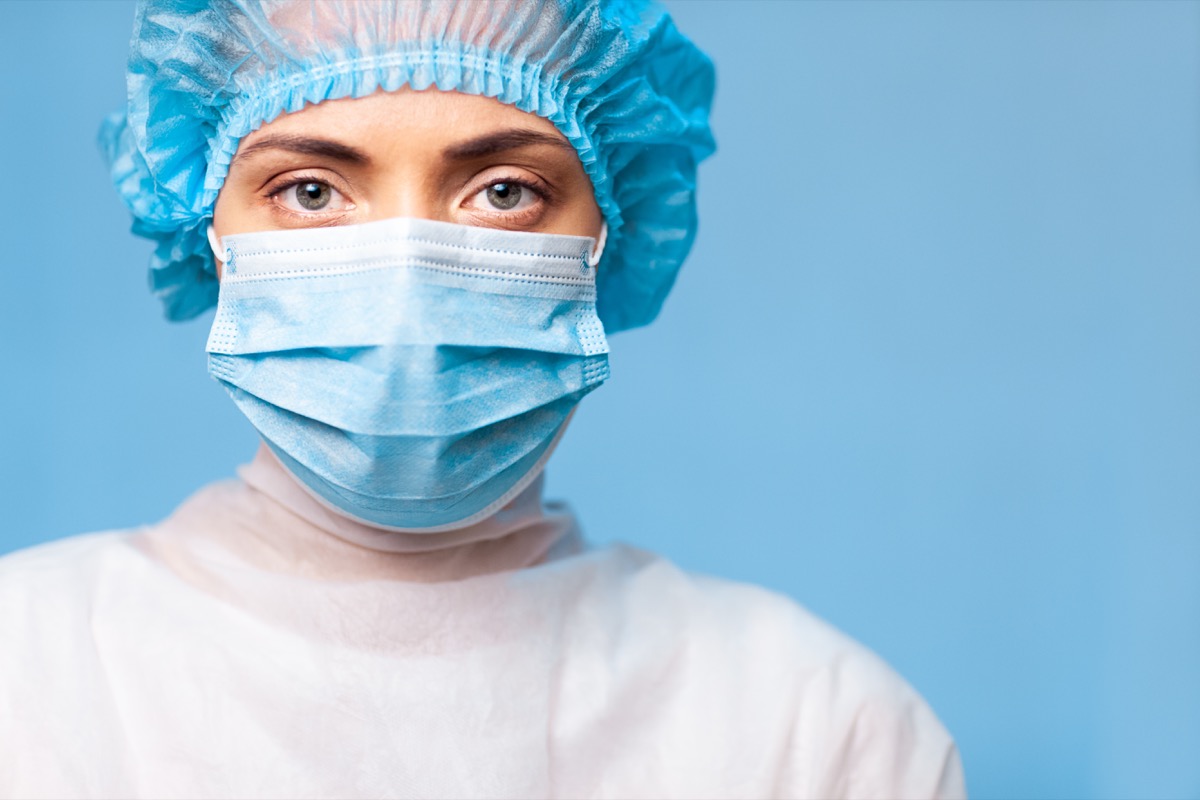 Summer is kicking into full gear—and so is coronavirus, with record-setting single-day cases in America. You can be forgiven for wondering how, exactly, to enjoy yourself this season, a question that has a particular urgency given the upcoming July 4th weekend. Lisa Maragakis, M.D., M.P.H., senior director of infection prevention for the Johns Hopkins Health System, can tell you one thing you shouldn't do. We asked her what she thought was the #1 mistake someone could make right now, and she was quick with an answer.
Avoid Indoor Locations With Lots of People
"On a holiday or any day, one of the worst things any of us can do right now is to go to an indoor location where we are in close contact with large numbers of people with whom we have not been sheltering—and it's even worse if we do that without wearing a mask," says Dr. Maragakis. "In recent days I have heard from quite a number of people who have done just that as the restaurants and bars have opened and these people are not perceiving the risk to themselves or their friends—they are spending time in close proximity without masks indoors and then finding out that one of them has tested positive. That's the very worst scenario."
The reason why staying outdoors (while wearing a face mask and social distancing) is better than hanging indoors (with people you're not sheltering with) comes down to how the virus is transmitted. "It's a matter of respiratory droplets and for a respiratory virus, we have known they are transmitted when someone coughs or sneezes—and a virus such as COVID-19, well, we know it can be spread from people without symptoms, and respiratory droplets are expelled from talking and singing. When you're indoors, all of those droplets can accumulate in the air. Many indoor locations don't have great ventilation or air exchanges and all of these people are in there."
Independence Day or not, the doctor advises against any indoor dining at all, although she sounded regretful to deliver this hard truth. It's impractical if not impossible to keep a mask on while eating and drinking, guaranteeing at least some spread of droplets. "Unfortunately, I think indoor dining is a large risk," says Dr. Maragakis. "You have to remove your mask when you're eating and drinking and it's difficult for you to enjoy your meal without being in close proximity to the people in the restaurant. Lots of restaurants don't have great ventilation or may have air that is blowing across tables. We know they are undoubtedly a risk." 6254a4d1642c605c54bf1cab17d50f1e
How to Have a Safe Summer
Dr. Maragakis recommends following current, local public health and safety guidelines when hosting or attending a gathering this holiday. Gather outdoors if you must, limit the size of the party, practice physical distancing (at least six feet apart when possible) and wear masks or other face coverings. Also, remember to always wash your hands with soap and water for at least 20 seconds before cooking, handling food or eating to help prevent spreading or contracting the coronavirus. 
For her part, Dr. Maragakis will be working at the hospital on July 4th "but we're taking many precautions and once I leave the hospital, I'm going to spend time with my family and we have been sheltering together, so that is not a risk. Even so," she adds, "I think we'll do outdoor activities." As for yourself: To get through this pandemic at your healthiest, don't miss these Things You Should Never Do During the Coronavirus Pandemic. 
Alek Korab
Alek Korab is a Co-Founder and Managing Editor of the ETNT Health channel on Eat This, Not That!
Read more about Alek