How Long Does It Take to Get a COVID Test Result?
It depends on what test you get.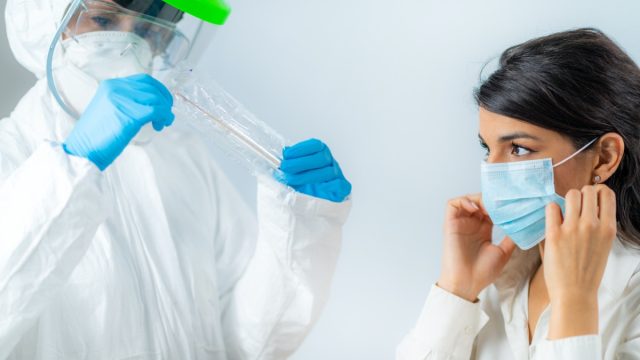 If you recently got a COVID-19 test, you're probably waiting on pins and needles (and in isolation) for the results, wondering, "How long does it take to get COVID result?" The turnaround time for a coronavirus test depends on several factors, including where you got tested, if the virus is spiking in your area, and the type of test you received.
How Long Does it Take to Get COVID Result?
You may have had a nasal swab or saliva test completed at your testing site. With a nasal swab test, a swab is inserted into your nostrils but with a saliva test, you spit into a cup. If you had a saliva test done, not only did you avoid a nostril assault, you may also get your results faster. With the latest COVID-19 saliva test, results may be available in as little as 30 minutes. 
"You don't have to have a giant swab shoved to the back of your nose or to the back of your throat, so getting a sample is way easier and way more convenient. That cannot be overstated," said Isaac Bogoch, an infectious disease faculty member at the University of Toronto. 
However, just because your results are available right away, it doesn't mean you'll gain access to these results on the same day. Most testing sites are backed up with patients they need to contact about results, so you may be left in suspense for a few days before you hear your results.
For example, if you visit a Quest Diagnostics center to get your COVID-19 test, you'll experience a "2-day average turnaround time for COVID-19 molecular diagnostic tests." If you live in an area with a high infection rate, testing sites may be busy so you can expect a longer turnaround time for your results. 
Doctor and physician offices may also take longer to provide you with your COVID-19 test results since they're busy seeing other patients as tests are being processed. When you get your test, ask about the turnaround time for results and how you'll be contacted. 
Quarantine Regardless
Even if you get your results back and they're negative, don't assume you're in the clear. "Someone exposed to a person with COVID-19 needs a 14-day quarantine regardless of test results. This is because COVID-19 can develop between two and 14 days after an exposure," says Dr. Joshua M. Sharfstein, MD from Johns-Hopkins Bloomberg School of Public Health.
If you think you were exposed to the virus and you're waiting for results or your results came back negative, continue on your 14-day quarantine. Enjoy extra Netflix time and eat all your quarantine snacks knowing you may be saving someone you love from contracting the virus. And to get through this pandemic at your healthiest, don't miss these 35 Places You're Most Likely to Catch COVID.
Alek Korab is a Co-Founder and Managing Editor of the ETNT Health channel on
Eat This, Not That!
Read more