Here's How You Can Have Sex Without Catching COVID-19, Says Doctor
COVID-19 has made intimacy difficult, if you're self-isolating. Here's how to make the next move.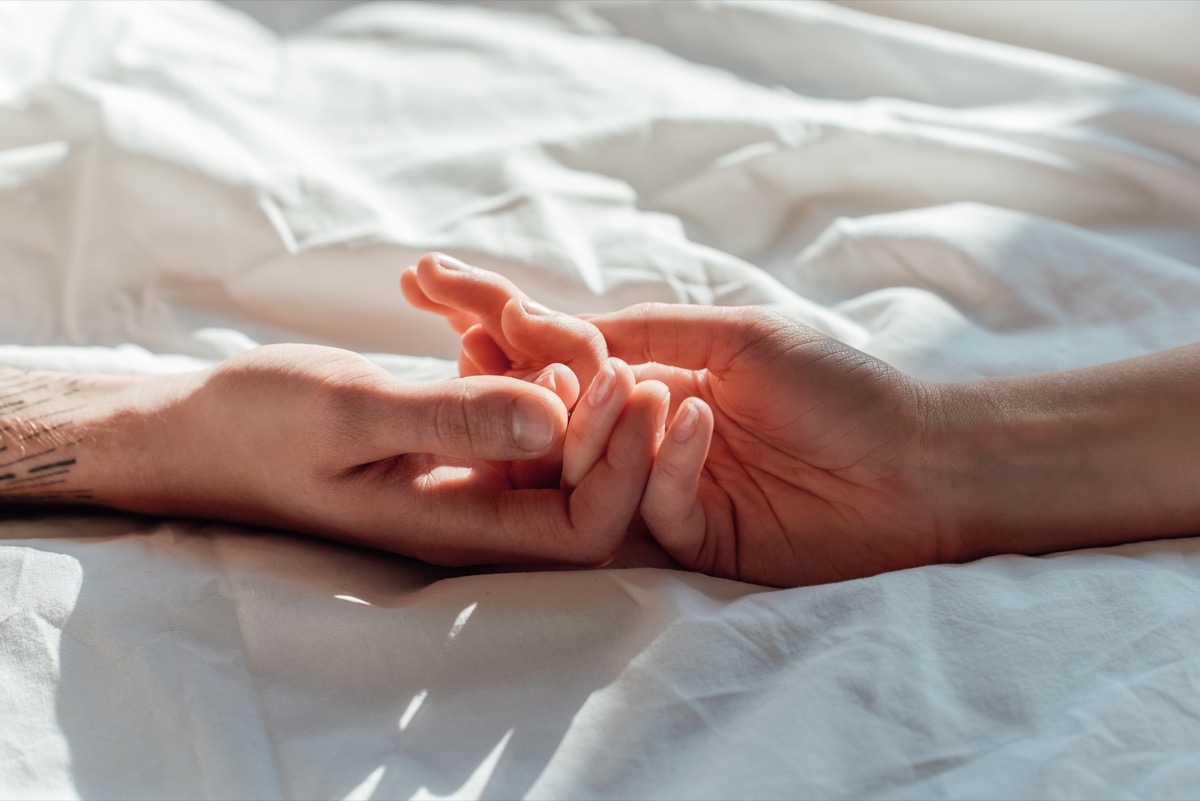 As a doctor, I know the COVID-19 pandemic has affected every aspect of our lives—including how and when to have sex. Perhaps you don't currently live under the same roof as your partner? Or maybe you're not in a relationship but you're looking for love? Or perhaps your partner has recently tested positive for the coronavirus? Just when and how can you safely resume having sex?
The Problem is Close Contact Can Spread the Virus
Here's the problem: COVID-19, though not a sexually transmitted disease, is spread by close physical contact. This includes holding hands, hugging and kissing. The virus is transmitted in exhaled respiratory droplets and is also present in nasopharyngeal secretions. It also lives in the skin, for example on fingertips and under fingernails. It can enter the body through the eyes, nose or mouth. 
It's hard to imagine how on earth you could have sex with a new partner and stay safe. (Short of wearing PPE, ha.)
There is current government advice on how to have sex during the time of COVID-19—take a look at the official guidance. 6254a4d1642c605c54bf1cab17d50f1e
When Can Sex be Safely Resumed?
Here's the answer: In truth, just like the rest of the world, we won't be able to feel fully confident about avoiding viral transmission of COVID-19 when having sex until we have a vaccine, and some proven effective treatment. 
There are, however, some things we can do to keep the risk as low as possible:
Use a Track and Trace app
Keeping the R number down
The risk of transmission of the virus, whether due to the average day-to-day risk or to the close physical contact during a sexual encounter, is governed by the R number.
The R number is the number of people each person infects before they know they have the virus. In the early stages of the pandemic, this was reported to be close to 6. More recently in the UK, it has gone down to 0.9. Keeping the R number down means the exponential spread of the infection within the community is halted and the infection is under control. So, your risk of encountering the virus is much lower.
We can only help keep the R number down by following the government's advice of staying at home where possible, frequent hand-washing, social distancing and self-isolation.
Herd Immunity
As time passes and more and more people are infected with COVID-19, we should, in theory, develop herd immunity. The term "herd immunity" is used when there are so many people in a population with antibodies to the infection, it is unable to spread. 
Scientists have calculated that for herd immunity with COVID-19, around 60% of the population need to have antibodies, either due to their own lasting, antibody response or, as a direct result of vaccination.
What we don't know is how many people who have COVID-19 develop an antibody response and have lasting immunity. Those who develop the infection and have the worst symptoms seem to have the greatest antibody response. However, in 10-20% of people who have had symptomatic infection, antibody levels are undetectable. This means even if you know you have had the infection once, this may not mean you are not at risk of getting it again.
Track and Trace Apps
Track and trace apps are now becoming available across the US. In the UK, trials are underway to assess the feasibility and success of these devices. 
Once you have signed up; the app uses Bluetooth to alert you if you have been in contact with anyone who has tested positive within the past 28 days. You then self-isolate and get yourself tested. The system will be supported by a team of people working as contact tracers. By tracking, identifying contacts, self-isolation and testing, this will help levels of infection to stay low in the community.
Testing for COVID-19
Consider whether you need to have a COVID-19 test. Here's the low down on testing for COVID-19—made easy.
You can test for the presence of the COVID-19 virus in 2 ways: 
an

antigen test

, which tests for the presence or absence of the virus in the body, or 

an

antibody test

which tests your body's immune response to the infection.
So Final Answer: When Can You Safely Have Sex?
You will not be contagious when having sex so long as:
You have been social distancing, hand-washing and following government advice.

You do not have any symptoms, such as a cough or a temperature.

You have not knowingly been in contact with anyone with the virus in the past 14 days.

You had a point of care COVID-19 antibody test which is

IgM and IgG negative (not encountered the virus so far), or,

IgM negative and IG positive (have had the virus more than 14 days ago and are now immune and are unlikely to be excreting virus.)

You have very recently had a negative COVID-19 antigen test and not been knowingly exposed to the infection since.

But remember nothing is 100%—there is always risk.
You risk passing on the virus when you have sex if:
You have not been following the rules about social distancing, hand-washing etc…

You are in a high-risk occupation such as a health worker, or key worker.

You have symptoms, such as a cough and a fever.

You have someone in your household with symptoms, or who has tested positive to COVID-19 recently, in which case you must self-isolate for 14 days.

You had a point of care COVID-19 test which tested

IgM positive and IgG negative (you are in the first phase of the infection and are actively excreting virus)

IgM and IgG positive confirming you have long term antibodies to the infection; however, you could still be excreting virus. You must continue to self-isolate and repeat the test in 14-21 days to check you now only have a positive IgG.
You have recently had a positive COVID-19 antigen test.
Final Word From the Doctor
Relationships are not just about sex. Long term solid relationships are close and enduring because of the close emotional bonds between you. These are based on friendship, trust,  and shared values, hobbies, and interests.
Now is the perfect opportunity to really get to know your partner and get pleasure from each other's company in other ways. 
Lockdown and the virus will not be here forever. Being responsible about sex will help prevent the spread of the virus and save lives. And when we can finally get back to normal, how amazing will it be to regain our sexual freedom? In the meantime, the opportunities for creative emails, letter writing, cards, gifts, surprises, and Zoom date nights are unlimited! 
And to get through this pandemic at your healthiest, don't miss these Things You Should Never Do During the Coronavirus Pandemic.
Dr. Deborah Lee is a medical writer at Dr Fox Online Pharmacy.