This Is How You Are Most Likely to Get Coronavirus Indoors
Think twice before heading into AC cooled indoor spaces.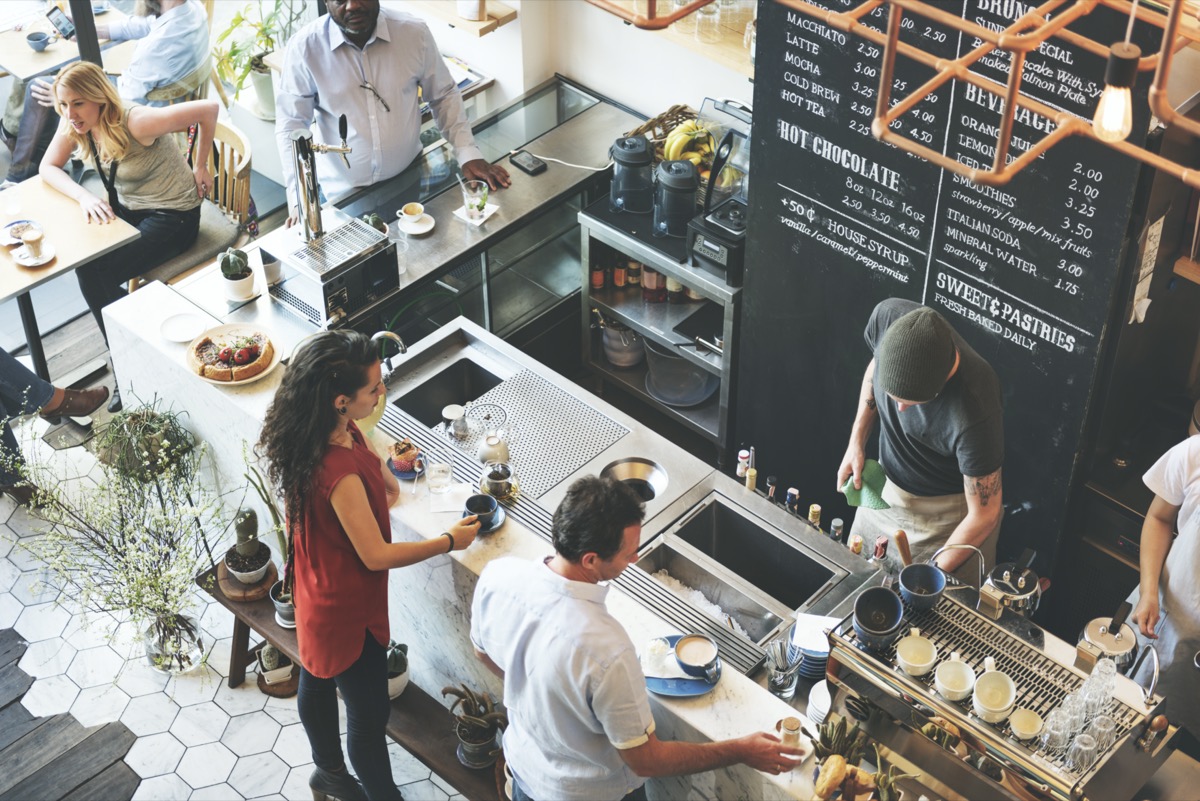 During the initial wave of coronavirus in the early spring, many health experts predicted a major decline in cases over the summer, due to rising temperatures and humidity, and an inclination for people to head outdoors. But, as temperatures have spiked so have the number of COVID-19 infections, proving this theory wrong. Some experts believe this has everything to do with what is going on inside rather than out. 
Air Conditioning May Contribute to the Recent Coronavirus Surge

Engineers and ventilation experts explain to USA Today that this could be due to heating, ventilation and air conditioning (HVAC) systems exacerbating airborne transmission with unplanned air currents.
"The main way (air conditioning) can contribute to spreading coronavirus is by creating strong air currents that can move the droplets… and contribute to increase risk," William Bahnfleth, chair of the American Society of Heating, Refrigerating and Air-Conditioning Engineers' Epidemic Task Force (ASHRAE) and professor at Penn State University, explained to the publication. 6254a4d1642c605c54bf1cab17d50f1e
Len Horovitz, pulmonary specialist at Lenox Hill Hospital in New York City added that this could also be responsible for outbreaks in bars and restaurants—even when social distancing is maintained. 
Earlier in the pandemic, the Centers for Disease Control and Prevention published a highly publicized paper detailing an outbreak stemming from a restaurant in Guangzhou, China, where nine patrons were infected by one diner—all either sitting at the table or in the way of the air conditioner's airflow. 
Additionally, after receiving an open letter from over 240 health experts, the World Health Organization recently admitted that there is a possibility COVID-19 is airborne. 
"Ventilation is the key control point for an airborne virus," Dr. Julian W. Tang, one of the authors of the letter, explained in it. "Based on multiple studies done by the authors, we believe that optimized ventilation is the way to move forward, removing the virus from the air before people inhale it. We think that's one of the main ways it's transmitted."
HVAC Systems are Not Designed with COVID-19 in Mind
When it comes to HVAC systems, it is possible to increase outside air. However, nobody knows exactly how much outside air can diffuse virus particles. 
"Even if you try to increase the ventilation rate, HVAC systems have not been designed to prevent transmission of these infectious airborne diseases," Dilip Goswami, president, co-founder and CTO of Molekule, an indoor air purification company, explained to USA Today. 
While most filtration systems keep basic pollen, dust, dust mites, mold and bacteria out of airflow, they can't capture tiny virus particles.  And, while MERV 13 filters can capture smaller particles, many HVAC systems aren't equipped to handle it. They also point out that air filters can only capture virus particles when they enter into the system. 
"Most air conditioning systems won't filter (virus) out and if it did filter it out, it probably went right by and right into your face first," Wendell A. Porter, senior lecturer at the University of Florida, added. 
Be Incredibly Cautious in Indoor Spaces 
The bottom line is that when you walk into a bar, restaurant or another enclosed space where people are removing their masks, you need to be extra careful. Goswami points out that while they may be enforcing social distancing and mask wearing, it's likely that most of them aren't going above the minimum standards when it comes to their HVAC systems. 
"We knew something like this could have happened and that airborne transmission is a major problem to contain," he said. "We need to be aware of it and make sure we do everything possible instead of the minimum of what's possible." 
As for yourself: Use extreme caution when entering any indoor space that's inhabited with people you don't shelter with, wear your face mask, social distance, wash your hands frequently, monitor your health, avoid crowds (and bars), and to get through this pandemic at your healthiest, don't miss these 37 Places You're Most Likely to Catch Coronavirus.
Leah Groth
Leah Groth has decades of experience covering all things health, wellness and fitness related.
Read more about Leah