COVID Can Survive for 28 Days on These Surfaces: Study
Coronavirus can survive on some surfaces longer than we thought.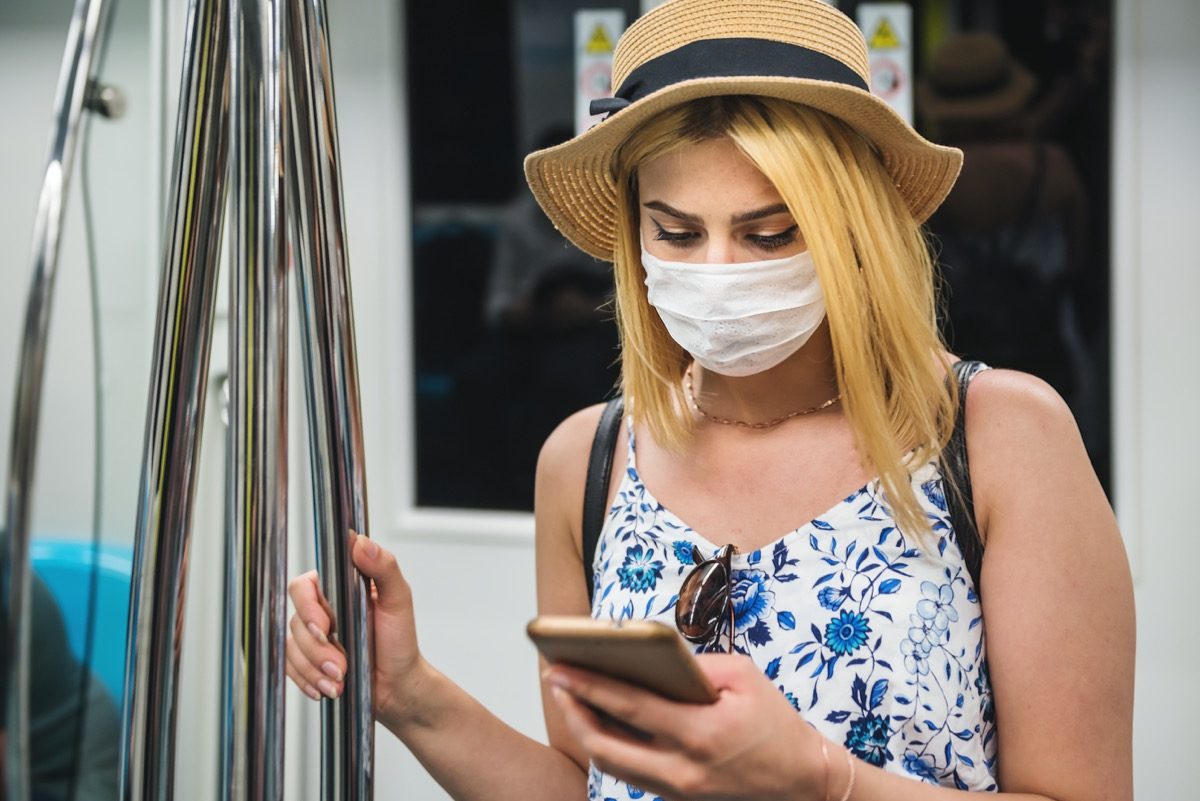 If you're taking coronavirus seriously, chances are you're concerned about contracting it from things you touch—iPhones, door handles, ATM buttons—with your bottle of hand sanitizer or a bar of soap an arm's length away. This is smart. "The virus responsible for Covid-19 can remain infectious on surfaces such as banknotes, phone screens and stainless steel for 28 days, researchers now say," reports the BBC. "The findings from Australia's national science agency suggest SARS-Cov-2 can survive for far longer than thought." Read on, and to ensure your health and the health of others, don't miss these Sure Signs You've Already Had Coronavirus.
Which Surfaces Can Carry COVID on Them for 28 Days?
"Australian polymer bank notes, de-monetised paper bank notes and common surfaces including brushed stainless steel, glass, vinyl and cotton cloth were used as substrates in this study," report the authors. "Both polymer and paper banknotes were included in the study to gather information on the possible roles of note based currency in general for the potential for fomite transmission. Stainless steel is used in kitchen areas and public facilities and is the substrate used in some disinfectant testing standards. Glass was chosen due to its prevalence in public areas, including hospital waiting rooms, public transport windows and shopping centres, and high contact surfaces such as mobile phone screens, ATMs and self-serve check-out machines. Vinyl is a common substrate used in social settings, tables, flooring, grab handles on public transport, as well as mobile phone screen protector material. Cotton was chosen as a porous substrate, often found in clothing, bedding and household fabrics."
In the end, the evidence presented itself: "At 20 °C, infectious SARS-CoV-2 virus was still detectable after 28 days post inoculation, for all non-porous surfaces tested (glass, polymer note, stainless steel, vinyl and paper notes)."6254a4d1642c605c54bf1cab17d50f1e
Could My Phone Have COVID on It?
In a word: Yes. In more words: It's very possible. "The persistence on glass is an important finding, given that touchscreen devices such as mobile phones, bank ATMs, supermarket self-serve checkouts and airport check-in kiosks are high touch surfaces which may not be regularly cleaned and therefore pose a transmission risk of SARS-CoV-2," report the authors. "It has been demonstrated that mobile phones can harbour pathogens responsible for nosocomial transmission, and unlike hands, are not regularly cleaned."
Just one catch about the data: "the experiment was conducted in the dark. UV light has already been shown to kill the virus," reports the BBC. "Some experts have also thrown doubt on the actual threat posed by surface transmission in real life."
What Does the CDC Say About COVID Spreading on Surfaces?
"COVID-19 spreads less commonly through contact with contaminated surfaces," says the CDC, comparing it to airborne or preson-to-person transmission.
Respiratory droplets can also land on surfaces and objects. It is possible that a person could get COVID-19 by touching a surface or object that has the virus on it and then touching their own mouth, nose, or eyes.

Spread from touching surfaces is not thought to be a common way that COVID-19 spreads
As for yourself, don't tempt fate: to get through this pandemic at your healthiest, don't miss these 35 Places You're Most Likely to Catch COVID.
Alek Korab
Alek Korab is a Co-Founder and Managing Editor of the ETNT Health channel on Eat This, Not That!
Read more about Alek