7 Places to Never Go Into Now, According to Doctors
Public health authorities recommend avoiding these potential hotbeds of coronavirus.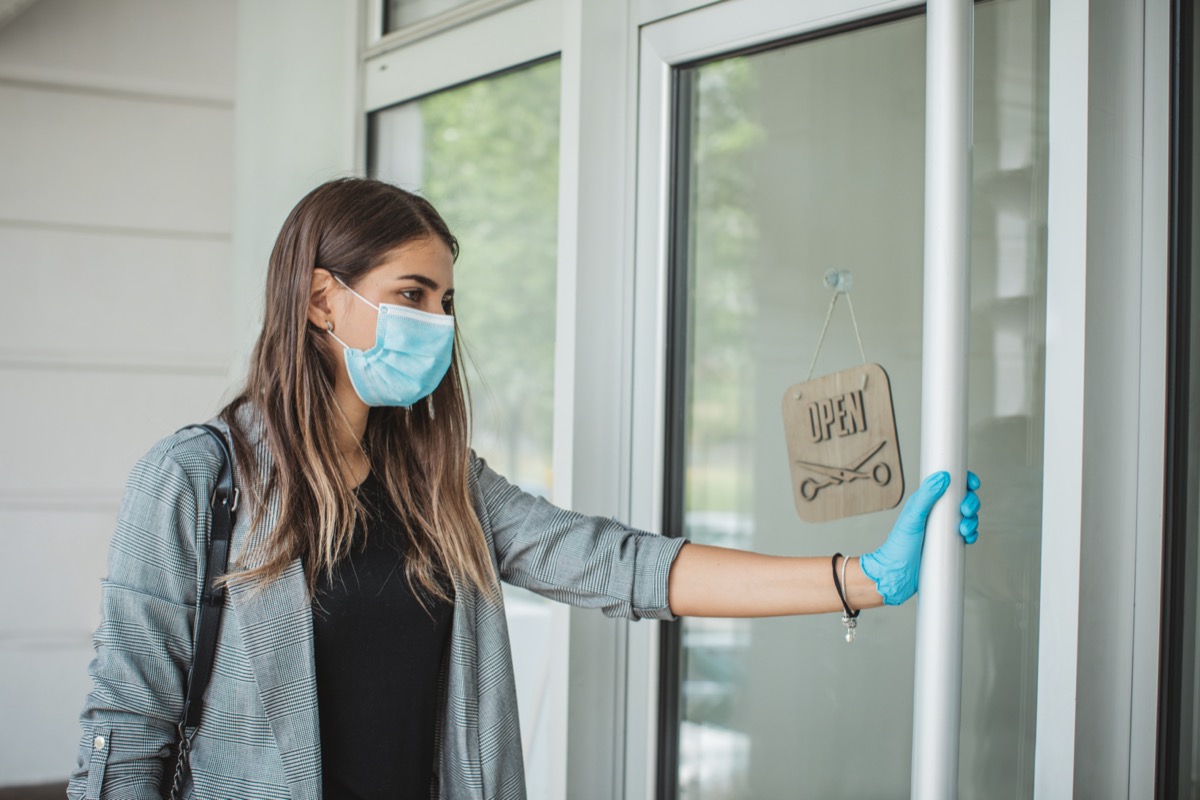 The COVID-19 pandemic is more dangerous than ever, with 17 million cases, more than 300,000 American deaths and two viable vaccines that will take months to administer. The Centers for Disease Control and Prevention (CDC) still recommends staying home as much as possible, listening to your local officials' advice on going out, and only visiting public establishments that are enforcing safety guidelines, such as social distancing and mask mandates. But not every place is worth the risk. Before you head out, read on to discover where you should not go right now, and to ensure your health and the health of others, don't miss these Sure Signs You've Already Had Coronavirus.
1
Don't Go to Bars, Says Dr. Fauci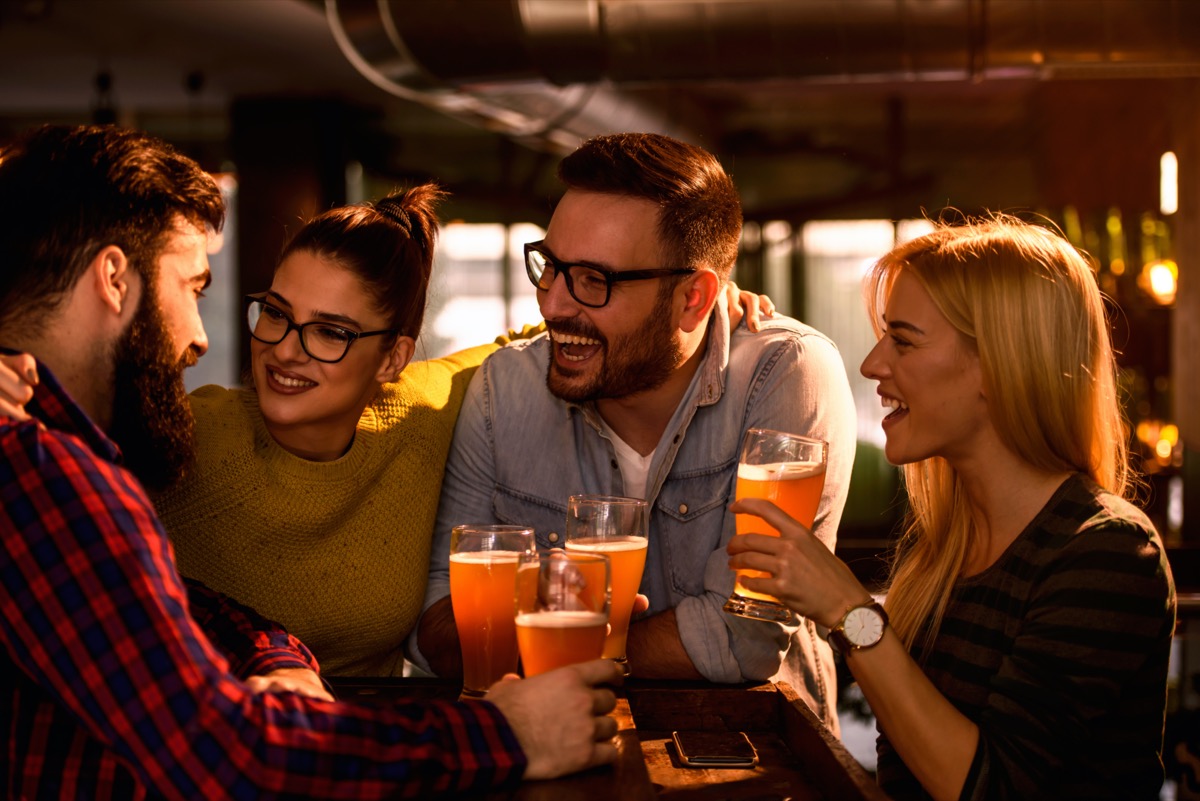 COVID-19 is generally spread from respiratory droplets of an infected person, according to the CDC. A crowded bar without social distancing or mask wearing allows these respiratory droplets to fly. All it takes is one infected person in a crowded bar to potentially spread the virus to several other people. "Public health authorities have identified bars as the locus of outbreaks in Louisiana, Florida, Wyoming and Idaho," according to Kaiser Health News. Dr. Anthony Fauci, the nation's leading infectious disease expert, puts it bluntly: "Avoid bars."
2
There is Risk at Sporting Events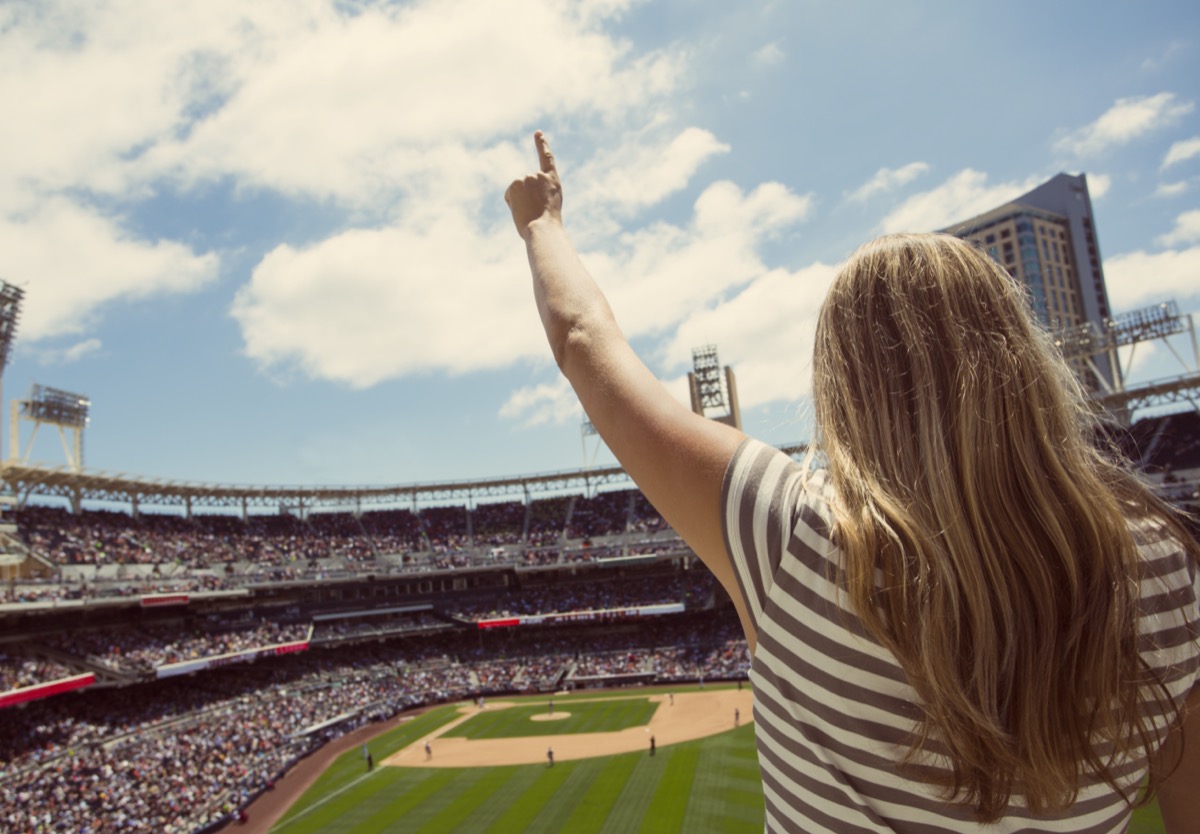 Professional sports are back in action, but you won't see too many fans in the stands. That's because a crowded sports stadium could be one of the worst places to visit during a pandemic. If you can remember the atmosphere of a sporting event, it was spectators sitting close to one another and cheering on their team, waiting in long lines for food and restrooms, and tons of frequently touched surfaces. COVID-19 is mainly spread through contact and droplet transmission, as well as airborne transmission, according to the World Health Organization (WHO). A packed stadium at a sporting event is conducive to all types of coronavirus transmission, making it a risky place to be with COVID still around.
3
Avoid the Gyms, Unless They Have the Strictest of Safety Protocols—and Even Then There's Risk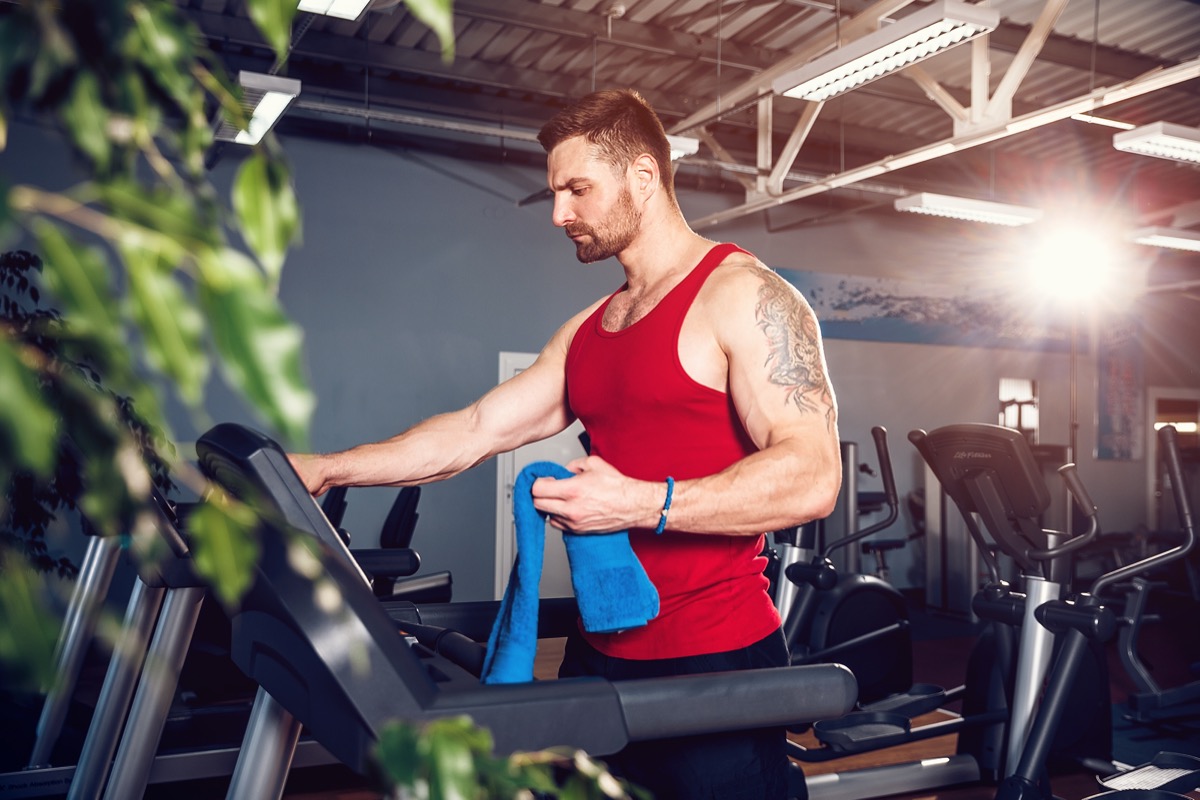 A gym or fitness center used to be a place you'd visit to get yourself healthy. During the time of the pandemic, however, a gym is one of the riskiest places to visit if you're trying to maintain good health. While many fitness centers are taking coronavirus seriously and implementing strict guidelines to keep patrons safe, some establishments may not be as diligent. 
Without the proper protocol in place, you could find yourself running on a treadmill steps away to an infected exerciser who wears his mask beneath his nose. If you know your gym is following the right procedures to stay safe, you should still use social distancing, wear a mask, sanitize shared equipment before and after use, and make a reservation, if possible, according to the CDC.
4
Airports—and Travel in General is Dangerous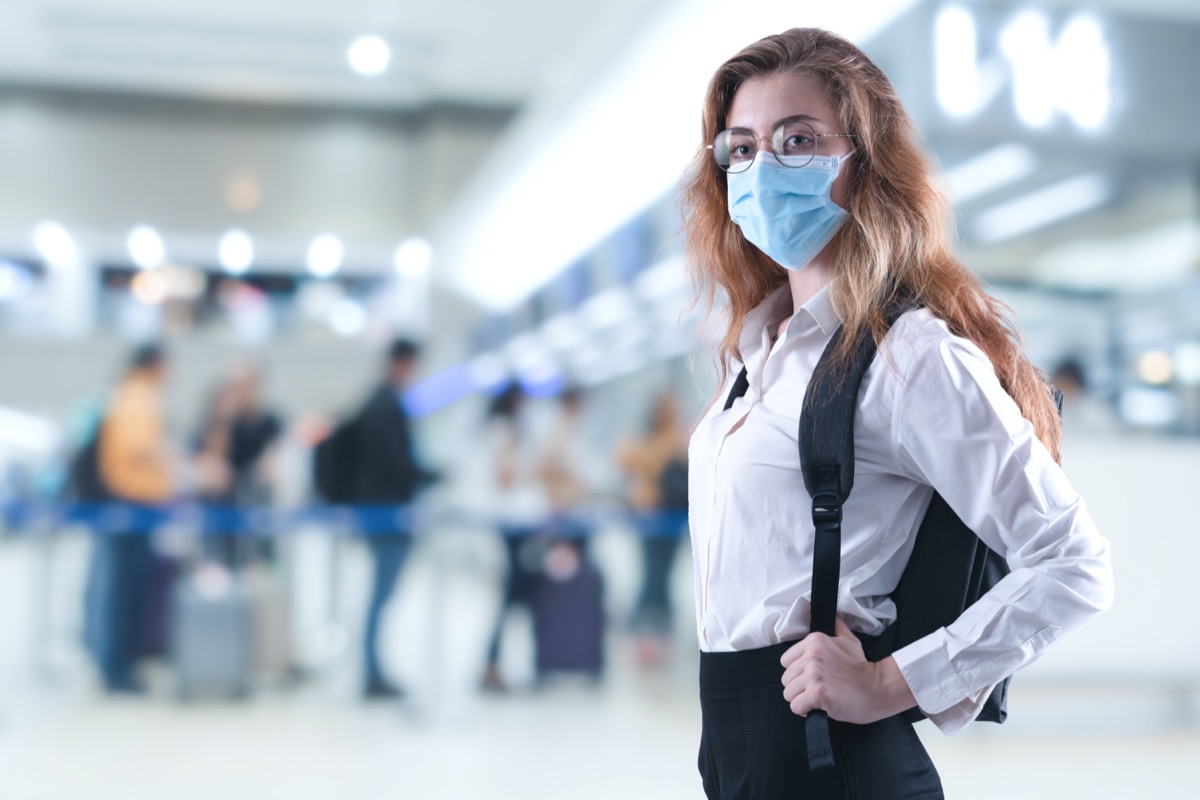 When it comes to flying, you may be more nervous about catching COVID-19 on your flight than when waiting to board. However, being in the air should be the least of your worries. "Modern aircraft have high efficiency air filters similar to those used in hospital operating rooms. They capture more than 99.9% of the airborne microbes in the filtered air," according to the International Air Transport Association (IATA). The CDC warns that your time in the airport is what's risky, since it can be tough to socially distance yourself from other travelers. You may also touch surfaces that infected people have touched before you, increasing your risk for infection. 
5
Houses of Worship Can Spread COVID-19
The gathering of a large group of worshippers inside a church is dangerous for the spread of COVID-19. In March, a church service in Arkansas was responsible for the spread of coronavirus to at least 35 people, according to the CDC. 
Many religious organizations are getting creative and offering socially distant outdoor services, drive-in services, or virtual services. If your church is open for in-person services, it's not a safe place to be unless capacity is limited, social distancing is enforced, and all attendees wear face masks. Even then, there is risk.
6
Try to Avoid Beauty Salons or Spas
When you head in for a haircut, manicure, or facial, you're in close contact with at least one other person. Beauty establishments are expected to follow strict CDC guidelines that include limited capacity and face mask mandates. Even if the proper precautions are taken, there's still a risk involved with beauty services. 6254a4d1642c605c54bf1cab17d50f1e
Limit the danger by following the business's protocols and keeping it quick. "Rather than staying there for four hours for a cut, a highlight, and a blow-dry, you could not do the blow-dry or skip the highlights. Get in and get out," says Dr. Susan Wootton, M.D. from UTHealth.
7
Only Board Public Trains or Buses if You Must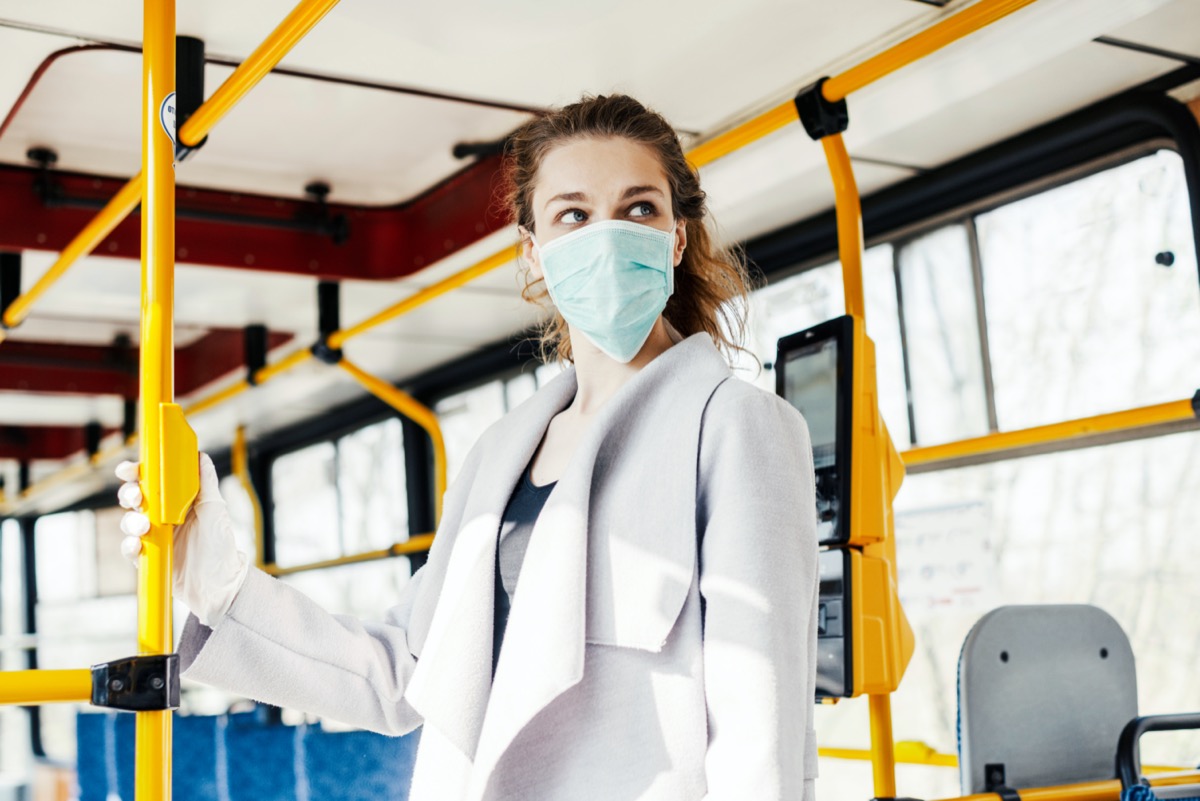 Whether you're heading to work or running errands, you may need to use public transportation to get from Point A to Point B. There are many guidelines in place to make a public train or bus less risky for catching coronavirus. However, you'll still be in an enclosed space with a group of people for a period of time, which makes these areas dangerous for spreading the virus. 
If you must use public transportation during the pandemic, keep yourself updated on the latest services and procedures, avoid touching surfaces, and practice social distancing, the CDC recommends. You should also wash your hands thoroughly before and after your commute. And to get through this pandemic at your healthiest, don't miss these 35 Places You're Most Likely to Catch COVID.
More content from
ETNT Health