You "Should Not Take" COVID Vaccine if You Have This Condition, Says New Alert
Two people out of thousands experienced a severe side effect from the COVID-19 vaccine.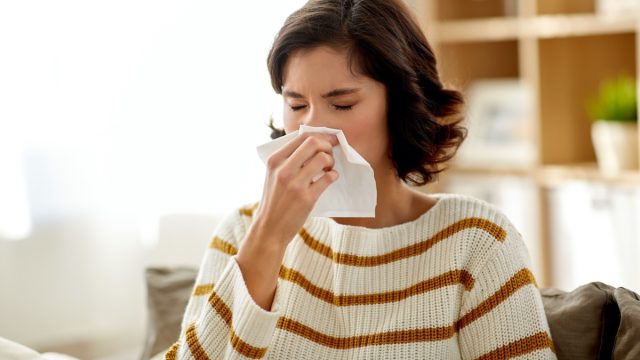 Health experts have made it very clear that in order to establish herd immunity against COVID-19, a majority of the population will have to get the vaccine. However, according to a new alert, not everyone should be lining up for the highly anticipated shot. On Wednesday, UK health authorities warned that anyone with a "significant history of allergic reactions" should not be given the Pfizer/BioNTech vaccine. Read on to hear more about the guidance, and to ensure your health and the health of others, don't miss these Sure Signs You've Already Had Coronavirus.
Two Healthcare Workers "Responded Adversely"
The guidance was issued by the National Health Service England after two health care workers "responded adversely" to their initial dose of the vaccine on Tuesday. According to the group, the two staff members had a history of allergic reactions, with both carrying adrenaline auto injectors. Each of them demonstrated symptoms of anaphylactoid reaction.
"As is common with new vaccines the MHRA [Medicines and Healthcare products Regulatory Agency] have advised on a precautionary basis that people with a significant history of allergic reactions do not receive this vaccination after two people with a history of significant allergic reactions responded adversely yesterday," Stephen Powis, the national medical director for NHS England, said in a statement. "Both are recovering well."
Per the newly issued advice from the MHRA, any person with a significant allergic reaction to a vaccine, medicine or food — such as previous history of anaphylactoid reaction, or those who have been advised to carry an adrenaline autoinjector — should not be on the receiving end of the Pfizer/BioNtech vaccine. They added that vaccines "should only be carried out in facilities where resuscitation measures are available."
The MHRA also maintains that they are investigating the reports. "Once all the information has been reviewed we will communicate updated advice," a spokesperson told CNN. 
Pfizer also released a statement explaining that it had been advised by the UK regulator of "two yellow card reports that may be associated with allergic reaction."
"As a precautionary measure, the MHRA has issued temporary guidance to the NHS while it conducts an investigation in order to fully understand each case and its causes. Pfizer and BioNTech are supporting the MHRA in the investigation," the statement read. "In the pivotal phase 3 clinical trial, this vaccine was generally well tolerated with no serious safety concerns reported by the independent Data Monitoring Committee. The trial has enrolled over 44,000 participants to date, over 42,000 of whom have received a second vaccination."
RELATED: 7 Tips You Must Follow to Avoid COVID, Say Doctors
Allergic Reactions Are Rare, Says Doctor—the Chance is "Very Small"
The US Food and Drug Administration (FDA) released documents on Tuesday pointing to data from the trial finding that allergic reactions were slightly more adverse for the vaccine group compared to the placebo — 0.63% compared with 0.51%.
Multiple experts, including Peter Openshaw, professor of experimental medicine at Imperial College London, confirmed to CNN that allergic reactions can be a rare side effect, but aren't too concerning. "As with all food and medications, there is a very small chance of an allergic reaction to any vaccine," he said. "The fact that we know so soon about these two allergic reactions and that the regulator has acted on this to issue precautionary advice shows that this monitoring system is working well."
Vaccine expert Dr. Paul Offit agreed: "Certainly, vaccines can cause severe allergic reactions. In the United States, roughly one of every 1.4 million doses of vaccines is complicated by a severe allergic reaction."
Keep in mind that thousands of other people received their first dose of the vaccine in the UK on Tuesday, without any allergic reaction whatsoever. As for yourself, do everything you can to prevent getting—and spreading—COVID-19 in the first place, since the vaccine isn't here yet: Wear a face mask, get tested if you think you have coronavirus, avoid crowds (and bars, and house parties), practice social distancing, only run essential errands, wash your hands regularly, disinfect frequently touched surfaces, and to get through this pandemic at your healthiest, don't miss these 35 Places You're Most Likely to Catch COVID.