The Fastest Way to Get Your COVID Vaccine, Says Dr. Fauci
The COVID vaccine will likely be at your local pharmacy this spring.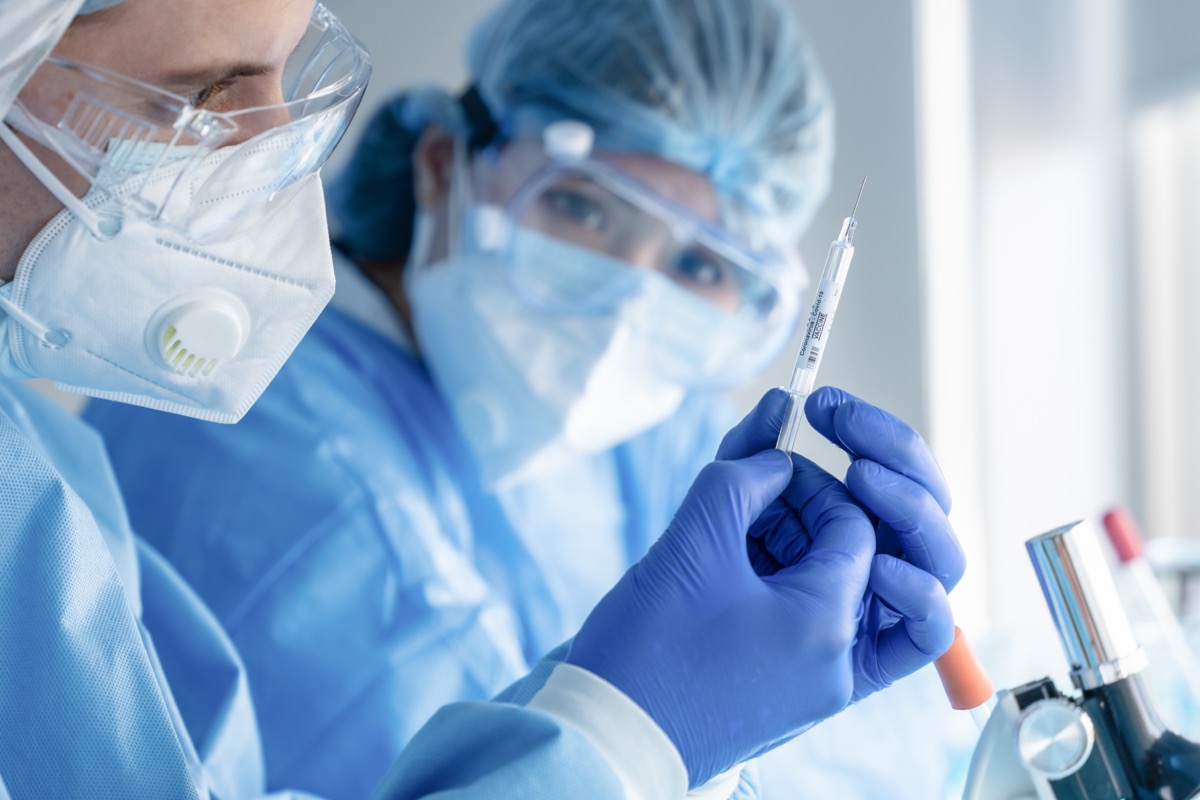 The first COVID-19 vaccine was shipped this morning, and it is still unclear exactly when it will be available to anyone who wants it, beyond "April." "There's no doubt going to be a learning curve here," Dr. William Moss, executive director of the International Vaccine Access Center at the Johns Hopkins Bloomberg School of Public Health, told NBC News. "This is an enormously complex public health intervention that hasn't been done before, in this country or elsewhere."
However, earlier this month, NIAID Director Dr. Anthony Fauci, the nation's top infectious disease expert, revealed during a Q&A with Facebook Founder and CEO Mark Zuckerberg, when the general public will be able to walk into their local CVS or Walgreens and get injected with the vaccine. Given the ubiquity of these chains, going there will be the quickest route to the vaccine for most. Read on to see when they will be available there, according to Fauci, and to ensure your health and the health of others, don't miss these Sure Signs You've Already Had Coronavirus.
Dr. Fauci Explained When the Vaccine Will Be Available at Pharmacies
Dr. Fauci explained that the federal government is contracted with "multiple companies" and are making approximately 600 million doses of vaccine. Since each individual needs two doses, that means there is currently enough for 300 million to get vaccinated. "Hence, everyone that you would imagine that would want to get vaccinated in the country would have a vaccine," he said. 6254a4d1642c605c54bf1cab17d50f1e
He continued to explain that the higher risk people will get the vaccine first. "In December, the first of the high priorities — which will likely…be a combination of healthcare providers, frontline people who take care of patients, as well as those who are at higher risk like people in nursing homes, and those types of situations," he said. "And as we get into January, the next tier. And February, then March." 
Then, in the spring, the vaccine will likely be available at your local pharmacy. "By the time we get to April, we would likely have taken care of all the high priority and then the general population — the normal, healthy young man or woman, 30 years old that has no underlying conditions — can walk into a CVS or to a Walgreens and get vaccinated. I would think as we get to April and May that we likely would have, for those who want to get vaccinated, the overwhelming majority of the people that want to get vaccinated."
However, he did point out that there will be some people who don't want to get vaccinated, which could have a detrimental effect on public health. 
"The challenge is going to be to convince people to get vaccinated because if you have a highly efficacious vaccine and only 50% of the country gets vaccinated, you're not going to have that umbrella of protection of herd immunity," he pointed out. "What you really want is what we have: a highly efficacious vaccine — but you also want 75-85% of the people to get vaccinated."
Dr. Fauci Says We Could Be on the Road to Recovery by Summer
The good news is, if all goes well, the country could be on the road to recovery by summer, per Dr. Fauci. "If we get to that point, Mark, and we and people get vaccinated, by the end of the second quarter of the year you could have enough protection to this country that the pandemic as we know it will be well, well suppressed, below the danger point," he said. 
"Let's say we get 75 percent, 80 percent of the population vaccinated," Fauci said at an online "When Public Health Means Business" event sponsored by the Harvard T.H. Chan School of Public Health and the New England Journal of Medicine. "If we do that, if we do it efficiently enough over the second quarter of 2021, by the time we get to the end of the summer, i.e., the third quarter, we may actually have enough herd immunity protecting our society that as we get to the end of 2021, we can approach very much some degree of normality that is close to where we were before."
Until you're told not to—wear a face mask, social distance, avoid large crowds, don't go indoors with people you're not sheltering with, practice good hand hygiene and to protect your life and the lives of others, and don't visit any of these 35 Places You're Most Likely to Catch COVID.
Leah Groth
Leah Groth has decades of experience covering all things health, wellness and fitness related.
Read more
More content from
ETNT Health