Amazon Has the Philips Air Fryer for $100 Off for Cyber Monday
It's one of the top-rated air fryers on Amazon, and it's more affordable than ever today.
If you've been looking to get an air fryer, now's the time to buy. The Philips TurboStar Technology Air Fryer is on major sale on Amazon today only for Cyber Monday.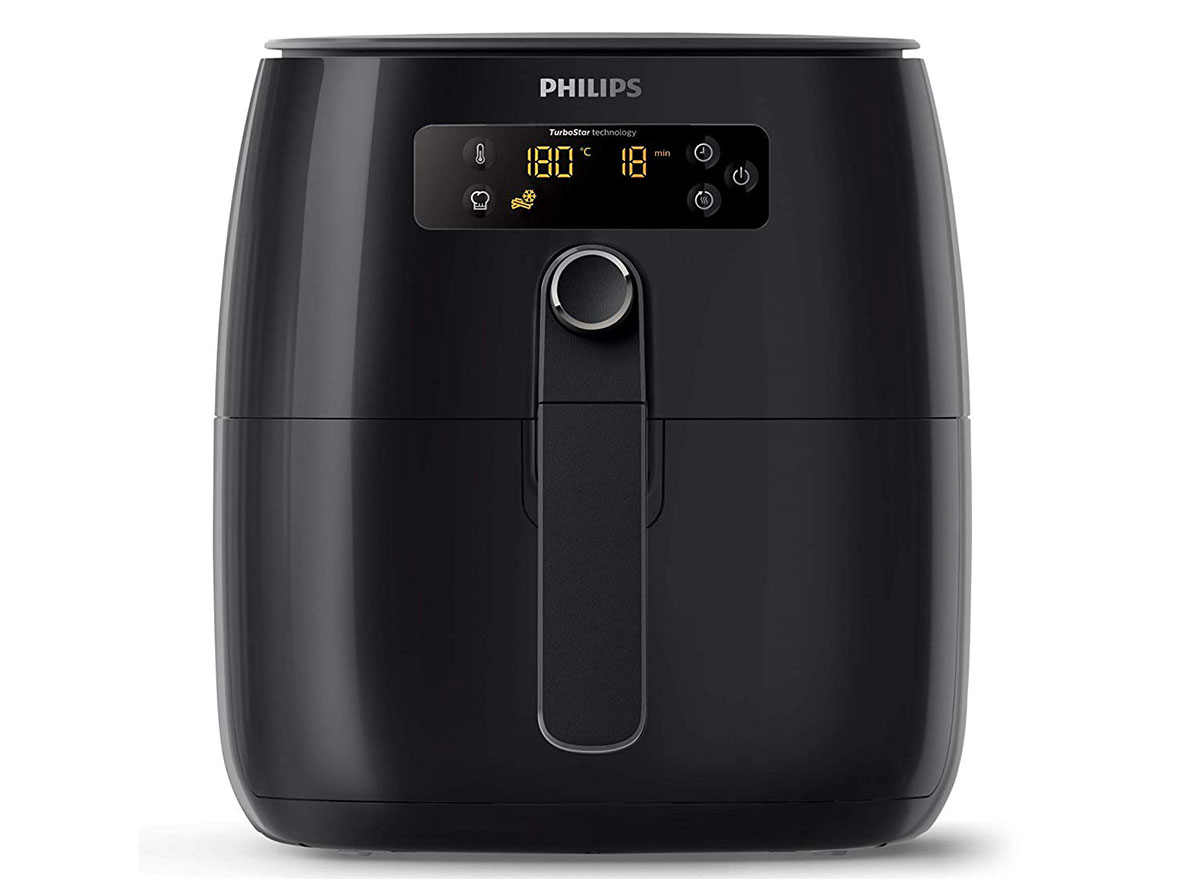 With this Cyber Monday deal, you'll save $100, which is 33 percent off its usual price!
Why should I buy this air fryer?
Out of all the air fryers on sale this Cyber Monday (and trust us, there are a lot), we highly recommend you purchase this one from Philips because it's one of the top-selling air fryers on Amazon. Not only has it earned a coveted Amazon's Choice badge, but it also has a rating of 4.5 out of 5 stars from reviewers as well.
Here are some of the standout features:
It comes with four different presets for popular air fryer dishes: frozen fries, meat, fish, and drumsticks. You won't have to guess at the temperature or timing for these items anymore—gone are the days of soggy fries! There's even a "keep warm" function that allows you to keep food nice and toasty for up to 30 minutes after cooking. This is a great option for when your family members or guests are running late.
There's an app with 200 recipes, as well as a free recipe book, for endless inspiration.
The compact size means it won't take up too much room on your kitchen counter, which is ideal if your kitchen space is limited.
Cleanup is a breeze, thanks to dishwasher-safe parts, so you can spend more time with your family at the dinner table and less time in the kitchen cleaning.
Why use an air fryer?
Air fryers have continued their popularity over the years (some 10 million were sold in the U.S. between May 2017 and March 2019) as they provide a healthier alternative to frying and sautéing foods.
Related: Instant Pot launched a Star Wars collection, and it's out of this galaxy!
When you use an air fryer, you don't have to use a ton of oil to ensure that fresh asparagus spears become crisp as you would if you were sautéing them on a skillet in oil. The same goes for homemade French fries. Instead of cutting the potatoes and putting them in a vat of frying oil, all you have to do is drizzle a few teaspoons of olive oil on the raw potato slivers and let the air fryer do the rest. You drastically reduce the amount of oil you need, which means you can seriously cut down on the number of calories in foods that are traditionally fried in oil. In fact, this Philips air fryer boasts that you can make fries with up to 75 percent less fat than traditional fries.
So, what are you waiting for? You can get this top-reviewed Philips air fryer for $199.95 today for Cyber Monday (the original price is $299.95). Why wait until January to start eating healthier? And for more tips on the trendy appliance, see 12 Things You Must Know About Air Fryers.
Cheyenne Buckingham is the news editor of
Read more