Dairy Queen Postpones Free Cone Day Amid COVID-19 Concerns
Your favorite freebie holiday has been postponed indefinitely.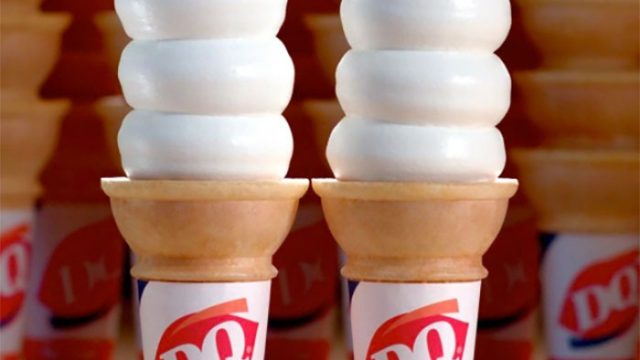 Every year, as spring kicks in, Dairy Queen celebrates by handing out free small vanilla soft-serve cones to lines of customers. Of course, this year is a little different, due to the coronavirus outbreak.
In their first news update of the year, DQ announced that Free Cone Day, which was set to take place on March 19, has been postponed.
"At DQ®, we like to sweeten the start of spring with Free Cone Day, a fan-favorite event that attracts long lines at our restaurants," the ice cream chain began, in a post on their website. "In light of the growing concerns about COVID-19 (coronavirus), and the precautions established by the World Health Organization and government agencies around large public gatherings, we made the difficult decision to postpone this year's Free Cone Day."
As of now, there is no official make-up date specified for Free Cone Day, which is known to draw crowds. Dairy Queen, like all of us, is continuing to monitor the situation, and will make decisions when more information becomes available.
"The health and wellbeing of our fans and crew members is our top priority," their news update continues," and we look forward to rescheduling at a later date when we know more."
While the festive day of free ice cream is temporarily cancelled, Dairy Queen is currently set to remain open.
They aren't the only ice cream parlor following that protocol: Ben and Jerry's has also decided not to host their annual free cone day, but as of now, will remain open for business.
Haagen-Dazs, which passes out free cones on May 12, has not yet commented on the state of their festivities. Which means, for now, May 12 is a nice post-quarantine treat to look forward to.
RELATED: Your ultimate restaurant and supermarket survival guide is here!
Kaley Roberts is a food writer.
Read more