This is Why You Should Lockdown Right Away, Says ER Doctor
In short, people will die avoidable deaths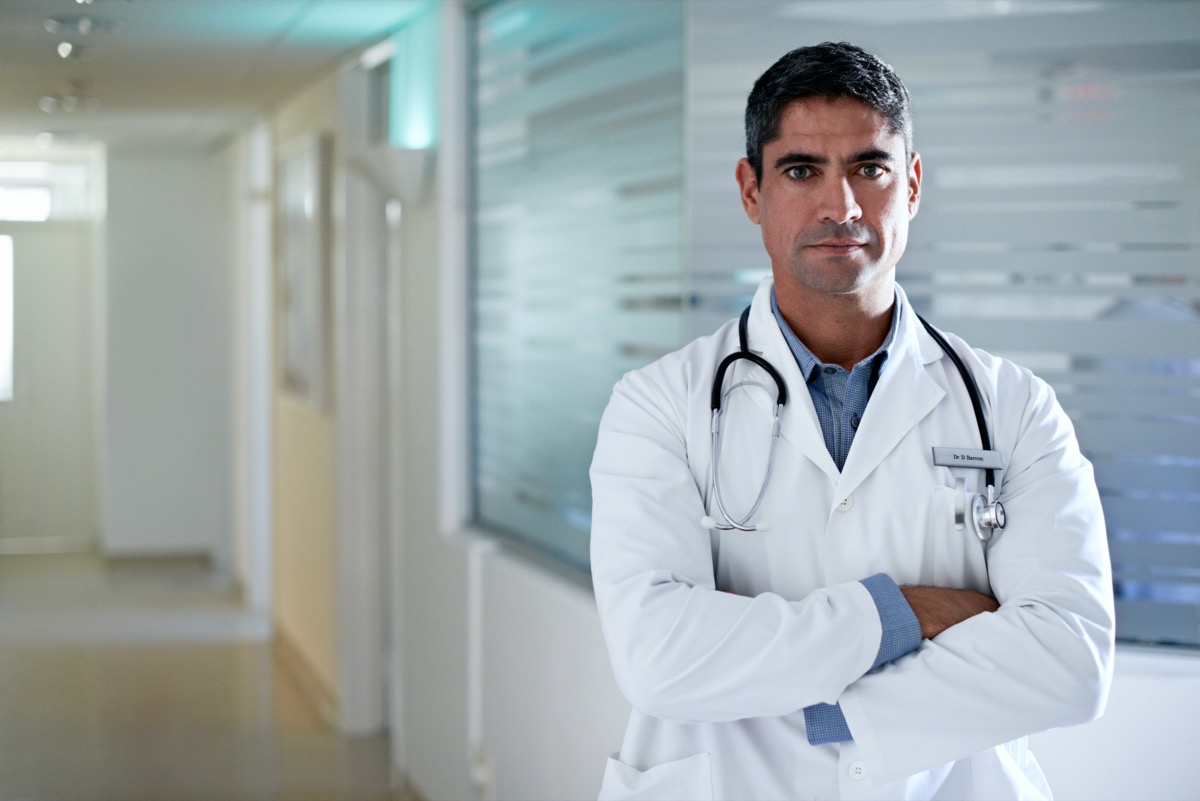 With the cases of COVID-19 surging across the country and grim records being broken every day, there is a lot of talk about hospitals and ICUs being filled to the brink of capacity — with some even reporting they are over capacity. "Hospital and ICU capacity have been stretched to the limit due to the current surge in COVID-19 cases," Dr. Darren Mareiniss, MD, FACEP, Emergency Medicine Physician at Einstein Medical Center in Philadelphia and Assistant Professor of Emergency Medicine, Sidney Kimmel Medical College, Thomas Jefferson University, tells Eat This, Not That! Health. What exactly does this mean and how can it impact you and your community? He explains that it's more than an inconvenience — it is going to result in avoidable deaths. Read on, and to ensure your health and the health of others, don't miss these Sure Signs You've Already Had Coronavirus.
Patients May be Placed in "Overflow" Units
In short, "When ICUs are over 100% capacity it means that there are more patients than available ICU beds," Dr. Mareiniss explains. However, it doesn't necessarily mean that the hospital is turning ICU patients away, which is why some hospitals are reporting being over 100%. So, where do the others who are admitted to the ICU go? "The additional patients may be 'holding' in the ER or in other overflow units like the PACU," he says. "Sometimes we open temporary ICUs that can care for patients as well." Unfortunately, boarding ICU patients in the ED, "have worse outcomes," he points out. 
Unfortunately, while you can still keep more patients then you have room for, the main issue with being at or over capacity it impacts all patients — not just those battling COVID-19. "When we run out of ICU capacity, it detrimentally affects patient care for all the critically ill patients, not just covid19 patients," Dr. Mareiniss explains. 
This mainly has to do with the fact that a hospital has a limited amount of resources, starting with staff. "We may not have an adequate number of ICU doctors and nurses to cover the increased number of patients," he explains. 
Obviously, there are only a limited amount of hospital rooms and beds, leading some facilities to create makeshift ICU units. In some "dire situations" a hospital may be forced to staff them with doctors who are not ICU trained but supervised by an ICU attending, which can result in "not the same level of care," per Dr. Mareiniss. "There will be deaths that were avoidable." 
Also, resources like ventilators and noninvasive ventilation may be totally exhausted. "In this difficult situation, ventilators may need to be allocated to patients who are most likely to live.  This means that it's possible that we may need to remove ventilation from some patients who are likely to die and give it to another patient who is more likely to survive," he explains.  6254a4d1642c605c54bf1cab17d50f1e
Again, such allocation schemes would include all ICU patients — not just COVID-19. He does point out, however, that many of the deaths and bad outcomes resulting from allocation would likely occur even without allocation issues. But, the bottom line is, "expanding the ICU and allocation life-saving resources to save the most lives possible will result in deaths and bad outcomes."
This Doctor is in Favor of Stricter Mitigation Measures
Because overwhelming the healthcare system will result in avoidable deaths, Dr. Mareiniss supports imposing more lockdown measures, especially in areas where hospitals are being overwhelmed. "Lockdown measures, though unwelcome by some, are a necessary public health measure aimed at stemming the unchecked spread of the virus.  Without such mitigation measures, we will assuredly overwhelm hospital capacity and cause avoidable deaths," he explains. 
As for yourself, follow the fundamentals and help end this surge, no matter where you live, until we've reached herd immunity—wear a face mask, social distance, avoid large crowds, don't go indoors with people you're not sheltering with (especially in bars), practice good hand hygiene and to protect your life and the lives of others, and don't visit any of these 35 Places You're Most Likely to Catch COVID.
Leah Groth
Leah Groth has decades of experience covering all things health, wellness and fitness related.
Read more about Leah
More content from
ETNT Health