Dr. Fauci Has This Message for Anti-Vaxxers
"If you could, in a way that's non-confrontational, give them the correct information…"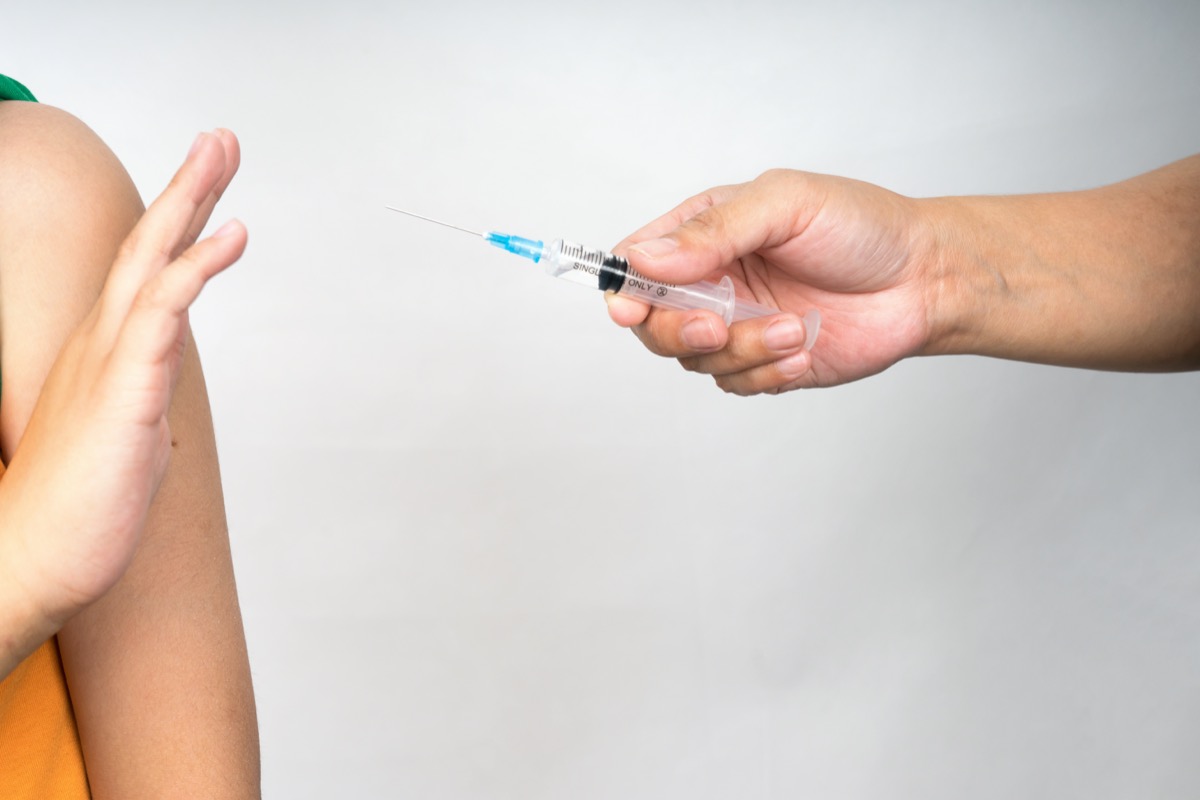 With hopes tied to an effective vaccine ending the coronavirus outbreak, one big concern remains: what if people don't take it? During a fireside chat with college students yesterday in the Berkeley Forum, Dr. Anthony Fauci, director of National Institute of Allergy and Infectious Diseases (NIAID), discussed how to address the anti-vaccine movement.
"So the anti-vaccine rage was gaining traction even before COVID-19. How do we plan to address the nation split, comprising of anti-vaxxers and those actively seeking a vaccine, especially if we need a majority vaccinated to contain the spread of the virus?," asked one student. Read on, and to ensure your health and the health of others, don't miss these Sure Signs You've Already Had Coronavirus.
How Would Fauci Convince Anti-Vaxxers to Take the COVID Vaccine?
"Well, I've been dealing with the anti-vaccine movement, mostly centered around measles, which is one—the trigger that with the false information that measles vaccine causes autism, which it absolutely does not. The one thing you have to do is not denigrate, accuse or disrespect the people who don't want to get vaccinated, if you feel you want to convince them to change their minds," Dr. Fauci answered.
"If you look at the anti-vaxxers as a whole," he continued, "there's a hardcore group that no matter what you do, you're not going to change their mind, but there's also a group that are against vaccines because they've absorbed misinformation. And if you could, in a way that's non-confrontational, give them the correct information, you may be able to win them over if they were open minded enough to realize that maybe the information upon which they made their judgment of not wanting to get vaccinated is in fact incorrect. And you could give them the correct information. There are a number of other people that don't get vaccinated because they don't have the time, but they don't fully appreciate the importance and the seriousness of it. If you can make it easier for them to get vaccinated, you may win over at least a segment of the people who for one reason or other does not want to get vaccinated."
What Is Fauci's Antidote to Misinformation?
Earlier in the fireside chat, Dr. Fauci was asked about misinformation that spreads on social media. He was all too aware of it. "I mean, the examples of people not wanting to wear masks—so not believing that if you just go in a crowd, you're not going to get infected, or if you do get infected, it's going to be meaningless because it's a trivial outbreak. Well, how could it be a trivial outbreak if he's already killed 210,000 people in the United States and a million people worldwide—but there are people out there that think all of this is a big conspiracy that we've made it up."6254a4d1642c605c54bf1cab17d50f1e
Hr continued: "You know, I was on a program this morning with Bill Gates and Bill and I, we're reminiscing that, you know, there's conspiracy theories out there that Bill Gates, with his power, with the Internet, is putting chips in people's brains to make them act in a certain way. I mean, really it's you kind of scratch your head and say, is this really true? But it's out there and that's unfortunate."
Be Consistent in Your Messaging
Fauci says the antidote to misinformation is a clear message. "It's not easy, but it can be done," he says. "You've got to be consistent in your messaging. You've got to be articulate in your messaging. You've got to understand what your audience is, and you have to have a crisp, clear message. One of the problems that many scientists have is that when they try to message, they do it at a level that really confounds things rather than clarifies things. So if you're trying to overcome myths and this information, you've got to be out there, but you've gotta be out there in a consistent way. And what you say needs to be based on solid scientific data and evidence and not the kind of surmising and conjectures that often drive the other side of that argument."
As for yourself, practice Dr. Fauci's fundamentals—wear a face mask, wash your hands, avoid crowds, don't congregate with people indoors, get your flu shot—and to get through this pandemic at your healthiest, don't miss these 35 Places You're Most Likely to Catch COVID.
Alek Korab
Alek Korab is a Co-Founder and Managing Editor of the ETNT Health channel on Eat This, Not That!
Read more about Alek