Dr. Fauci Just Said When We'd Be Back to "Normal"
If enough people take the vaccine, "we can get a blanket of immunity over this country," he says.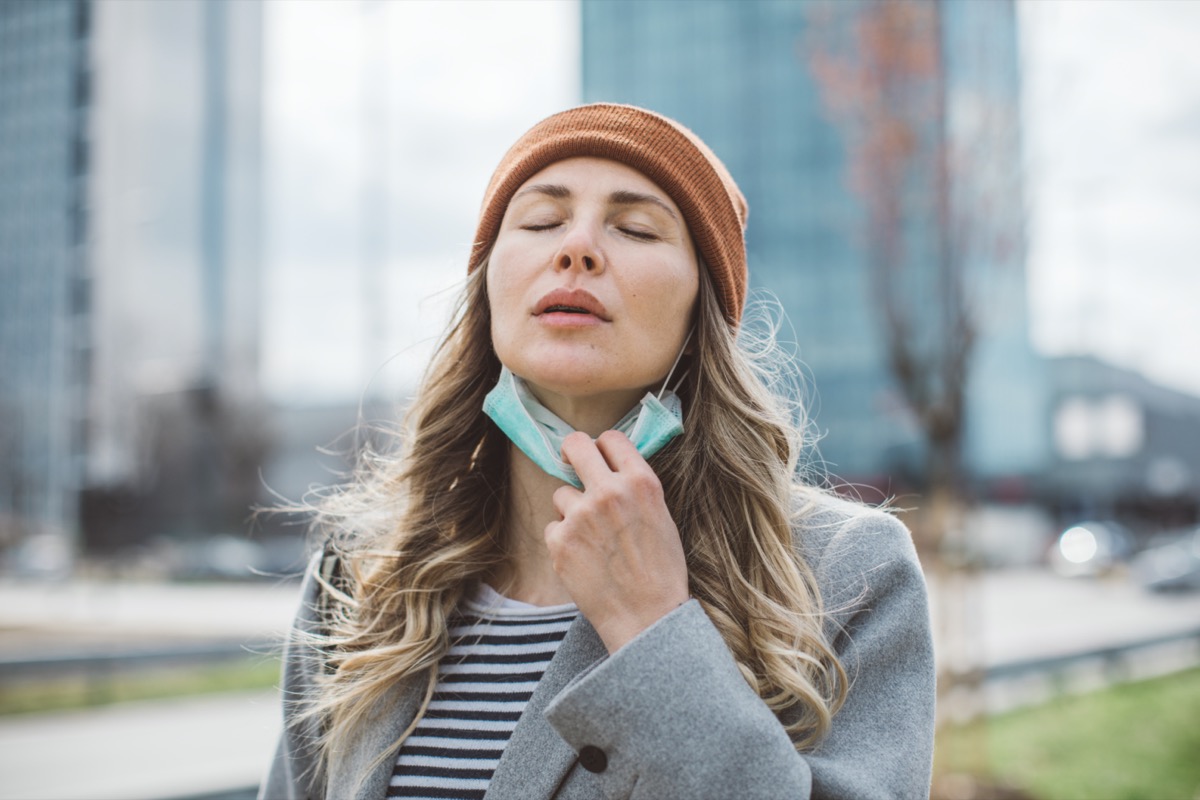 As coronavirus deaths surpassed 2,760 yesterday—just a few hundred American souls shy of those lost on 9/11—a return to "normal" can't come soon enough. Dr. Anthony Fauci, the nation's top infectious disease expert and the director of the National Institute of Allergy and Infectious Diseases, discussed when we might get back to some semblance of things being OK, and said it depended on two factors. "It really is a precarious situation, very unfortunate for us," he told ABC News Prime of the current surge, which may soon be a "surge on top of a surge." "But I think we just have to do the kinds of things to limit the possibility of there being spread." Read on to find out what you can do to help stop the deaths (and save your life), and to ensure your health and the health of others, don't miss these Sure Signs You've Already Had Coronavirus.6254a4d1642c605c54bf1cab17d50f1e
Getting Back to "Normal" Depends on Two Things, Says Dr. Fauci
"Getting us back to normal is going to depend on two things," Fauci told ABC News Prime. "One is going to be continuation of a baseline degree of good public health practices." You know the fundamentals by now, but are you following them?
Wear a mask consistently and correctly

Avoid crowds

Stay six feet apart 

Opt for the outdoors more than indoors 

Wash your hands
"The other," Fauci continues, "is we already have a highly efficacious vaccine in order to make that an effective program." Vaccines from Pfizer and Moderna, for example, should get FDA emergency approval this month, maybe as soon as this or next week. But then: "You have to have a rather large proportion of the population getting vaccinated. I would say that would be at least 70% and maybe more of the U.S. population."
This may prove a challenge. "About half of U.S. adults (51%) now say they would definitely or probably get a vaccine to prevent COVID-19 if it were available today; nearly as many (49%) say they definitely or probably would not get vaccinated at this time," reports Pew Research. "Intent to get a COVID-19 vaccine has fallen from 72% in May, a 21 percentage point drop."
Dr. Fauci was on TV to try to get those people to change their minds. "If we can do that, we can get a blanket of immunity over this country that as we get into the summer and early fall, we could be very close to normal, not exactly, but really close to normal," said Fauci. "So that's the reason why we encourage people to look at the data, which is sound data about the safety and the efficacy of the vaccines and go out there and get vaccinated."
Dr. Fauci Has Some Words of Hope
Fauci was asked why he still thinks we can turn this around, given the "dark year." "I think it's a combination of what we know works, the public health measures, but also the extraordinary lift that we're going to get that help that I say is on the way with a vaccine, this vaccine right now," he said. "Getting it within less than a year of the discovery of a new virus is beyond unprecedented. It's most extraordinary. So that's the thing that gives me hope, but also I think the bravery of the American people and how we've been able to handle this as a nation, particularly the healthcare providers who put themselves and their families at risk. Every time they go to work in the morning, they are really heroes."
How to Survive the Pandemic
As the doctor says: "This is real." Protect those heroes and protect yourself by following Fauci's fundamentals—wear a face mask, social distance, avoid large crowds, don't go indoors with people you're not sheltering with, practice good hand hygiene and to protect your life and the lives of others, and don't visit any of these 35 Places You're Most Likely to Catch COVID.
Alek Korab
Alek Korab is a Co-Founder and Managing Editor of the ETNT Health channel on Eat This, Not That!
Read more about Alek