Dr. Fauci Says Do This if You're Exposed to COVID
"The rules are that you should get tested, number one," he says.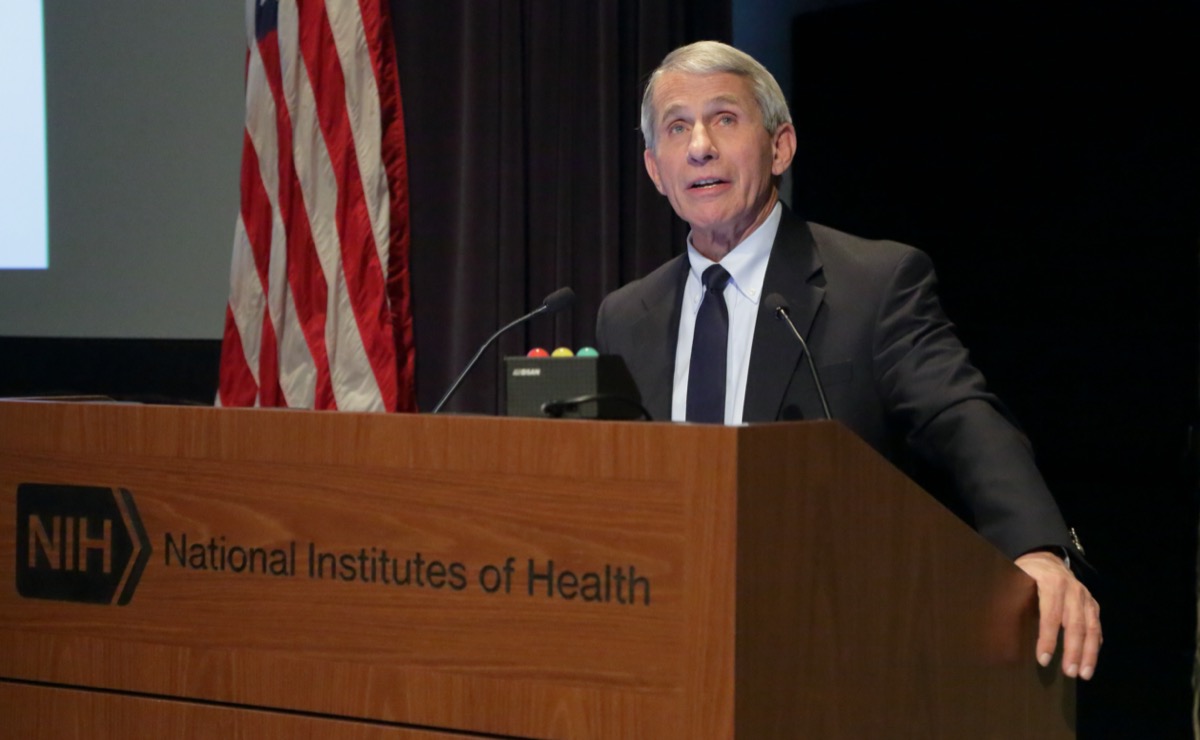 With President Trump's COVID diagnosis now more than a week in the rear view mirror, questions are still arising about how the virus was spread. Dr. Anthony Fauci, the nation's leading infectious disease expert and member of the Coronavirus Task Force, spoke with Judy Woodruff of PBS News Hour about what to do if someone you know contracts COVID—so you can be safe yourself. Read on, and to ensure your health and the health of others, don't miss these Sure Signs You've Already Had Coronavirus.
Fauci's Fundamentals
Woodruff asked Dr. Fauci about the ceremony for Supreme Court nominee Amy Coney Barrett on September 26th, which is suspected to be a superspreader event. "In retrospect, Dr. Fauci, was it wise for the White House to host this — over 200 people in the Rose Garden, but also indoors, the event for Judge Barrett, with — where you had very few people wearing masks, no social distancing, in retrospect?" Woodruff asked.
"I will have to answer it with a little modification, rather than making judgment on a specific episode," answered Fauci, wanting to avoid a spat with the President. "I would say something that I have said multiple times, and I have no problem repeating it now, that what you should do to avoid acquisition and transmission of infection is the universal wearing of masks, avoiding close contact, avoiding crowded situations, trying to do things outdoors much more than indoors, and washing your hands regularly. That applies to everyone under every circumstance. So, that may answer your question."
What to Do if You Come Into Contact With an Infected Person 
Fauci was also asked if the White House has taken the precautions it should. He again refused to comment on what has been done but instead answered with what should have been done. "Whether they did"—follow all the precautions—"or not, I don't know. But, clearly, when you have a situation, when someone comes into close contact with a documented infected person—that means within six feet of a person for 15 minutes or more who is documented to have coronavirus infection—and the rules are that you should get tested, number one, and, even if you're negative, you should have either 14 days of quarantine…."
"Or," he continued, "if a person is in a situation where they are an essential personnel, they can go into society. but they have got to, A, wear a mask, B, be conscious of distances, C, wash their hands frequently, and, D, if they get any symptoms, they have got to pull themselves out of circulation. So, those guidelines are very clear of what happens when you are in direct contact with someone who has a documented infection."6254a4d1642c605c54bf1cab17d50f1e
As for yourself: To get through this pandemic at your healthiest, follow Fauci's fundamentals and don't miss these 35 Places You're Most Likely to Catch COVID.
Alek Korab
Alek Korab is a Co-Founder and Managing Editor of the ETNT Health channel on Eat This, Not That!
Read more about Alek