Dr. Fauci Says COVID Can Be Stopped By Doing These 4 Things
The Navajo Nation managed to thwart an initial surge of COVID cases by following specific fundamentals.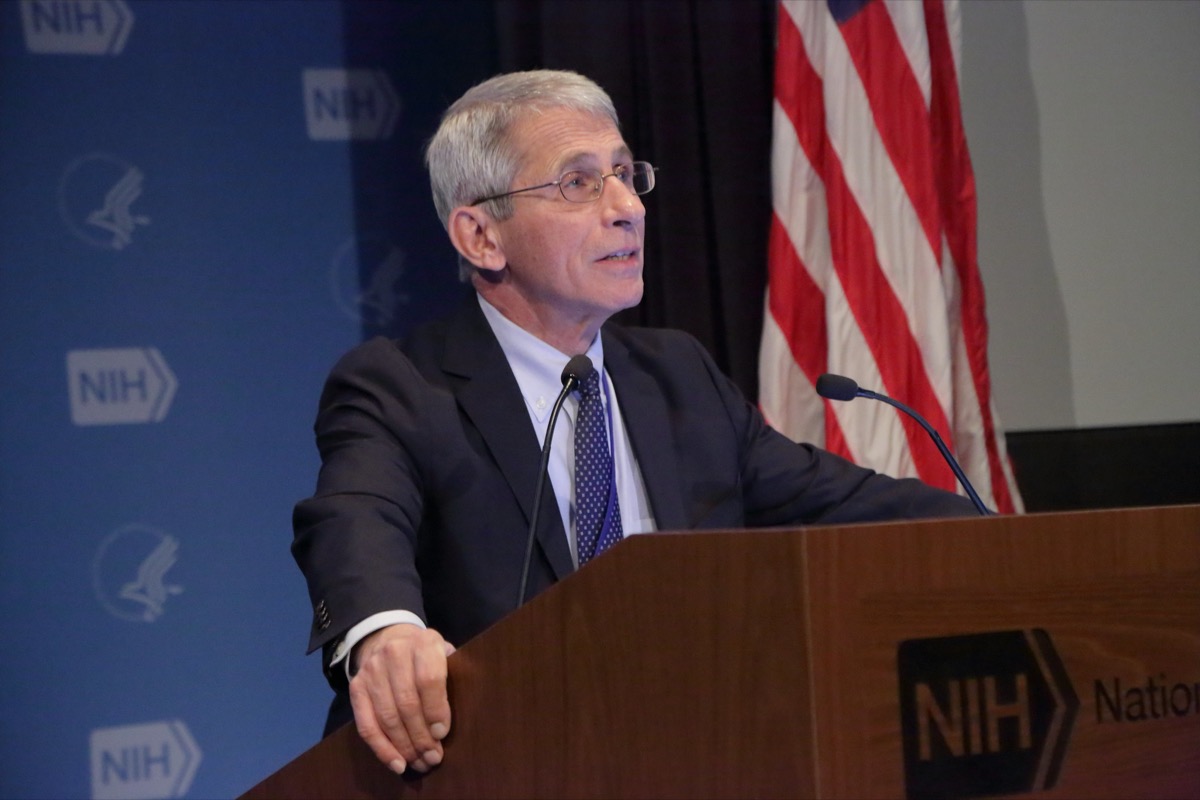 Since Labor Day weekend, COVID-19 cases have been rising in most of the country—something Dr. Anthony Fauci, key member of the White House Coronavirus Task Force and the nation's leading infectious disease expert, warned about. However, there are still communities who have managed to control infections in their population. During a town hall with the Navajo Nation Leadership, Dr. Fauci praised the community for their proactive response to the coronavirus pandemic, revealing their secrets of success and offering suggestions to them—and the rest of us—in the months ahead. Read on to find out more, and to ensure your health and the health of others, don't miss these Sure Signs You've Already Had Coronavirus.
They Followed Fauci's 4 Fundamentals
Dr. Fauci explains that while the Navajo Nation was hit particularly hard at the beginning of the pandemic, they managed to get back to a baseline by following his famous fundamentals. 
"You rose to the occasion and responded in a way—despite the difficulties of the experience that you were having—to bring down the level of new cases to a very, very low level. And you did that by abiding by the things that I have been speaking about to the rest of the country, almost on a daily basis—wearing a mask uniformly, avoiding close contact, avoiding crowds, trying to do things outdoors versus indoors," he said. 
"The reason you should be proud of what you've accomplished is that you have proven that when you do these public health measures, you can turn around a serious surge of infection. And I believe if the rest of the country looks at the model that the Navajo nation has shown that you can turn things around by carefully and assiduously adhering to the, of avoiding infection that we may see this happen throughout the country."
He then pointed out that this is becoming more important now that the seasons are starting to change and flu season is just a month away. 
"With regard to entering the flu season in the fall and the winter, we should try as best as we can to get as many people vaccinated with the flu shot as we possibly can," he suggested. "And the general recommendations of the CDC are to recommend that anyone six months of age or older gets vaccinated for flu so that you can prevent confluence of potentially two respiratory borne illnesses, because we know that the coronavirus SARS coronavirus II is not going to disappear. As we go indoors, it likely will challenge us for a surge."
Fauci Says Flu Season May Be Milder Than Usual—With Your Help
Another benefit of following the lead of the Navajo nation in terms of mask-wearing and social distancing, is that flu season could prove to be much milder than usual. 6254a4d1642c605c54bf1cab17d50f1e
"In the Southern hemisphere in Australia, Argentina and South Africa, whose flu season is from April to the end of August, they have found that because they have adhered to public health measures to prevent COVID-19, they have actually prevented influenza to the point that they have had the lowest level of influenza in their memory," he explained. "So that's a good lesson in the positive sense that if we get vaccinated and we superimpose upon that the public health measures that you are enacting successfully, that you may get influenza off the table in the sense of having to deal with two fluent outbreaks." As for yourself, consider skipping a fitness class, and to stay safe during this pandemic, don't miss these 35 Places You're Most Likely to Catch COVID.
Leah Groth
Leah Groth has decades of experience covering all things health, wellness and fitness related.
Read more about Leah