Dr. Fauci Warns of 'Serious Trouble' Starting Today
He wants to 'jolt' you into realizing 'that it is within our hands to prevent' COVID-19.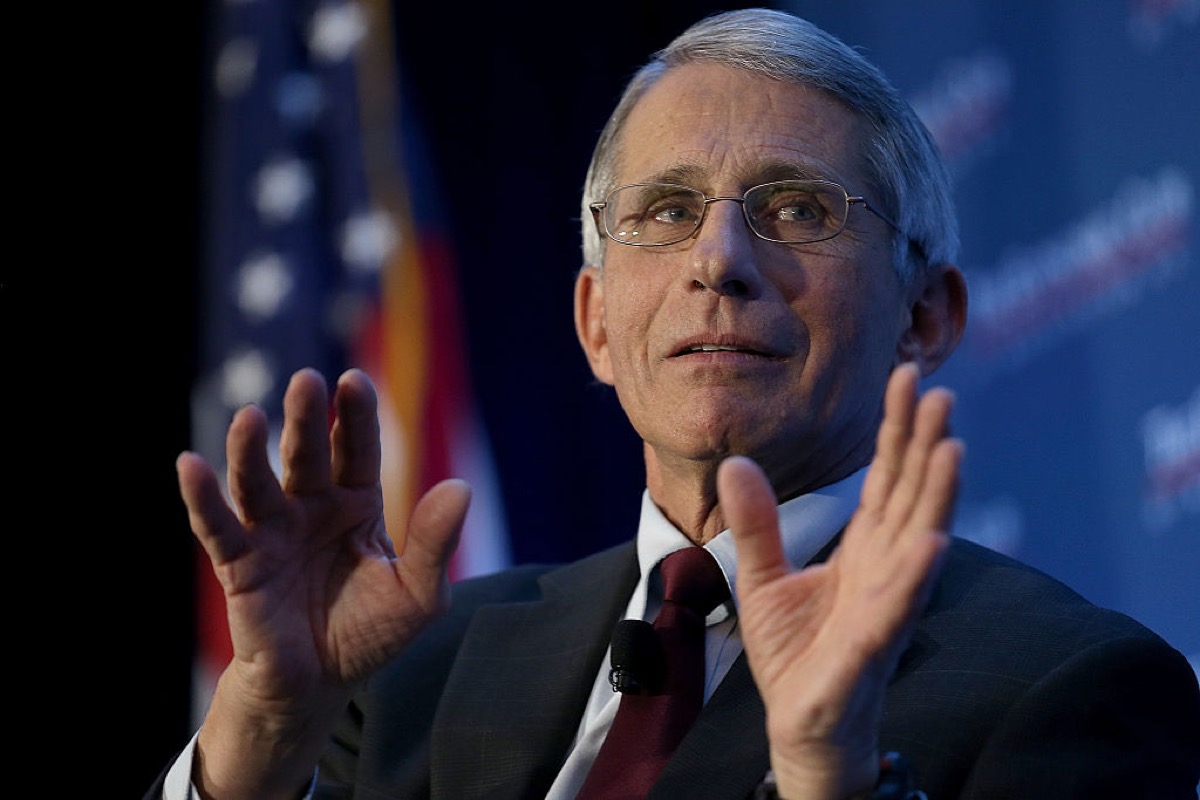 As the United States reached a grim milestone of 200,000 COVID-19-related deaths on Tuesday—on the first day of Fall and the eve of cold and flu season—thwarting the spread of the virus has never been more crucial. During an in interview with CNN's Dr. Sanjay Gupta during the CITIZEN by CNN event on Tuesday, Dr. Anthony Fauci, director of the National Institute of Allergy and Infectious Diseases, revealed exactly what needs to be done in order to slow the spread of the virus and save lives. Read on, and to ensure your health and the health of others, don't miss these Sure Signs You've Already Had Coronavirus.
You Can Help Stop "Serious Trouble" Ahead
"The idea of 200,000 deaths is really very sobering, and in some respects, stunning," Dr. Fauci confessed about the milestone, officially reached on Tuesday. "The metric for me is the concern I've had and continue to have for this baseline of cases that we have every day. Going back and forth between 35,000 and 40,000 cases per day, which, you know, ultimately some will lead to hospitalizations and those will lead to deaths," he continued. 6254a4d1642c605c54bf1cab17d50f1e
While many people are waiting for a vaccine to control the virus, Dr. Fauci points out that keeping the death toll low is within our means and capability. "Even before we get a vaccine—which we will get reasonably soon—we have the capability by doing things that we've been speaking about for so long that could prevent the transmission, and by preventing transmission, ultimately preventing the morbidity and mortality that we see," he said. 
However, he pointed out that a lot of people are failing to follow his simple fundamentals. "The simple public health things that are not universally being implemented in our society and our very big country with a lot of heterogeneity," he said. 
These include the universal wearing of masks, social distancing, avoiding crowds, staying outdoors more than indoors, and frequent washing of hands. 
"They sound so simple, Sanjay. We've said them so many times, but they're not universally implemented and employed," he continued. "And that to me is really something that is serious because as we all know, we're looking straight at the fall coming upon us. We're looking at the winter coming on us. If we don't get that down sharply to a very low level, and the reason we need it there is because when you have a very low baseline and you start to get the blips as I call them, you don't want them to turn into surges or rebounds. And when you have a lot of cases floating around, it's much more difficult to contain that than if you have a relatively low number so that when those cases appear, you can contain as opposed to having to jump over to mitigation."
Dr. Fauci is Trying to "Jolt You" Into Realizing What's at Stake This Fall and Winter
While he isn't trying to "frighten people" he hopes to "jolt them into a realization of what needs to be done to protect themselves as individuals and the country." 
He adds that while some parts of the country are doing well, with a test positivity rate of under 1 percent, what "worries him the most" is that in the other areas, "if you don't have the control now" as the season continues to change, it will get even more unmanageable. 
"What works against you now is the fact that we're getting into a weather season where people will be spending more time indoors, and depending upon your own social situation, indoors for you or another person may mean poor ventilation, poor air flow, and difficulty getting the kind of removal of anything that would lead to spread," he points out. "You know, you talk about particles, you talk about air singing, coughing, sneezing, all those types of things. Those are the things that I get concerned about as we get into October and November and December."
Dr. Fauci is Hopeful That COVID Can Be Contained
"I think we can do it Sanjay. I don't want to really make this kind of a dark thing that, 'Oh my goodness, it's inevitable that we are going to get into serious trouble.' The fact is we know we could get into serious trouble if we don't do certain things. And I hope that understanding is not going to frighten people, but will jolt them into realizing that it is within our hands to prevent that we can't throw our hands up and say, 'It's hopeless, it's going to happen anyway.' That is unacceptable to take that approach. On the other hand, it's unacceptable to not realize that we are entering into a risk period and we've got to act accordingly as we enter into that risk period."
So to stay safe during this pandemic, wear a face mask, social distance, avoid crowds, wash your hands and don't miss these 35 Places You're Most Likely to Catch COVID.
Leah Groth
Leah Groth has decades of experience covering all things health, wellness and fitness related.
Read more about Leah