Dr. Fauci Shares 'Good News' About a Vaccine
"I'm optimistic about that because we have three candidates in phase three trial already," he says.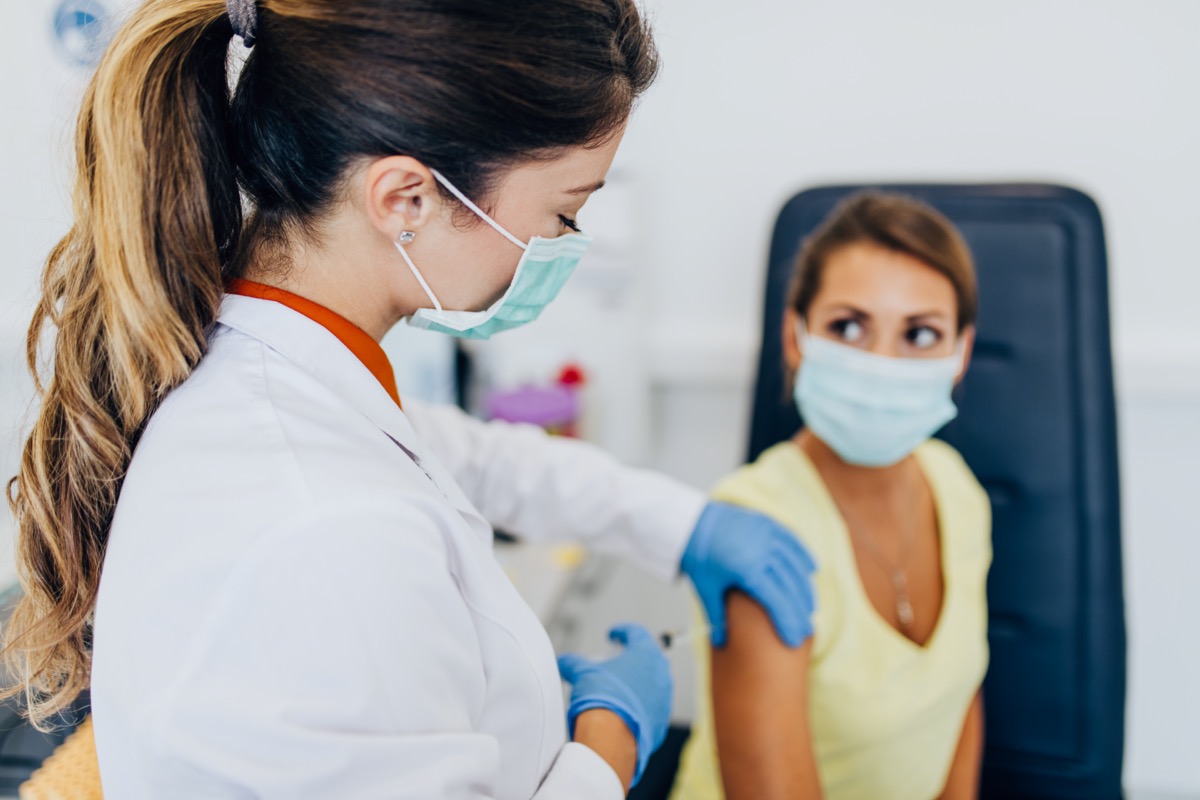 In March 2020, Dr. Anthony Fauci, the director of the National Institute of Allergy and Infectious Diseases, predicted 200,000 COVID-19-related deaths. What he didn't know was that we'd hit that number in September of the same year—with no end in sight. Yesterday, Fauci spoke with cofounder of the COVID tracking project at the Atlantic and Atlantic staff writer, Alexis Madrigal, at the virtual Atlantic Festival, about how to stop the coronavirus, and shared some encouraging news about the vaccine. Read on, and to ensure your health and the health of others, don't miss these Sure Signs You've Already Had Coronavirus.
Fauci Remains "Cautiously Optimistic" About the Vaccine
"Vaccines, that is critical," said Fauci. "And that's a good news story thus far. I'm cautiously optimistic about that because we have three candidates in phase three trial already, a fourth one will very shortly go into phase three trial….So we hope that by the time we get into the late fall and early winter, November and December, we will know whether a vaccine is safe and effective."
He Mentioned Who Might Get the Doses First
"The federal government has to make doses of the vaccine so that they are ready when the decision is made, whether a vaccine is safe and effective," he says. "So you don't have to wait months. So if we get an answer, let's say November, December, it's possible. It could be earlier. I think it's going to be likely November, December, we can then start vaccinating people starting with the health care workers, starting with the vulnerables I mean, the elderly, those with underlying conditions."
Dr. Fauci said the White House would not dictate when a vaccine is ready; science will. "No, no," said Fauci, "the data will determine the announcement," he said, when asked about interference.
RELATED: CDC Says You Can Catch COVID This Way After All6254a4d1642c605c54bf1cab17d50f1e
Voters Worry About a Rushed Vaccine
Dr. Fauci's comments come during a week in which "Most voters, both nationally and in six key swing states, worry President Donald Trump is pushing to release a coronavirus vaccine too quickly in order to boost his reelection chances this year, according to new CNBC/Change Research polls," reports CNBC. "Across the country, 61% of likely voters said they are concerned the president is trying to push out the vaccine too early, to help his chances of winning a second White House term in November, the survey released Wednesday found. It included 52% of respondents who said they are 'very concerned.'"
The concerns have sparked the FDA into action. "The Food and Drug Administration is expected to spell out a tough new standard for an emergency authorization of a coronavirus vaccine as soon as this week that will make it exceedingly difficult for any vaccine to be cleared before Election Day," reports the Washington Post. "The agency is issuing the guidance to boost transparency and public trust as it approaches the momentous decision of whether a prospective vaccine is safe and effective."
How to Avoid COVID-19 Yourself
To keep yourself free from COVID-19, do as Dr. Fauci advises: wear a mask, avoid crowds, wash your hands and don't miss these 35 Places You're Most Likely to Catch COVID.
Alek Korab
Alek Korab is a Co-Founder and Managing Editor of the ETNT Health channel on Eat This, Not That!
Read more about Alek