Dr. Fauci Says to 'Hunker Down' This Fall and Winter
The nation's top infectious disease doctor warned against rising cases.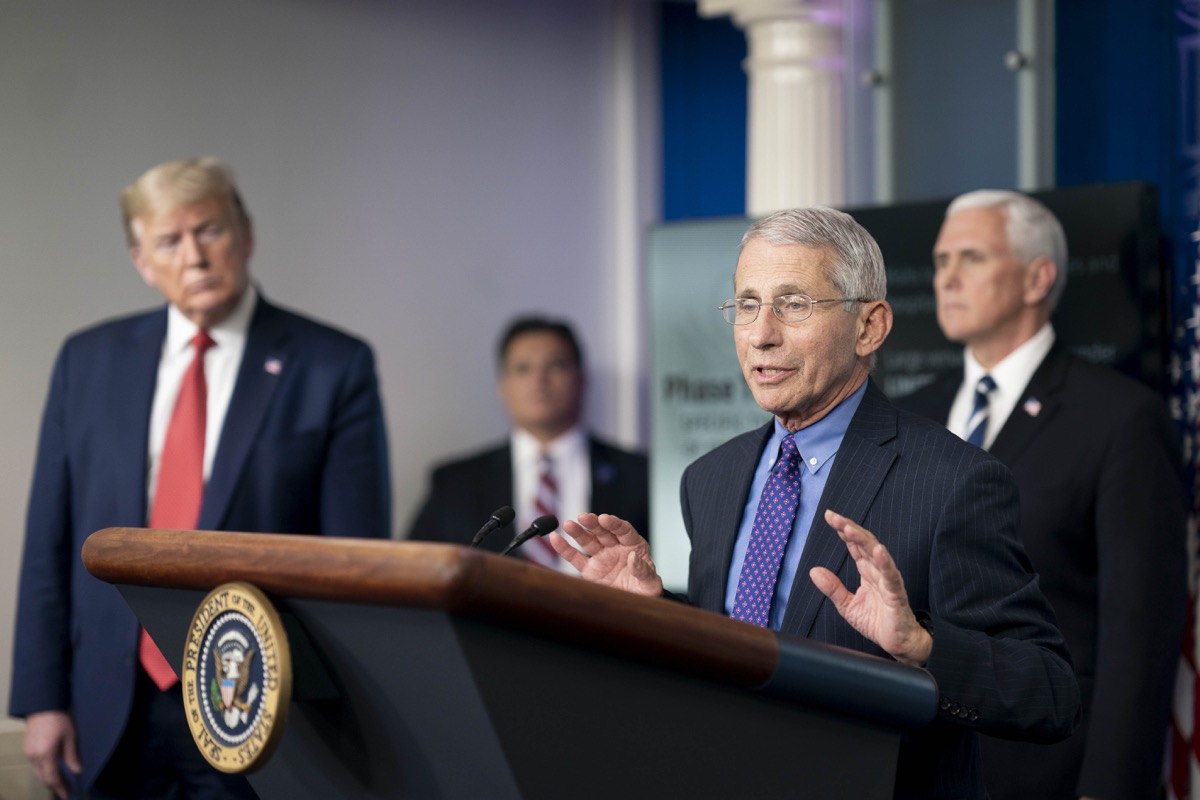 As summer winds down, and Americans get increasingly frustrated with restrictions (and remain worried about getting coronavirus), Dr. Anthony Fauci, the nation's top infectious disease doctor, sounded an alarm. He spoke with Harvard Medical School for its Grand Rounds video series on Thursday, and said we're all still in danger of catching COVID-19. "I just think we need to hunker down and get through this fall and winter, because it's not going to be easy," he said. "We know every time we lift restrictions, we get a blip. I mean, it's whack-a-mole—it really is." Read on to see how you can avoid COVID-19, and to ensure your health and the health of others, don't miss these Sure Signs You've Already Had Coronavirus.6254a4d1642c605c54bf1cab17d50f1e
Labor Day Could Lead to More Cases
"If you look at the sequence of the heat maps, it's whack-a-mole," continues Fauci, the director of the National Institute of Allergy and Infectious Diseases and a member of the Coronavirus Task Force. "The Southern States were up—that goes down—you get Kentucky, Tennessee, Missouri goes up, goes down, and now we're looking at the Dakotas and the Northwestern part. It's really quite frankly depressing to see that because what's ahead—the real critical issue was now what's going to happen two weeks to three weeks from the day before yesterday with the Labor Day holiday, which is very concerning to me."
Fauci has previously warned Americans to avoid crowds and parties over Labor Day, as that could lead to more cases, as happened after Memorial Day. Not everyone listened. In North Carolina, for example, "the local health director warns the Charlotte area will likely see a 'spike' in coronavirus cases in coming weeks due to parties and gatherings held over Labor Day weekend," reports the Charlotte Observer. "Mecklenburg Public Health Director Gibbie Harris says the improved trends are not likely to hold…[and] pointed to the recent easing of coronavirus restrictions on businesses, the expected return of college students in Charlotte and instances of illegal parties held in recent days where few people were social distancing or wearing masks."
"More and more, we're seeing people frustrated, wanting to get back to normal, and just saying, 'Forget it. I'm done with this. I'm just going to go do what I want to do,'" Harris said.
How to Avoid COVID-19
For one thing, avoid large crowds. Fauci says this is where you're most likely to catch coronavirus.  "They're really much more super-spread at events than super-spread of people," said Fauci. "We used to think that a single person may be particularly prone to spreading it a lot. It is much more likely it's the circumstance in which that person is, as opposed to anything specific about the specific person."
You should also assume that everyone you make contact with is infected. "The thing about this outbreak that is very perplexing in being able to track and get our arms around is the fact that about 40 to 50% of the infections are asymptomatic," says Fauci. "If that's not bad enough, we know that now—and there was some doubt about this until it was really clarified—it is likely that up to about 50% of transmissions off of individuals who do not have symptoms."
As for yourself, do everything you can to prevent getting—and spreading—COVID-19 in the first place: Mask up, get tested if you think you have coronavirus, avoid crowds (and bars, and house parties), practice social distancing, only run essential errands, wash your hands regularly, disinfect frequently touched surfaces, and to get through this pandemic at your healthiest, don't miss these 35 Places You're Most Likely to Catch COVID.
Alek Korab
Alek Korab is a Co-Founder and Managing Editor of the ETNT Health channel on Eat This, Not That!
Read more about Alek