Dr. Fauci Says You'll Still Need to Wear Masks—After Vaccine
It ain't over till it's over.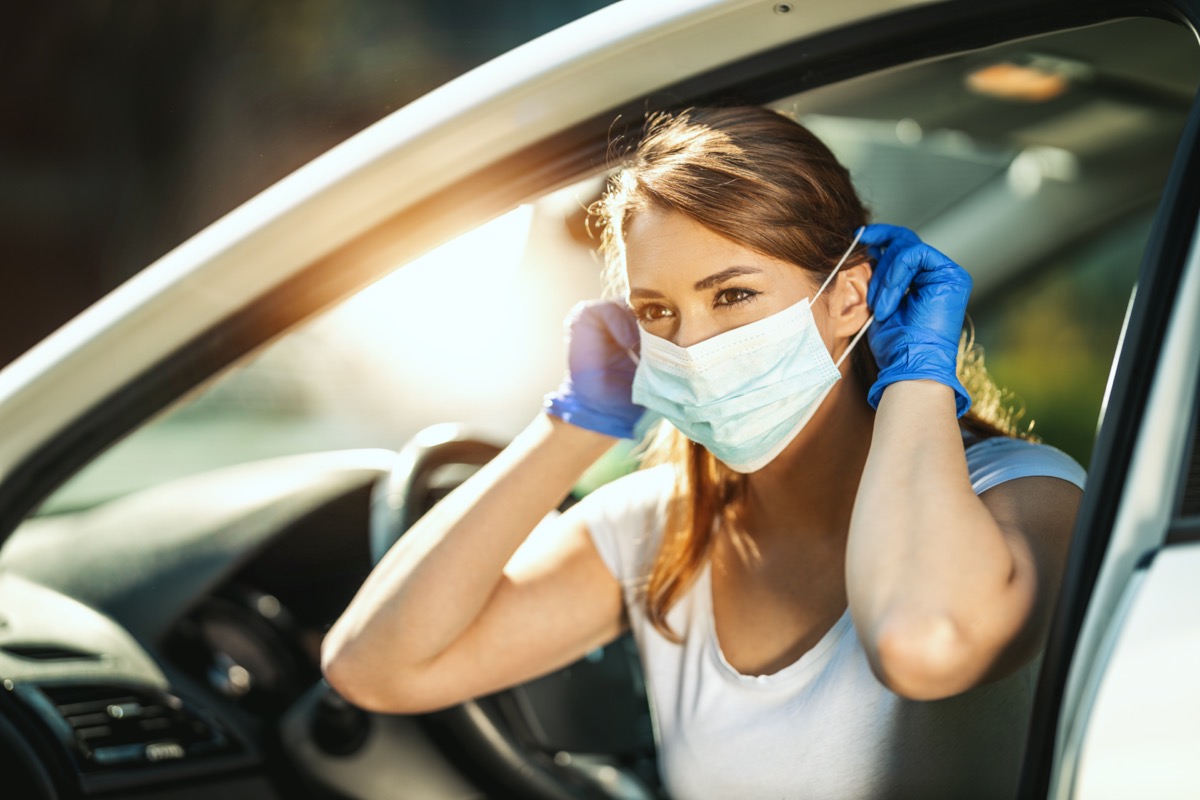 As the coronavirus pandemic continues, you may be looking desperately for a light at the end of the tunnel. It may be further away than you think. Dr. Anthony Fauci, the director of the National Institute of Allergy and Infectious Diseases, said in a Facebook Live conversation with New Jersey Gov. Phil Murphy that there will still be room for COVID-19 to spread until we have a vaccine that is 100% effective and taken by the majority of Americans—which won't happen anytime soon. Read on to see how long you'll have to wear your face mask, and to ensure your health and the health of others, don't miss these Sure Signs You've Already Had Coronavirus.
The Vaccine "is Not Going to Eliminate" the Need for Public Health Measures
"Let me real quick, if I can ask you to comment on this, this sort of myth that I sense out there, that this is a bright line," Murphy began, "so I got vaccinated. I could now go back into a bar without a face covering no social distancing. Don't have to wash my hands anymore. Could you, could you react to that?"6254a4d1642c605c54bf1cab17d50f1e
"You better get that black line, that red line and erase it," said Fauci with a grim chuckle, "And I say you want to erase it is because that is assuming that the vaccine is a hundred percent protective and a hundred percent of the people take the vaccine, right? That's not going to happen."
Fauci said "if we are lucky, we'll get a vaccine that's 70, 75% effective. And we already know that a certain percentage of the population we still need to convince to get vaccinated. So when a vaccine comes, we look at it as an important tool to supplement the public health measures that we do. It will allow us to more quickly and with less stringency, get back to some degree of normal, but it is not going to eliminate the need to be prudent and careful with our public health measures."
Murphy then asked him, "what's the percentage of the American population vaccinated by the end of calendar, 2021, that you would say that was a good result."
"I would like to see, and I'm being practical now," answered Fauci, "I'd like to see a hundred percent, but that's not going to happen. I think if we can get 75 to 80% of the population vaccinated, I think that would be a really good account." 
"Aerosol Transmission Does Occur"
One big reason you'll still need to wear a fact mask is: "I believe — and I think there's good enough data — to say that aerosol transmission does occur," Fauci confirmed. 
He explained what is meant by aerosol spread. "Generally, if you have droplets that come out of a person, they generally go down within six feet. So if you're six feet distance and you're wearing a mask, you don't worry about that," he said. However, in other cases of transmission — which he admits, he doesn't know the percentage at this point — those droplets "don't drop immediately." This usually occurs indoors by aerosol. 
"They hang around for a period of time," he continued. "This becomes very relevant when you're indoors and there's not good ventilation."
He did point out that this revelation "doesn't change anything" when it comes to the already recommended prevention methods — which include the wearing of masks, social distancing, staying outdoors instead of indoors, avoiding crowds, and practicing hand hygiene.  So do as the man says: To keep yourself and others free from COVID-19, no matter where you live, wear a mask, avoid crowds, wash your hands and don't miss these 35 Places You're Most Likely to Catch COVID.
Alek Korab
Alek Korab is a Co-Founder and Managing Editor of the ETNT Health channel on Eat This, Not That!
Read more about Alek