Dr. Fauci Warns of New COVID Side Effect You Need to Know
The nation's top infectious disease doctor spoke about the new complication we need to "keep our eye on."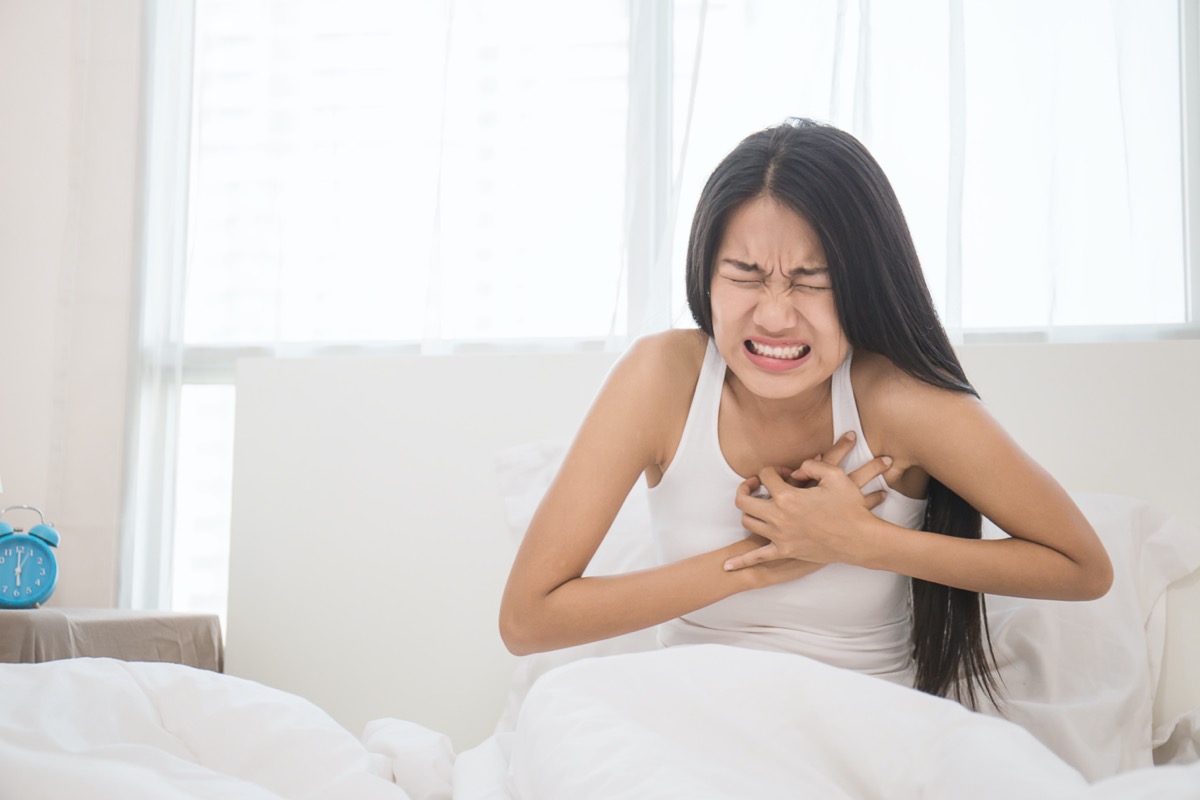 With 200,000 COVID-related deaths reported in America, the coronavirus has been framed as a life or death disease. But a large number of people who catch the virus are also afflicted with symptoms that might last a lifetime, their worlds forever changed. And one worrying new complication has caught the attention of Dr. Anthony Fauci, the director of the National Institute of Allergy and Infectious Diseases. He spoke with BMJ about the one new side effect we need to "keep our eye on." Read on, and to ensure your health and the health of others, don't miss these Sure Signs You've Already Had Coronavirus.
COVID Can Lead to Long-Term Symptoms
"What about 'long covid'?" asked the interviewer. "The original coronavirus public health messaging was about vulnerable and elderly people. But with long covid, younger people who get infected can have this prolonged, multi-system illness. Does this change the message?" These folks have been dubbed "long-haulers" by the media.
"It doesn't change my public health messaging, because I have always said that we've got to be really, really committed to preventing infection and preventing disease—that's why we talk about universal wearing of masks, avoiding crowds, keeping your distance, outdoor better than indoor, washing hands—and we need to do everything we can to get a vaccine so that we can get this thing under control, because it is not something to be taking in a trivial way at all," answered Fauci.
"Clearly, there are people who have been sick enough to stay home and maybe not even be in the hospital, who go for a significant period of time with myalgias, fatigue, and what they refer to as brain fog or just inability to concentrate."
The New Side Effect Dr. Fauci is Worried About
"There's another thing that we're learning that we need to keep an eye on," Fauci said. "There have been some studies, one from Germany and now a more recent one from the US, on cardiovascular effects, even on people without symptoms who've recovered biologically. When you do MRIs [magnetic resonance imaging] on their hearts, you sometimes see a degree of inflammation that might even be asymptomatic. Does that lead to arrhythmias and cardiomyopathy? We don't know."
"Two new studies from Germany paint a sobering picture of the toll that Covid-19 takes on the heart, raising the specter of long-term damage after people recover, even if their illness was not severe enough to require hospitalization," reports Stat News. "One study examined the cardiac MRIs of 100 people who had recovered from Covid-19 and compared them to heart images from 100 people who were similar but not infected with the virus. Their average age was 49 and two-thirds of the patients had recovered at home. More than two months later, infected patients were more likely to have troubling cardiac signs than people in the control group: 78 patients showed structural changes to their hearts, 76 had evidence of a biomarker signaling cardiac injury typically found after a heart attack, and 60 had signs of inflammation. These were relatively young, healthy patients who fell ill in the spring…"6254a4d1642c605c54bf1cab17d50f1e
"The other study, which analyzed autopsy results from 39 people who died early in the pandemic and whose average age was 85, found high levels of the virus in the hearts of 24 patients," according to Stat. "We see signs of viral replication in those that are heavily infected," Dirk Westermann, a cardiologist at the University Heart and Vascular Centre in Hamburg, said in an interview. "We don't know the long-term consequences of the changes in gene expression yet. I know from other diseases that it's obviously not good to have that increased level of inflammation."
"Another study, published this month, looked at 26 Ohio State athletes who experienced Covid-19 with mild or no symptoms and detected evidence of possible myocarditis in five of them and lesser abnormalities in nine more," reports the New York Times. "The condition poses a heightened risk to those whose physical activity puts stress on the heart: Even before the pandemic, myocarditis was a leading cause of death in young, otherwise healthy athletes."
How to Avoid COVID-19
If you experience any heart issues, contact your medical professional immediately. And to keep yourself free from COVID-19, do as Dr. Fauci advises: wear a mask, avoid crowds, wash your hands and don't miss these 35 Places You're Most Likely to Catch COVID.
Alek Korab
Alek Korab is a Co-Founder and Managing Editor of the ETNT Health channel on Eat This, Not That!
Read more about Alek