Fauci Warns "We're Not in a Good Place"
"Now we're averaging about 70,000 a week," he told the Journal of the American Medical Association.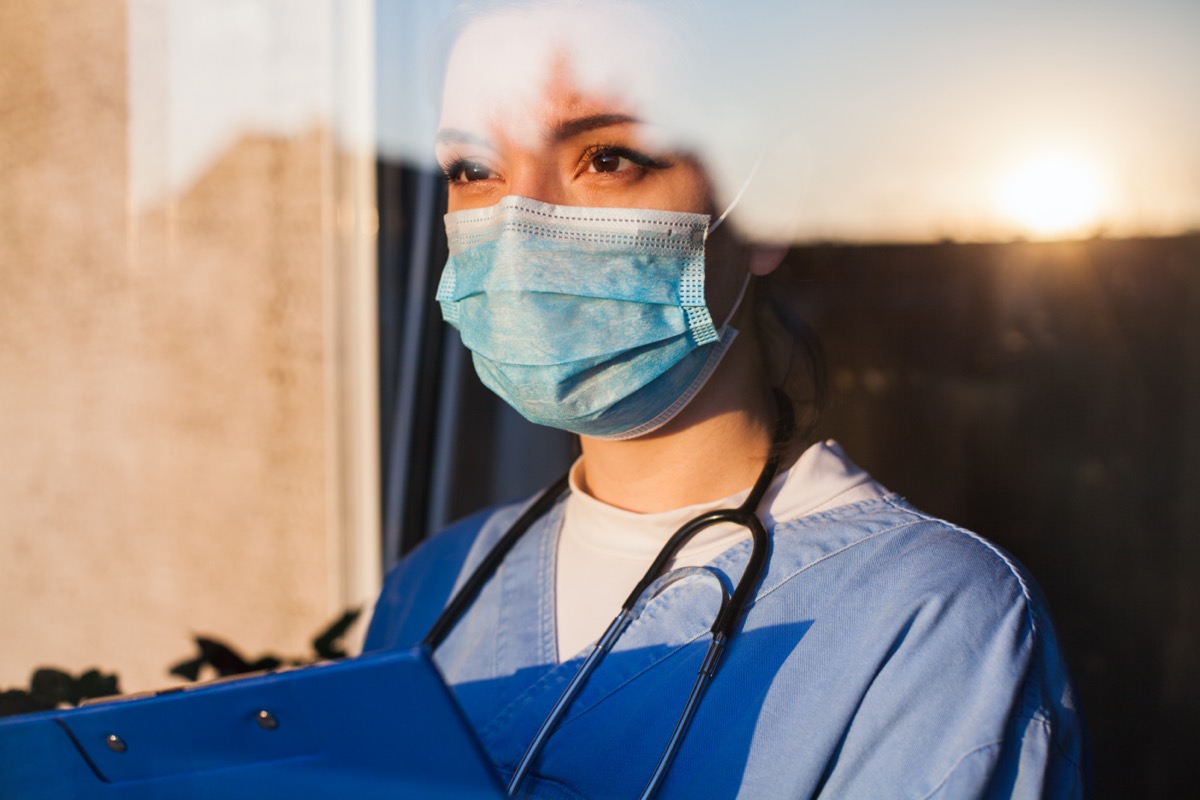 With coronavirus cases skyrocketing, and hospitals in many states overcrowding, Dr. Anthony Fauci returned to the Journal of the American Medical Association (JAMA) Q&A series to sound the alarm. "We're seeing 70,000 cases a day, almost a thousand deaths," said the host, Dr. Howard Bauchner, editor-in-chief of JAMA. "The CDC released a paper and [there were] approximately 300,000 excess deaths through October 3rd…a week before, same estimate in JAMA, by the end of the year, between four and 500,000 excess deaths…." So, he asked Fauci, how are we doing? And how can we stay alive? Read on for his response, and to ensure your health and the health of others, don't miss these Sure Signs You've Already Had Coronavirus.6254a4d1642c605c54bf1cab17d50f1e
Dr. Fauci Said "We're Not in a Good Place"
"We're not in a good place for a couple of reasons," answered Fauci. "Well, first of all, the numbers that you mentioned—as I've told you, remember the last few times you and I were together chatting, the thing that disturbed me so much is that we never got down to a low baseline after we had the big initial surge that was dominated by the New York City metropolitan area. We got down to about 20,000 cases a day. Then we'll be trying to reopen the economy. We surged up. As you remember from Florida, Georgia, Texas, Southern California and Arizona. We went up to 70,000 cases a day. Then gradually came back down. It got stuck at around 40,000 per day until most recently when we edged our way up to 50, 60, 70, and we even reached 83,000 cases over last weekend. And now we're averaging about 70,000 a week."
Fauci said you should be very worried about these numbers.
"That's a bad position to be in when you look at the map of the country and the heat map color, when you see red dots, which indicate that that part of the county, the city of the state is having an uptick in cases to the point that you're having the number of cases, the reason all of those things together put us in a very precarious position is that as we continue into the cool months of the fall and soon the cold months of the winter, we're starting seeing something going in the wrong direction," he said. "We should have been way down in baseline and daily cases. And we're not. We're going into a precarious situation where much of what we're going to be doing is going to be indoors as opposed to outdoors. And wherever you go in the country, you call up, you talk to your friends in the trenches. They're telling you that they're seeing cases going up virtually at all ages, all groups at the same time, that's not good. And then the third thing you superimposed upon that as we go into the holiday season, we're naturally the tradition and the customs of the gatherings and traveling again, all a bad recipe for a tough time ahead."
RELATED: Dr. Fauci Says You Don't Have to Do This Anymore to Avoid COVID
How to Avoid COVID Now
As for yourself these next few months, do everything you can to prevent getting—and spreading—COVID-19 in the first place: Wear a face mask, get tested if you think you have coronavirus, avoid crowds (and bars, and house parties), practice social distancing, only run essential errands, only travel if you must (including over Thanksgiving and the holidays) wash your hands regularly, disinfect frequently touched surfaces, and to get through this pandemic at your healthiest, don't miss these 35 Places You're Most Likely to Catch COVID.
Alek Korab
Alek Korab is a Co-Founder and Managing Editor of the ETNT Health channel on Eat This, Not That!
Read more about Alek