Dr. Fauci Says Here's How to Avoid COVID Outdoors
"You have to strike a delicate balance," the infectious disease expert says.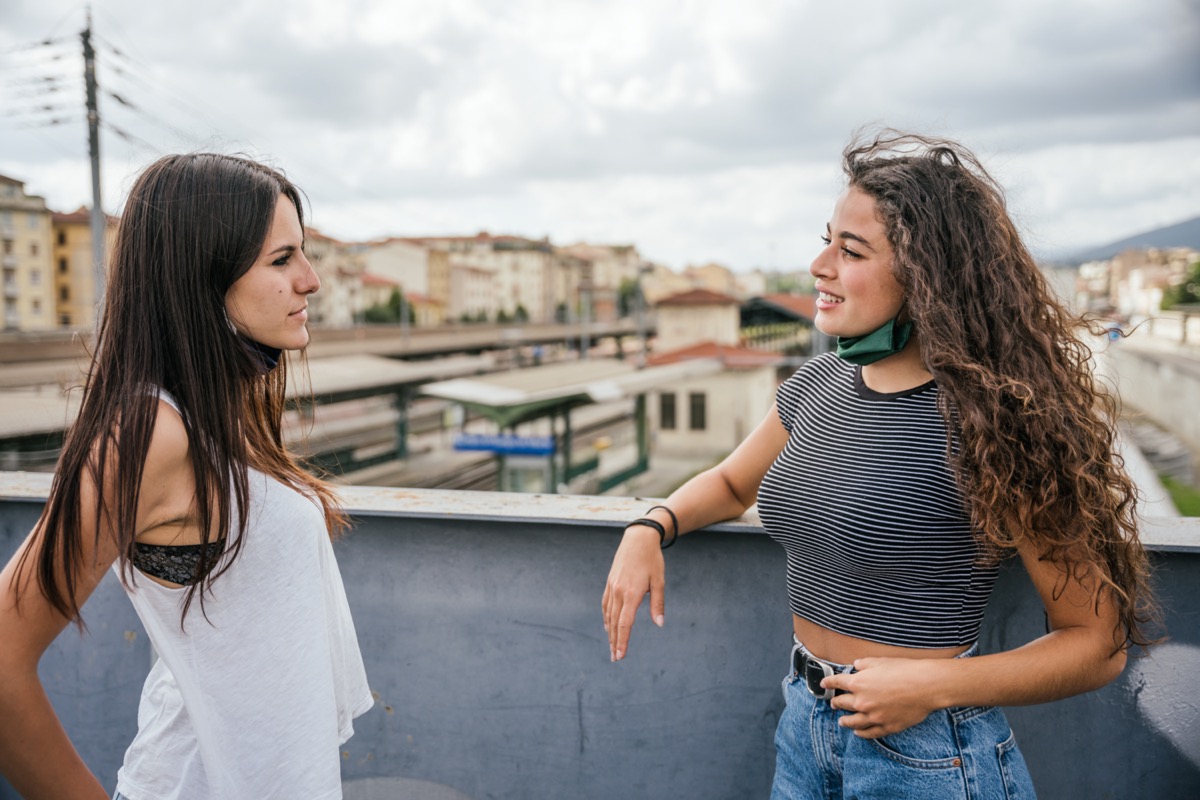 One of the top pieces of advice Dr. Anthony Fauci, the nation's top infectious-disease expert, has given during the coronavirus pandemic is that "outdoors is better than indoors"—it's a better idea to gather outside than in enclosed spaces, because the virus can be easily transmitted by the recirculated air used by cooling and heating systems, while potentially infectious respiratory droplets are quickly dispersed by fresh air.
Some may have taken that advice a little out of context: The White House ceremony for Supreme Court nominee Amy Coney Barrett, which was held largely outdoors in the Rose Garden (although most attendees didn't wear masks or practice social distancing), is being eyed as the source of a COVID outbreak that has affected at least 25 people, including President Trump.
So it makes sense that during a Q&A with Fauci on Wednesday, Hawaii Lt. Gov. Josh Green asked if being outdoors with friends and family—say, on a beach—is a risk for coronavirus transmission.
RELATED: I'm an Infectious Disease Doctor and Would Never Touch This6254a4d1642c605c54bf1cab17d50f1e
Outdoor transmission is possible
"It's much less of a risk, but it is a risk, if you are congregating in a way where, for prolonged periods of time, you're really close together," replied Fauci. "So you really have to strike a delicate balance." 
He went on to give his advice for holding safe outdoor gatherings, with the caveat, "I'm not saying this is perfect."
"If you separate into almost like pods of people that you know are being careful—maybe people who have been tested, you know they're negative, you know they're not being reckless—and stay with them, but not all over them," said Fauci. "You could be separated by a fair amount. Obviously you're not want to be wearing a mask when you jump in the water. Swim around, have fun. But when you come out, when you're congregating, put a mask on."
"Enjoy, with a little care"
His message: Outdoors is better than indoors, yet it's not foolproof. But you don't have to cloister yourself indoors either. "You don't want to tell people not to go to the beaches, because the beaches may be a safe place," said Fauci. "The wind is going to blow all things away. You don't have to worry about things hanging around and droplets. So it's something you probably should enjoy, with a little care."
As for yourself, do everything you can to prevent getting—and spreading—COVID-19 in the first place: Wear your face mask, get tested if you think you have coronavirus, avoid crowds (and bars, and house parties), practice social distancing, only run essential errands, wash your hands regularly, disinfect frequently touched surfaces, and to get through this pandemic at your healthiest, don't miss these 35 Places You're Most Likely to Catch COVID.